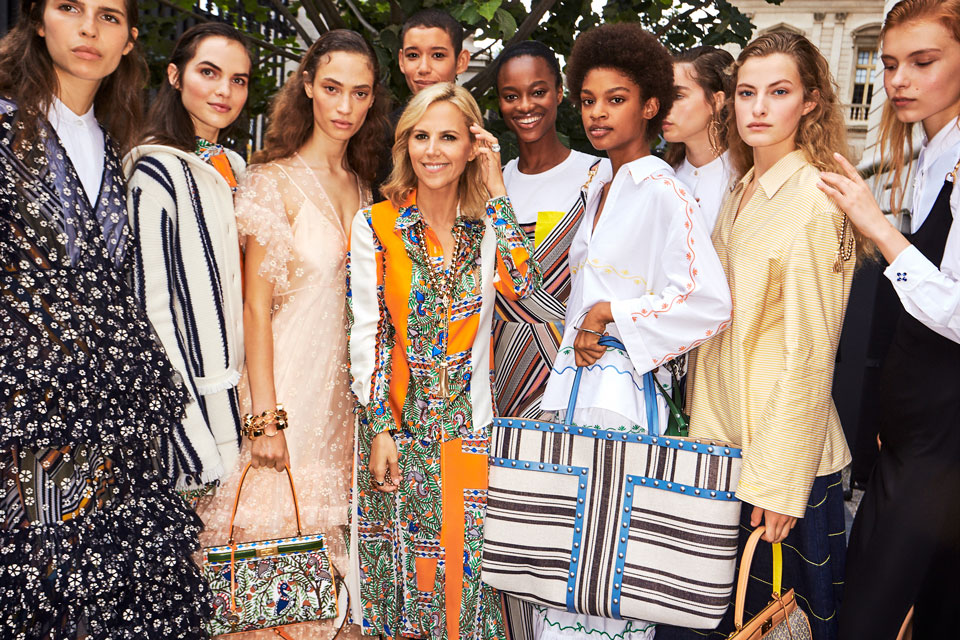 Experience show day through Tory's eyes, from dawn to dusk.
5:15 AM
My alarm goes off. I always beat my alarm by 10 minutes on show day.
5:45 AM
In hair and makeup. Catch up on emails and the news and prep for backstage interviews. It's the calm before the storm.
6:30 AM
Photographer Jennifer Livingston arrives. She has been our backstage photographer for years. She's great at capturing the energy of a fashion show.
7:15 AM
I head uptown with my team to the venue. We're returning to the Cooper Hewitt, Smithsonian Design Museum, where we had our show last September. This season, the collection is inspired by my parents, Buddy and Reva Robinson, and their travels. Every summer, they boarded a steamer ship and spent six weeks sailing from Italy and Greece to Morocco and Spain. I can't wait to see how landscape artist Miranda Brooks transforms the space to reflect the Mediterranean.
7:30 AM
Miranda has outdone herself — she recreated a garden with lemon and cypress trees.
7:35 AM
I say hello to makeup artist Diane Kendal and hairstylist Guido Palau.
8:15 AM
My favorite moment: dress rehearsal. The models are all wearing Tory Sport tracksuits — it's our tradition now. And as a surprise, we monogrammed the jackets for them.
9:30 AM
All smiles backstage with Julianne Moore, Tiffany Haddish, Danai Gurira and Katie Holmes. When I wasn't looking, Tiffany took my phone for an impromptu behind-the-scenes video.
10:10 AM
First looks lining up.
10:20 AM
Show time! I love the soundtrack Michael Gaubert created, which includes "Mrs. Robinson" by Simon & Garfunkel. Tearing up backstage. My mom is sitting front row.
1:00 PM
Lunch with my design team at Indochine. We do this every season. I'm so proud and lucky to work with them.
6:00 PM
In hair and makeup, again. Ralph Lauren is celebrating his 50th anniversary in an hour with a special show. I used to work at Ralph Lauren so it's going to be like a reunion, filled with friends and familiar faces…