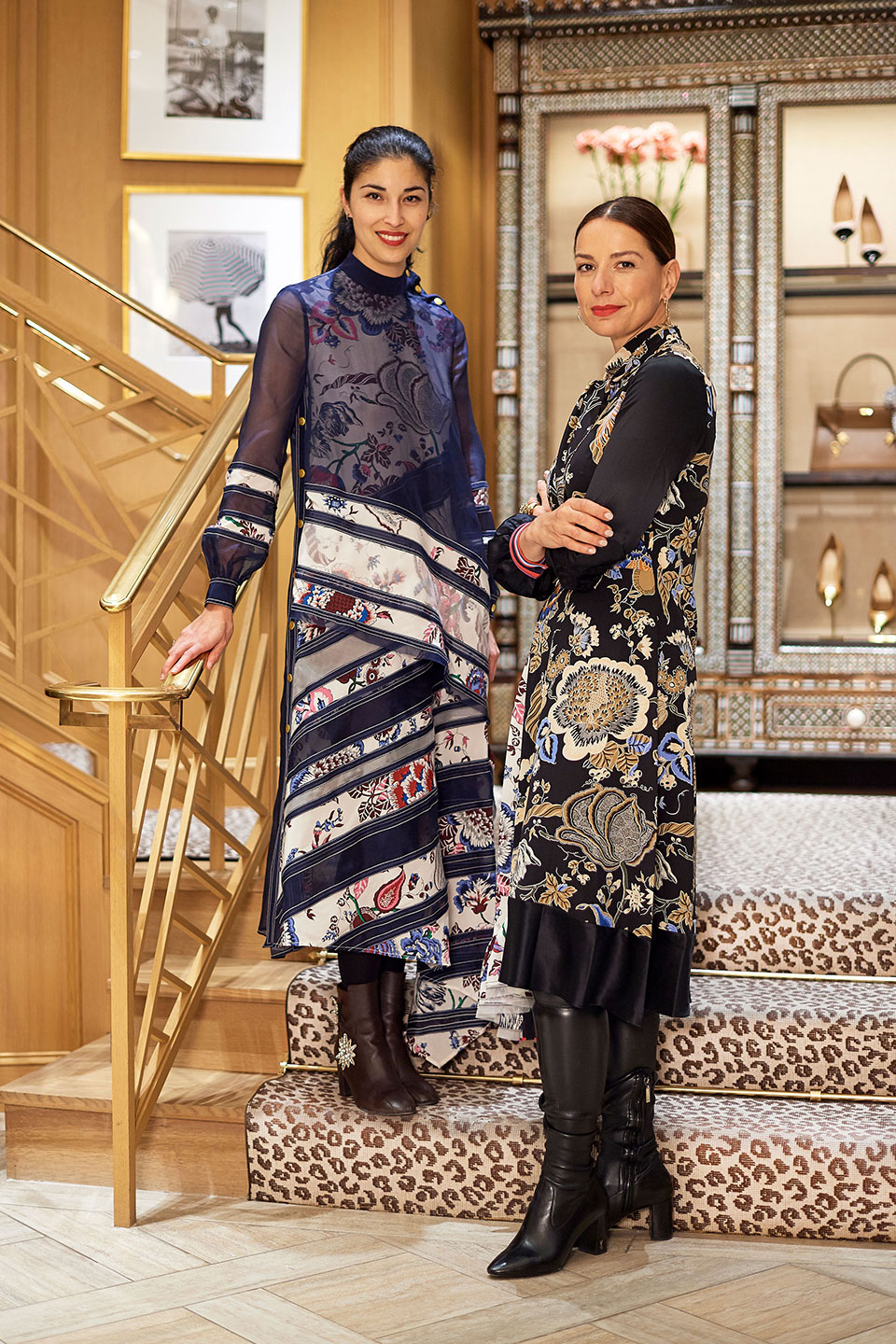 Celebrating Tory's year-long partnership with the Serpentine Galleries in London, Yana Peel, CEO of Serpentine, and Caroline Issa, Chief Executive and Fashion Director of Tank magazine, came together in conversation at the brand's Regent Street boutique. Here, we catch up with the thought leaders to discuss all things art.
A good work of art should always…
Yana: Be sincere and courageous.
Caroline: Make you feel something, deep down, where your instinct lays. Good art is deeply personal, but great art is felt by all.
Artists I'm keeping my eye on…
Yana: Toyin Ojih Odutola is one artist whose show at Jack Shainman Gallery was a highlight of my recent New York visit (for the opening of the American Ballet Theatre season). Her beautiful, beguiling portraits reference fictional narratives of Nigerian inter-marriage, evoking the Horatian concept of pictures as poetry without words.
Another 'new' artist – for London – will be Luchita Hurtado, in her institutional debut at the Serpentine Galleries next summer with her surreal painterly compositions. At 99 years old, she promises to be a breakout start, the freshness of her ideas proving there is no age barrier to discovery!
Caroline: I love the artwork of Lebanese artist Ayman Baalbaki. With furious paint strokes, he captures Beirut in all its messy glory and you feel emotional just looking at the works.
I also adore the work of Nina Beier – especially her fabric collages. I bought a large artwork in the Sotheby's auction last year, and she's the perfect fashion-lover's artist in the way she puts textiles and print together.
If I could meet any one artist in history, it would be…
Yana: Andy Warhol. In my work connecting commerce to culture for the benefit of the broadest audiences, I have long championed his advice that "good business is the best art!" His predictions of fleeting fame for all were equally prescient.
Caroline: Really? I have to choose only one? At this point, it might have to be Banksy.
Advice for the would-be art collector…
Yana: Look and learn wherever you can – cultural institutions have amazing resources at any budget – from mobile tours and free talks to limited editions and inclusion in patrons' groups. Curators are the best source of insight, as are artists themselves. Aligning philanthropically with an arts organization will give access and insights to both.
Caroline: Collect artworks that mean something to you. That is more valuable than speculative investment, any day.
Tips for curating your own collection at home…
Yana: Peggy Guggenheim said it best: "I took advice from none but the best. I listened, how I listened! That's how I finally became my own expert."
Caroline: Don't only think about your walls! Think about your shelves, think about your cabinet tops, think about your work desk… there are so many great places to appreciate sculpture, objects, vases and so many more beautiful 3D objects.