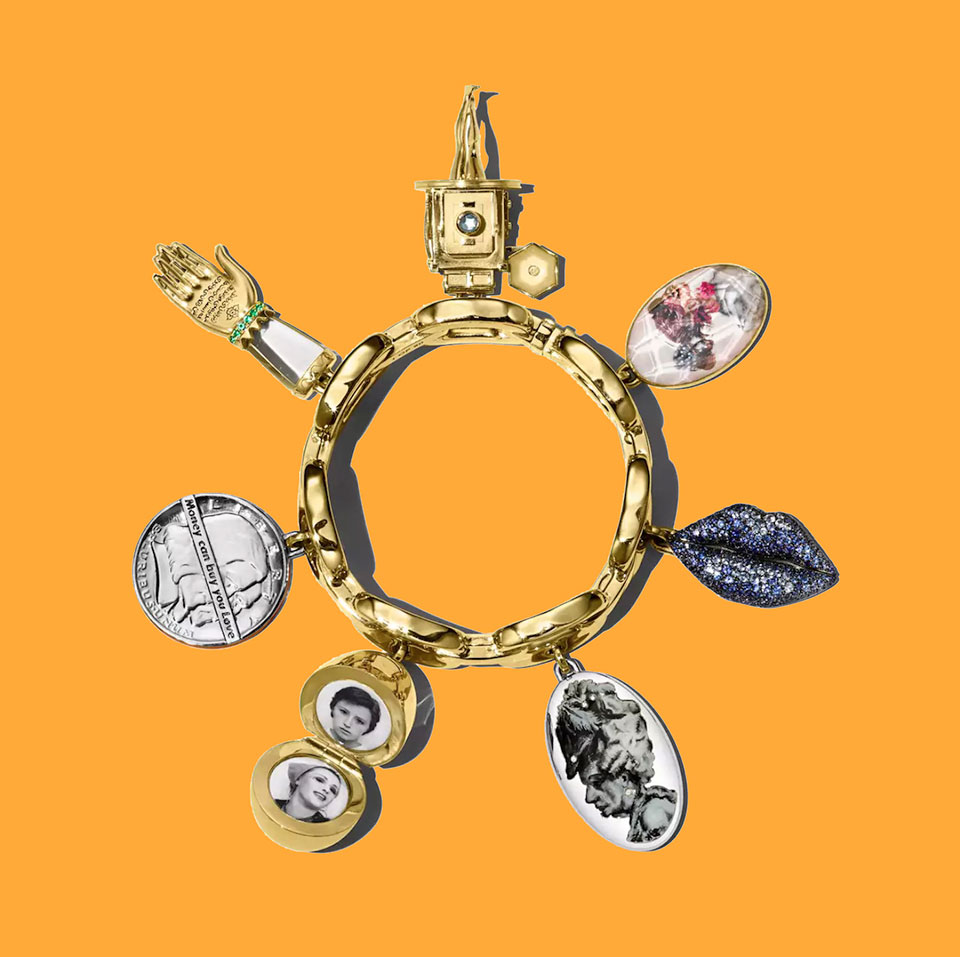 We've all owned one. Whether it was a sterling silver version given to you on graduation day or one passed down through your family, charm bracelets are timeless and often have sentimental value. With this in mind, Liz Swig, founder of LIZWORKS, joined forces with seven women artists — Laurie Simmons, Shirin Neshat, Barbara Kruger, Cindy Sherman, Rachel Feinstein, Mickalene Thomas, and Wangechi Mutu — for her latest project, CHARMED. The result is a dazzling, limited-edition gold-link bracelet with charms created by each of the artists. Here, we speak with Swig about the significance of commissioning women artists and the everlasting charm, for lack of a better word, of the charm bracelet.
Charmed was inspired by….
I was thinking of how the charm bracelet was an important tradition among women, but has lost its historical place. I wanted to bring it back with a contemporary voice, but with the same sense of tradition and with the intent of handing it down from generation to generation.
I worked with these artists because…
It was based purely on gut feeling. I loved the idea of women who were not expected to be together. They each are powerful alone and are magic as a unified group.
Each artist was told to…
Explore their work in the medium and scale of a charm.
Only women artists because…
Charmed is all about being female. The beauty and power of each of the women was a given.
And the significance of marrying artwork of women artists with jewelry…
The pairing of these seven female artists with the medium of jewelry is significant, historic and unexpected. The experience for all involved was a thrill.
The everlasting charm of charm bracelets…
The way they feel, the noise they make and the story they tell.
Plans for my next project…
I'm in production for my next project to be launched in Spring 2019. It will be wearable, traditional, yet contemporary — and completely unexpected.