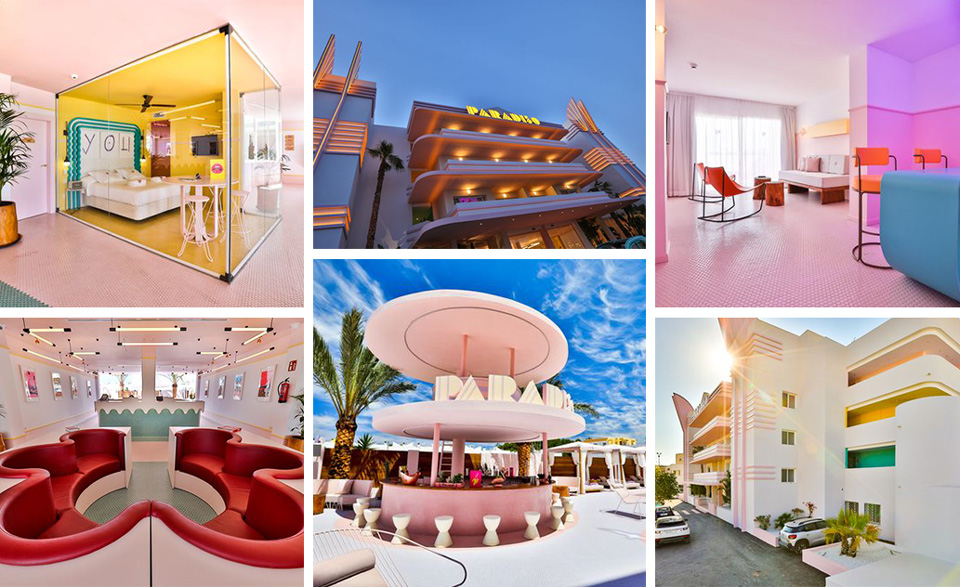 Come for the party, stay for the art. That's the plan for those who are checking in to the recently opened Paradiso Ibiza Art Hotel. Located in the San Antonio district of the island and evocative of 1970s Miami art-deco kitsch, it's a total sensory overload complete with saturated pastel hues, neon lighting and art at every turn.
In an effort to expand the island's cultural relevance beyond the notorious club scene, the hotel has an ongoing art program spearheaded by artists Iñaki Domingo and Diana Kunst. On offer? Short-term artist residencies, a rotating gallery and a library focusing on contemporary art. Don't feel like leaving your hotel room? That's cool – each one features collaborative projects with international artists, so no two suites are the same.
And when you're not wandering the halls getting your art history on, a few things to check off the itinerary: Commemorate your stay by commissioning a one-off millinery creation, get inked at the in-house Coyote's Tattoo parlor or just sun yourself by the candy-colored pool overlooking the Balearic Sea.