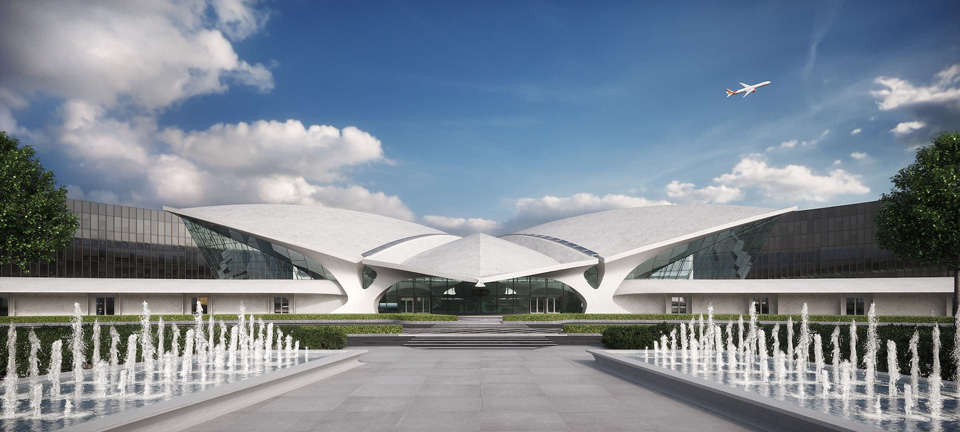 There was a time when air travel was not just civilized but stylish. People dressed up to board an airplane, and flight attendant uniforms were usually designed by one of Paris' or Milan's top ateliers. And for 70 years, TWA — Trans World Airlines — was chic of the chic, with its glamorous history (Howard Hughes was a one-time owner), bright and bold red logo and its original Eero Saarinen terminal at Idlewild Airport, now known as John F. Kennedy, in NYC.
But nostalgia is a powerful thing, and while TWA shuttered in 2001, the terminal has been completely renovated as a hotel. The interiors preserve the space age-y sweeps and modular figures that look like a primer of Mid-Century Modern architecture. Its symmetrical design with a dramatically curved roof brings to mind both the wings of a futuristic jet as well as those of an eagle ray mid-swim. A clock suspended from the ceiling above the sunken red lounge mimics the clock that anchors New York's other iconic travel hub, Grand Central Station.
The TWA Hotel will feature 512 rooms, some with views of the runway, all with floor-to-ceiling windows, 1960s-era furniture and classic TWA ads for artwork. Such details as Tab Cola, rotary phones and TWA toiletries add to the throw-back factor, even as every modern amenity is covered. A rooftop observation deck and pool will be a big draw for flight junkies, while travelers on a quicker schedule can stop by one of the 8 bars and 6 restaurants, including Paris Café by Jean-Georges Vongerichten.
The TWA Hotel officially opens May 15.