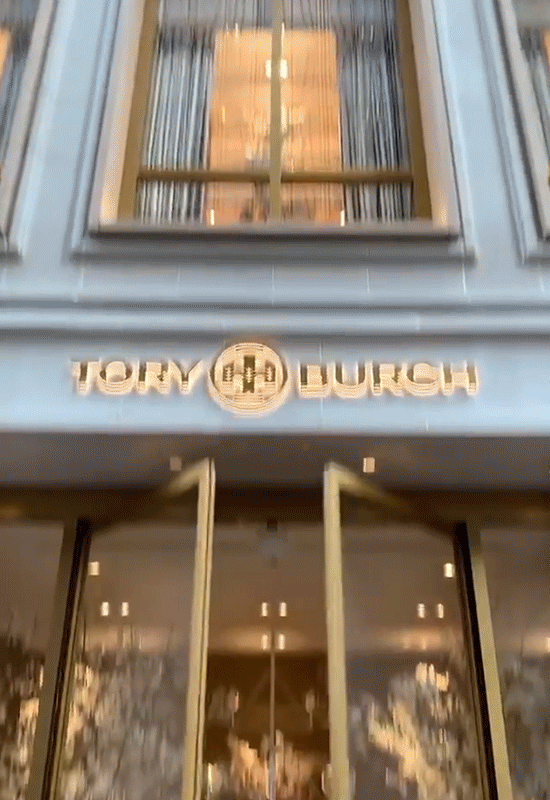 The party doesn't start until Hikari Mori, Yu Yamada, Aya Omasa, Youn-A —
sharp inhale
— Sonoya Mizuno, Rashida Jones, Zoey Deutch, Kiko Arai and Crystal Kay walk in. Earlier this week, Tory celebrated the launch of the company's Ginza flagship in Tokyo with a star-studded in-store event.Guests — wearing pieces from Tory's Spring/Summer and Pre-Fall 2019 collections — sipped signature cocktails and toured the newly opened space as Elli Rose and Mademoiselle Yulia's energetic DJ sets buzzed in the background.
Model Kiko Arai matched the event decor wearing Tory's limited-edition hand-dyed shirt dress, one of eight pieces in partnership with indigo dyeing company BUAISOU. The blue and white theme continued to the store's windows, which displayed an installment of leaflike fans in the collection's key prints.
Cherry blossoms dotted the space – a nod to the region's celebrated season – and a flower wall formed the perfect photo moment for guests to capture the evening. See below for a few of our favorite shots from the night….
森 星、山田 優、大政 絢、ヨンア、ラシーダ・ジョーンズ、ゾーイ・ドゥッチ、新井 貴子、クリスタル・ケイなしではパーティーは始められない!今週はじめ、銀座店のオープンを今をときめくスターたちとお祝いました。ゲストたちはトリー バーチのSpring/Summer や Pre-Fall 2019コレクションに身を包み、ブランドお決まりのカクテルを手にして、エリーローズとマドモアゼル・ユリアが回すアップビートな音楽をバックミュージックに、オープンしたばかりの店内をご覧頂きました。
モデルの新井 貴子は、一つ一つ手染めで仕上げられた銀座店限定のシャツドレスを着用。その藍特有の美しい青と白をテーマとしたストアのウィンドウには、限定コレクションのキープリントとなるリーフモチーフを用いました。
日本を語る上で外せない美しい桜がストアを埋め尽くし、フォトモーメントを彩りました。お気に入りの写真をいくつかピックアップ。
Custom terracotta glazed tile on the facade of the flagship boutique in Tokyo, Japan.
TORY BURCH X BUAISOU exclusive collaboration.
A few of the eight styles created for the BUAISOU collaboration.
Canvas Buddy Sneakers and a selection of handbags, front and center.
Vibrantly colored leather Fabienne Booties.
DJ @ellirose wearing the Gemini Link Sweaterdress.
Tory with @kurumixo_ wearing a dress from TORY BURCH X BUAISOU collaboration.