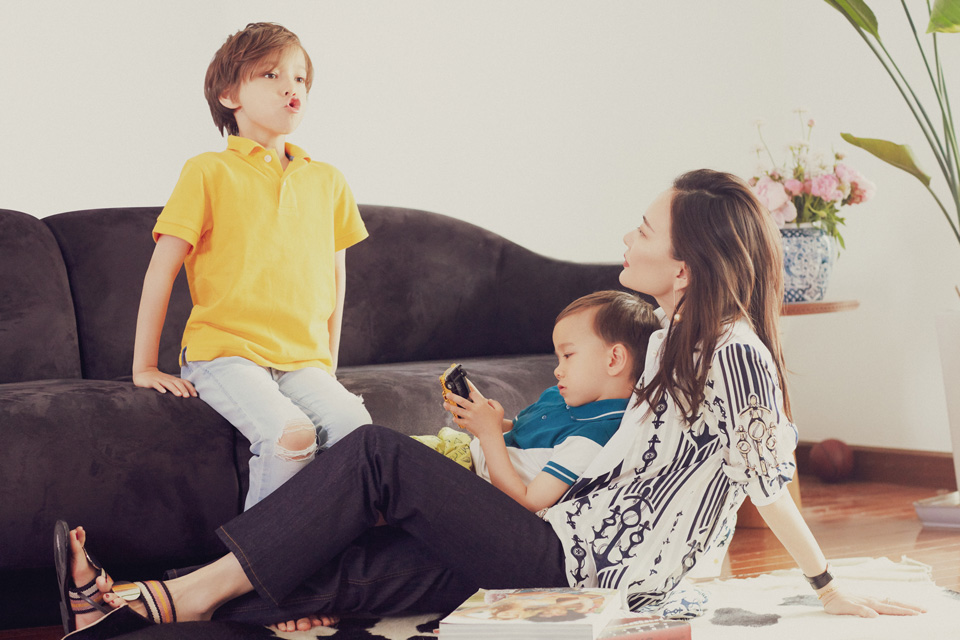 Beijing-based fashion expert Wei Tian is busy, to say the least. Between being the mother to two young boys – Vincent, 8, and Marcus, 4 – and Chief Fashion Editor of Harper's Bazaar China, there isn't a lot of time for lounging around. Here she tells us all about how she masters the work-life balance by following her mother's best style advice and why sunglasses are a busy mom's best friend.
A typical day for me is…
Wake up at 6:30,send two boys to school bus, then gym (but skip gym quite often), then office.
The best style tip I learned from my mother…
Never take it too seriously. She is such a free spirit and is fearless when it comes to mixing and matching items.
The best beauty tip I learned from my mother…
Eat healthy!
What I'm learning from my children…
It's so easy to be happy when you're open to the world.
When it comes to dressing up, I always…
Tone it down before I walk out the door. I'll change to a smaller earring or more neutral lipstick color.
Fashion after kids is different because…
I don't have all the time in the world anymore, so I must decide everything much more quickly. I've become much faster at choosing outfits, doing my makeup, running out the door.
This is how I've mastered work-life balance…
I know I cannot make both work and life perfect at the same time, so I just learn to accept that.
Something you don't know about me is…
When I wear a giant sunglasses it's because I didn't have time to put on makeup.
Don't forget to…
Live your life and always look good!
毫不夸张的说,常驻北京的时尚界专家卫甜每天都十分繁忙。身兼有两个小朋友(8岁的Vincent与4岁的Marcus)的母亲与《时尚芭莎》时装主编角色,在两种角色中切换确实让她没有太多空闲的时间。在这里,她向我们讲述了如何平衡工作与生活,并分享了她母亲的最佳穿搭秘诀,以及揭秘为什么太阳镜总是忙碌母亲们的最佳密友。
我每天的日常是…
早晨六点半起床,送两个孩子上校车,然后健身,最后去办公室(但经常跳过健身…)。
我从母亲那里学习到最实用的造型小秘诀…
她真的是一位无拘无束的人,她从不害怕混搭任何单品!秘诀就是千万不要太严肃。
我从母亲那里学习到最实用的美容小秘诀…
吃的健康。她经常吃很奇怪的食物,比如将苹果和枣作为早餐,然后平时会吃25种不同的蔬菜。
我从孩子那里学习(感悟)到的事情…
他们真的很容易快乐,而我什么时候失去了这个能力?
当需要盛装出席时,我总是会(这样做)…
我会充分打扮自己,但在离开家之前,我会减掉一些东西,比如换一副更小的耳环或者改成淡一点的口红颜色。
有了小孩后,时尚于我而言发生了改变,因为…
我时间变得很紧张,所以我需要很快速的处理事情。(快速化妆,以及快速选择今天要穿的衣服)。
我工作与生活两不误的秘诀是…
我知道将工作和生活都同时做到完美其实很难,所以我开始学会慢慢接受这点。
你所不了解的,关于我的一些事…
当我戴了一副超大的墨镜时,意味着我今天没有时间化妆。
永远不要忘记去(做)…
好好生活,并且一直要让自己看上去不错。