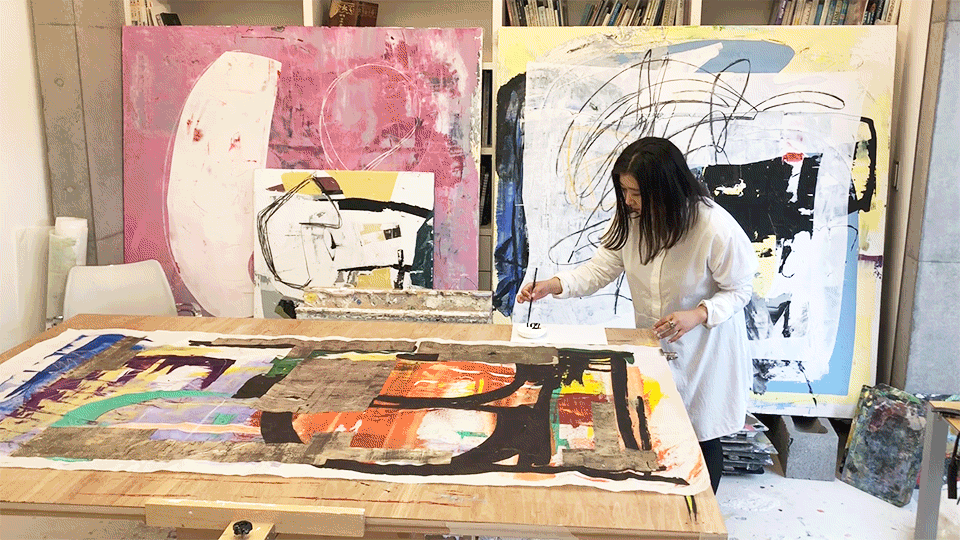 Nearly one year after the opening of our Ginza flagship, Tory commissioned local Japanese artist Hanako Yoshida to create two of her signature abstract pieces — seen above — to hang at the store location. Here, we caught up with the painter to learn more about her process.
I knew I had to be an artist when…
I saw various art in various spaces in Japan and I often felt a strong sense of incongruity as to why artists are not conscious of space. "The space and the work do not match! Why?" If I think now, it was a question that was too simple, but at that time I thought so purely.
My father is a painter and my mother is an interior designer. There were always architects, artists and designers in my mother's atelier, so I had many opportunities to come in contact with them. For me, life and art were very close.
My signature style…
Planar composition with mixed media.
My preferred medium…
I'm trying a lot of different things. I don't think I've met my favorite art materials yet.
アーティストになったきっかけは?
日本でいろいろなアートをいろいろな空間で見る時、なぜ作家は空間を意識しないのか?と強く違和感を感じることがよくありました。
「空間と作品が合っていない!なぜ?」
今思えば、単純すぎる疑問でしたがその時は純粋にそう思ったんです。
父は画家、母はインテリアデザイナーです。母のアトリエにはいつも建築家、アーティスト、デザイナーなどが出入りしていましたので、私も接する機会が多く、私にとって生活とアートはとても密接で日常的なものでした。
ご自身のアートスタイルの特徴は?
ミックスメディアによる平面構成。
お気に入りの画材をおしえてください。
いろいろ試しています。
ただ、最高にお気に入りの画材にはまだ出会っていないと思います。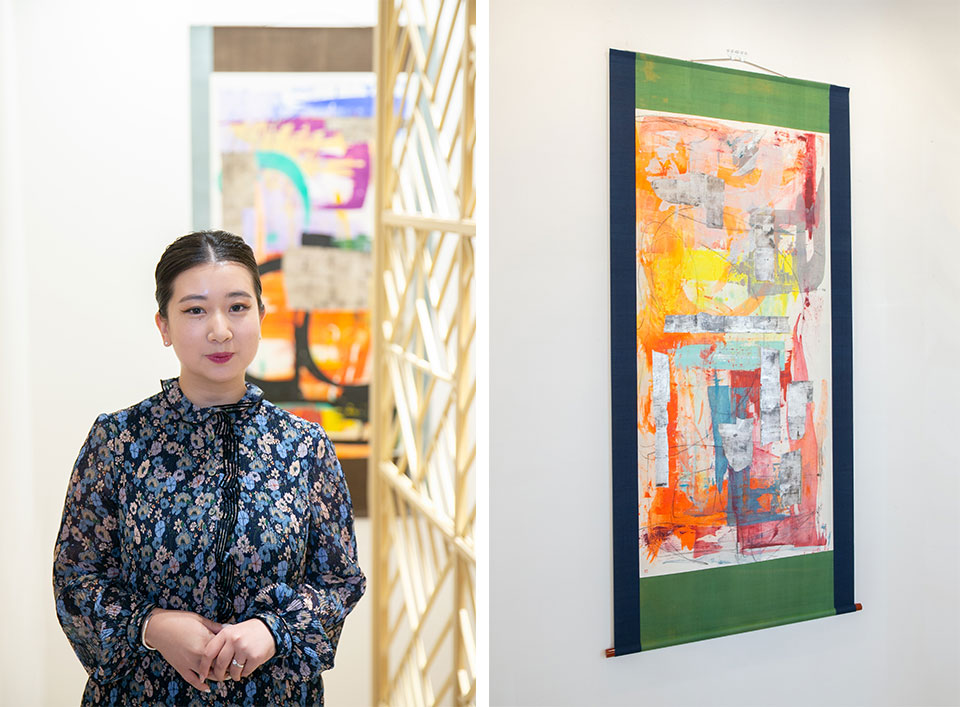 I draw inspiration from…
From a memory; impression of a certain place; time; person… An abstract image comes up and the image is faithfully drawn.
The story behind this piece in the Ginza shop is…
When I visited the Tory Burch Ginza store, I felt like I was invited into a home… The hanging scrolls (kakejiku) are usually displayed in the Japanese traditional room, but this time I thought it would be nice if they could be hung on the stair landing. We used "Japanese ancient colors" and materials from the Edo era.
If I could work anywhere in the world…
I want to draw in the Swiss Alps. I still remember the sight and impression I had when I was a kid — I was very impressed.
Three guests at a dinner party…
Mother Teresa
Grandmother
Joseph Beuys
Favorite place to travel…
Kyoto Amanohashidate
Swiss "Therme Vals" designed by Peter Zumthor
Sri Lanka Jeffrey Bawa hotel tour
どんなものからインスピレーションをうけますか?
とある場所、時、人の記憶や印象から抽象的なイメージが湧き上がってきます。
そのイメージを忠実に描いています。
今回トリーバーチ銀座店用に描きおろしたアートワークの制作背景を教えてください。
トリー バーチ銀座店に伺った時、まるでご自宅に招かれた感覚になりました。
掛け軸は本来床の間に飾るものですが、このお店なら階段の踊り場に掛けられたら素敵だなと思いました。
今回は「日本の古色」にこだわり 江戸時代のマテリアルを使っています。
もし世界のどのエリアでもアート制作ができるのであれば、それはどこですか?その理由は?
スイスのアルプス山脈で思いっきり描きたいです。
子供の頃行ったその光景、印象が忘れられないのです。とても感動しました。
もしディナーに3名招待するとしたら、誰を招待しますか?
マザーテレサ
祖母
ヨーゼフボイス
お気に入りの旅行スポットは?
京都の天橋立
スイスの「テルメバルス」Peter Zumthor (ピーターズントー) 設計
スリランカのジェフリーバワのホテル巡り