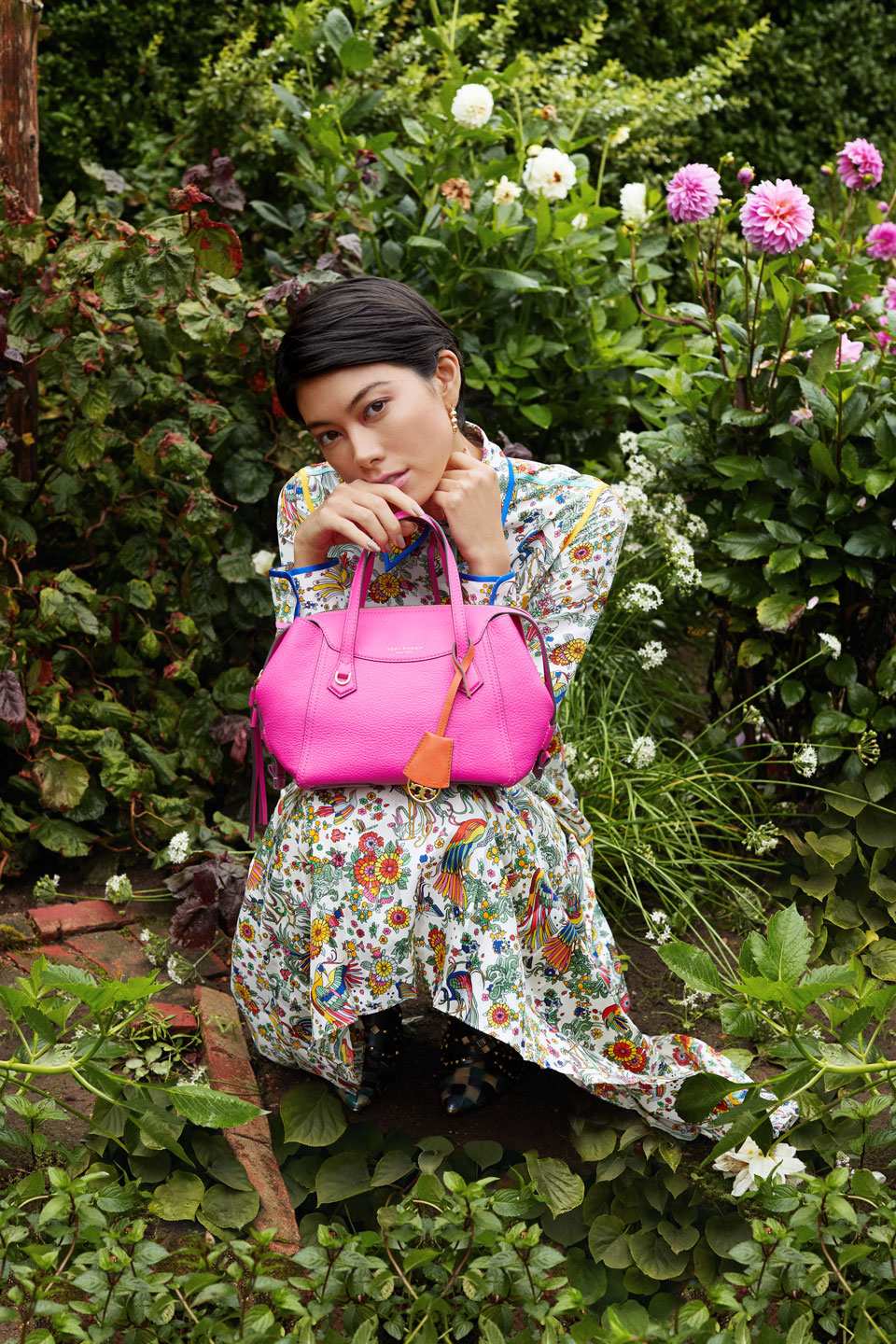 Hikari Mori accompanied Tory to the MET gala; she sits front row at our shows and she is always one of our favorite women to photograph and interview. We asked the Japanese star, seen above carrying our Perry Small Satchel, about her holiday traditions and travel plans.
What is your favorite place to travel during the holidays?
Hawaii Big island
What do you always pack when you're traveling?
Swimsuits
How do you handle the inevitable holiday travel delay?
FaceTime with my family and friends.
Window or aisle?
Window
Any books, playlists or podcasts that you are reading or listening to?
"Sapiens: A Brief History of Humankind" by Yuval Noah Haraki
"Fit for Life" by Harvey and Marilyn Diamond
Secret to finding the perfect gift while traveling…
Visiting supermarkets from all over the world.
This holiday I'm grateful for…
Just to be able to see beautiful nature with my eyes and to run around and swim with my body.
And it smells like…
When I arrive at Honolulu Airport and smell the Plumeria flowers from the wind.
Holiday traditions I look forward to most…
Getting Vitamin D from the sunshine and scuba diving.
Favorite holiday memory from childhood…
Every summer, I went to go see my grandmother in Arizona and stayed for 2 months.
I know it's the holiday season when…
Tokyo shines with illumination lights.
My tips for surviving the holiday party season…
Hot water with lemon in the morning.
Gift I always love to give…
My charged positive energy to my family, friends and to my staff
お気に入りの旅行先は?
ハワイ島です。
旅行の際、かかせないアイテムは?
スイムウェアです。
旅行中、フライトが遅延したらどう過ごす?
家族や友人とフェイスタイムして過ごします。
飛行機で座るなら?
窓側です。
今読んでいる本や、聴いている曲をおしえてください。
ユヴァル・ノア・ハラキ著 「サピエンス全史:文明の構造と人類の幸福」
ハーヴィー/マリリン・ダイアモンド著 「Fit for Life」
フレンチ・キウイ・ジュース 「FKJ」
旅行先でパーフェクトなお土産を見つける秘訣は?
スーパーマーケット!どの国でも必ず行きます。
ホリデーシーズンに感謝したいことはありますか?
自分の目で美しい自然を見ることができ、自分のからだで走り回り、また、泳げることに感謝します。
休暇を香りで例えると?
よく休暇でホノルルに行くので、空港についたときのプルメリアの香りが私にとっての休暇の香りです。
年末の休暇にかかさずおこなっていることは?
スキューバダイビングをして、太陽からビタミンDをもらうこと。
子供の頃の忘れられない思い出は?
毎年夏の2ヵ月間、アリゾナ州にある祖母の家に遊びに行っていたこと。
東京でホリデーシーズンを感じるときはいつですか?
イルミネーションに光かがやく東京の街を見るとき。
年末のパーティーシーズンを生き抜くコツは?
朝、レモン入りのさ湯を飲むことです。
光さんならではの喜ばれるギフトは?
私のポジティブなエネルギーを家族や友人、スタッフに常にチャージしています!