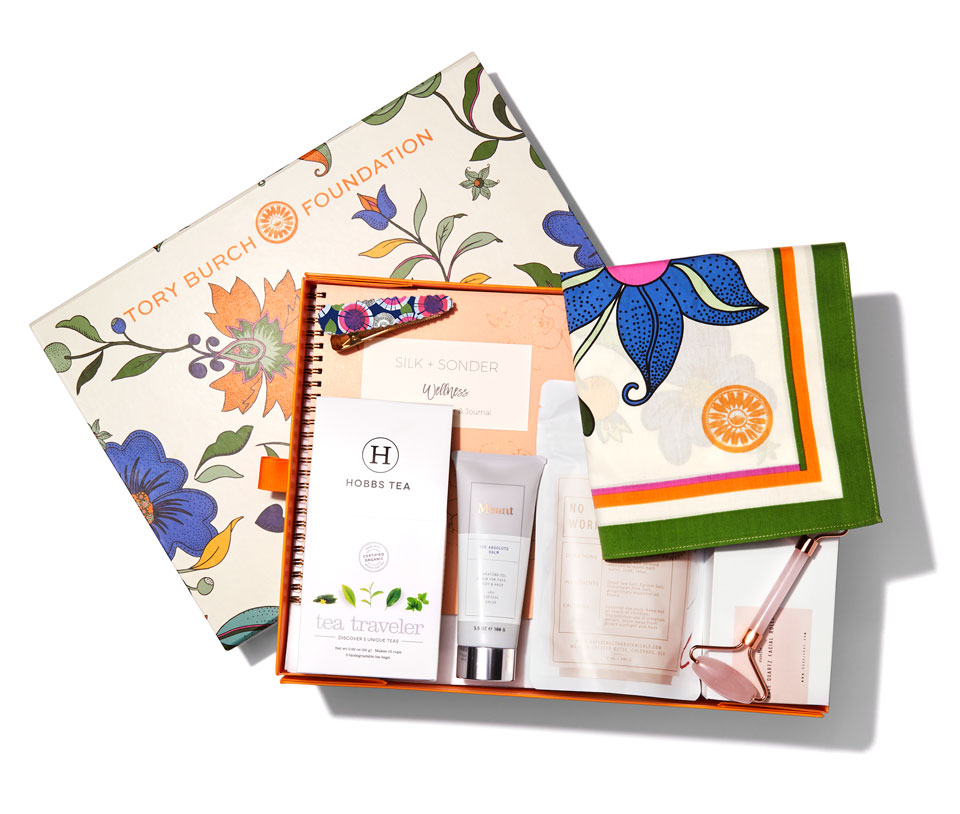 The gift that keeps on giving… Our Seed Box — 100% of all net proceeds benefiting the Tory Burch Foundation — is back just in time for the holidays. The colorful present includes seven products from women entrepreneurs: a printed hair clip from Autumn Adeigbo, a rose quartz facial roller from Sherry Lee's Esselle, tea from Jamie Chambers's Hobbs Tea, body balm from Lindsay Knaak-Stuart's MEANT, salt soak from Jessica Taylor's Native Nectar Botanicals and a floral printed journal from Meha Agrawal's Silk + Sonder, as well as a Tory Burch scarf. Fun fact: Two entrepreneurs in this year's box — Agrawal and Adeigbo — also happen to be 2019 Tory Burch Fellows. Learn more about these amazing women-owned businesses here, and keep scrolling to hear how each founder learned to #EmbraceAmbition.
SILK + SONDER – Meha Agrawal
Silk + Sonder is… A self-care, mental wellness experience for modern women.
Leaving software engineering to become an entrepreneur was… Liberating.
My advice for other entrepreneurs… Take 30-40 minutes of "alone" time away from screens and fill it with a new hobby, book or art project. The frequent space you create to think and play will pay off dividends across all areas of your life.
I #EmbraceAmbition because… I am a solo, female founder of color and all odds are stacked against me. As I lead by example, I unlock the confidence in future generations to follow suit.
AUTUMN ADEIGBO – Autumn Adeigbo
Autumn Adeigbo is…Artful, colorful and conversational women's wear made with sustainable practices, wherever possible.
More sustainable supply chains will…Focus on supporting people and the planet (alongside driving profit) at every stage of design, sourcing and production.
My advice for other fashion designers...Know and keep learning about your customer. If you can know them, you can stay one step ahead.
The woman who inspires me to #EmbraceAmbition is… Tory, of course! Tory kept the mission to give back to women as part of her business model from day one.
MEANT – Lindsay Knaak-Stuart
Meant is… Do-all, multitasking body care. We like to say we're the Marie Kondo of your shower.
My favorite way to use the Absolute Balm… As an all-over body moisturizer. Post shower, when my skin is still damp, I apply a nickel-sized amount from head-to-toe.
The best thing I did early on… Spend money on our brand identity and packaging. I wanted to come out with a strong visual identity that reflected our brand values, including the use of sustainable post-consumer recycled packaging.
Advice for creating a cohesive brand identity… A killer creative brief!
I #EmbraceAmbition because… Going the self-funded route in today's world is harder and slower but it means I get to build my dream brand from the ground up and on my own terms.
HOBBS TEA – Jamie Chambers
Hobbs Tea is… Offering a healthier alternative to the bleached plastic-based tea bags on the market today by hand-filling premium, Hawaii-grown & organic teas into compostable plant-based tea sachets.
Advice for working with farmers and controlling supply chain… One of our founding goals is to help farmers grow their Farm direct transparent sourcing results into a fresher product with a positive social impact!
My favorite tea is… Organic Sencha Green Hobbs Tea. I drink two big mugs every morning with a fresh squeeze of lemon!
The woman who inspires me to #EmbraceAmbition is… Moms everywhere!! A mothers selflessness and loving attention to their children is truly unmatched. I am not a mother (yet) but I treat my business like my baby.
NATIVE NECTAR BOTANICALS – Jessica Taylor
Native Nectar Botanicals is… Plant-based beauty and wellness that elevates self-care with the healing power of nature.
Launching the business was… An act of self-preservation and a leap of faith.
Advice for entrepreneurs designing their packaging…Follow your own sense of style instead of trends and be ok with your branding always evolving.
I'd tell my younger self… You're enough. You've always been enough.
I #EmbraceAmbition because…I didn't come this far to only come this far.