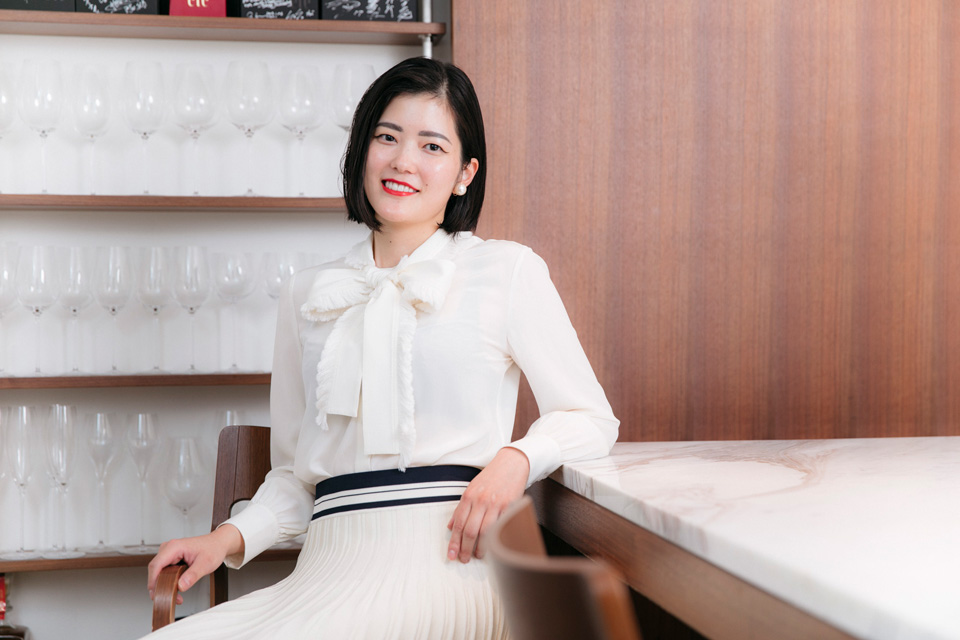 The question isn't how to get a table at Natsuko Shoji's restaurant été, but how to get the table. Those lucky enough to secure one of the four (yes, four) seats at the cult restaurant in Tokyo's bustling Shibuya neighborhood are in for a meal that's as delicious as it is exclusive. Though best known for her fashion-inspired fruit cakes, Shoji's savory tasting meals do not disappoint (just ask David Beckham, a recent visitor to été). While there are no shortage of incredible dining options in Tokyo—which boasts more Michelin-starred restaurants than any city in the world—été stands out among the pack with French-inspired fare cooked by one of the city's few female top chefs. Here, we speak with Shoji about her passion for food, fashion, and that elusive work-life balance.
I fell in love with food when….
I first entered high school and studied culinary arts there. Michelin came to Tokyo [in 2007] and there was a French restaurant boom in Japan. I started looking at the Michelin Guide and going to restaurants with the money I saved from my part-time job.
And my passion for pastries started…
When I was in junior high school, I made cream puffs in home economics class. I thought the way the dough swelled was very interesting, so I made a lot of them at home to give to my friends. They were very excited about that. My friend told me that I should open a cream puff shop.
I find inspiration…
In fashion, fashion shows, art and nature.
The most exciting part of working in the restaurant industry…
Meeting people, setting goals, devising strategies and then achieving those goals.
And the most challenging…
I still feel that it is a harsh world for women. I think it's very difficult to balance working hours, marriage, partners and family.
When I'm entertaining friends, I… 
Don't try too hard and enjoy myself.
Pro-tips for young chefs…
Of course, what you want to do is important, but it's really important to always think about the trends that change day by day, the world and what customers want.
Over the holidays, you will find me…
I haven't been on vacation for a while!
料理に夢中になったきっかけは?
調理師学科のある高校に入学したころ、ミシュランが東京に来日しフレンチレストランブームが起きました。ミシュランガイドを見ながら、バイトで貯めたお金で食べ歩きを始めたのがきっかけです。
パティスリーへの情熱をそそぐようになったのはいつごろですか?
中学の家庭科の実習でシュークリームをつくったときに、シューが膨らむ様子がとても興味深くて、家でたくさん作って友達にプレゼントしたんです。それを友達がとても喜んでくれたのを覚えています。その時になっちゃんはシュークリーム屋さんになったほうがいいと言われたのがきっかけで料理を学ぶ世界に入りました。
どのようなものにインスピレーションをうけますか?
ファッション、ファッションショー、アート、大自然
飲食業界で働いていて最もエキサイティングなことは何ですか?
人との出会いと、目標を定めて、作戦を練り、達成、実現していくことが面白く、快感です。
また、難しいと感じることは?
まだまだ女性にとっては過酷な世界だと感じます。労働時間、労働内容だったり、結婚、パートナー、家族のバランスをとるのが非常に難しいと思います。
友達をおもてなしする際のポイントは?
頑張り過ぎず、もてなす側の自分も一緒に楽しむことです。
若手のシェフにひとつヒントをあげるとしたら?
自分のやりたいことは、もちろん大事だけど、日に日に変わるトレンド、世間、お客様が求めてるものが何かも常に考えることが本当に大切です。
バケーションでよく行く場所を教えてください
ここ最近は長期のお休みはとれていません…!
We at Tory Daily are inspired by smart, passionate women who #EmbraceAmbition and find ways to make their communities stronger. For information on the Tory Burch Foundation, which empowers women entrepreneurs to #EmbraceAmbition, click here.