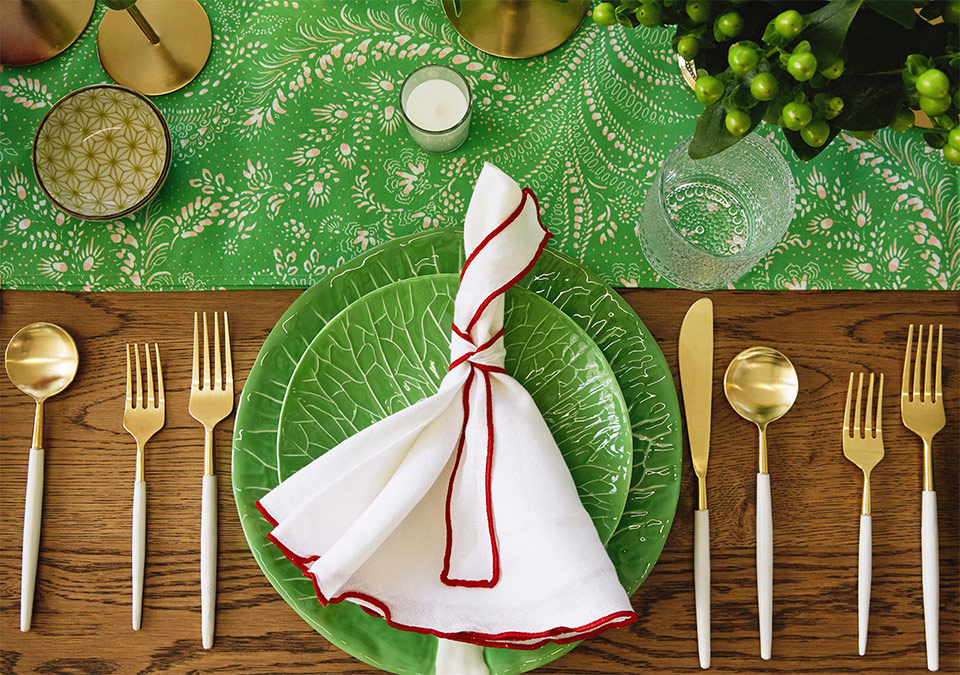 Entertaining can be so much better in theory than in practice. It's a joy to feed and fête your loved ones, of course, but realizing that you have nine table settings and ten guests or discovering that even a heavy-duty wash can't salvage your favorite napkins from the last dinner… less joyful. Childhood friends turned business partners Jessica Latham and Amy Griffin are here to save the day (or, more likely, evening).
Their new company Social Studies is something of a Rent The Runway for home entertaining. Their custom tablescape kits come with dishes, flatware, florals and decorations fit for any occasion. From Hygge Holiday (candlesticks, pine centerpieces) to Ladies Who Lunch (think pink), the 18 beautifully curated kits feature pieces from designers from La Double J to our very own Tory Burch Home and flourishes like doilies, menus, and even sage smudge sticks. Everything is delivered a day or two before your party and picked up by the following evening.
Latham — who polished her party planning skills as Vanity Fair's former events director — and Griffin grew up in Texas. Now New Yorkers, their company serves the city's stylish boroughs and popular weekend escapes. In a sunny loft at Industry City in Brooklyn, we met up with the entrepreneurs to discuss their survival guide for entertaining during the holiday season.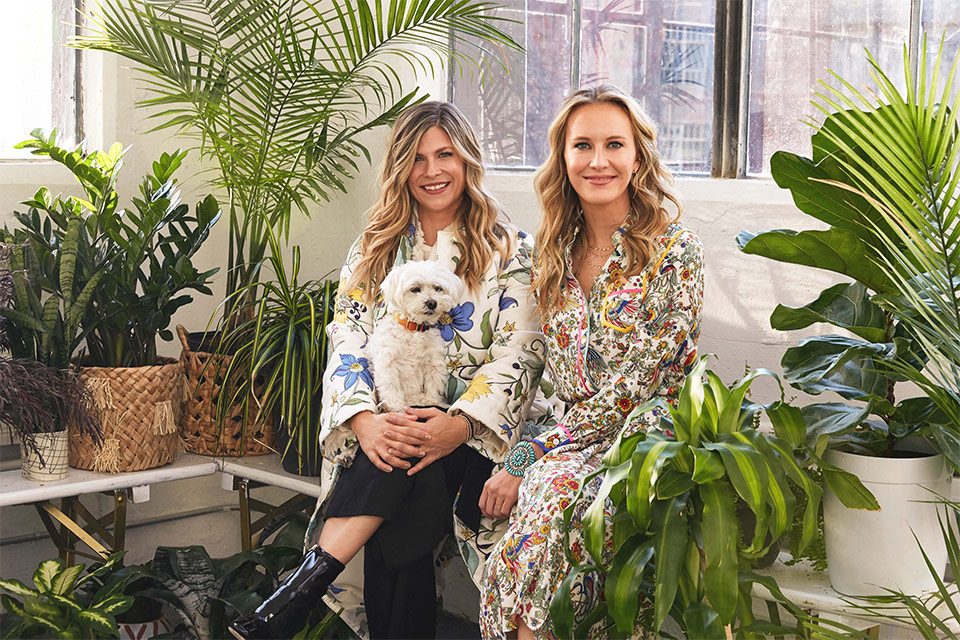 Pro-tips for table setting…
Jessica Latham: Mixing high and low is really great. The variety helps keep the tablescape from looking too uniform or fussy. Also, cluster candles and floral arrangements in odd numbers and keep flowers low enough that guests can see over them.
Amy Griffin: My favorite tip is to always have lots of votives on the table. When in doubt, over-votive as it makes every table special.
And during the holidays, always add…
JL: A touch of something festive. Snip some greenery and gather pine cones or holly from outside to scatter on the table.
AG: Cranberries, anything with pumpkin and anything with cinnamon.
Go-to seasonal floral arrangement…
JL: I may be old school and yes, they are poisonous, but I love a good old poinsettia for that throw-back, grandma-chic vibe.
AG: Anything in white, mistletoe, ivy… Even pomegranates in a bowl are gorgeous.
Favorite table setting from our selection…  
AG: I love the Winter Blues look with the pattern on the plates and the runner. I think using blue and white is gorgeous for a non-traditional but still elegant look.
JL: Christmas Chintz! I am obsessed with the Tory Burch Home Dodie Thayer lettuce ware and just feel this look has such a nostalgic feel to it.
Best advice for hosting during the holidays…
AG: Keep everything simple so you don't intimidate your guests. Make them feel taken care of with little touches.
JL: Order Social Studies so you can just CHILL.
The perfect meal for large groups…
AG: Without a doubt, my mom's amazing chicken spaghetti casserole and a big salad.
JL: A big platter of stone crab in the center of the table with crusty bread and an ice cold, simple green salad.
And a festive cocktail…
AG: Everyone is always happy to be served a spicy margarita. It's best made with 21 Seeds cucumber jalapeño tequila and, because Jess and I are from Texas, we always put salt around the rim. Use a red salt with a bit of lime for the full holiday color effect.
JL: I love a Moscow mule, but you have to have a copper mug so it stays super cold.
Our greatest goals for next year… 
AG: Personally, my goal would be to not grow older but, seeing that I can't achieve that, I'll say finding a way to put my phone away an hour before going to bed.  That would be huge.
Professionally, Jessica and I have a lot of goals that are top of mind. This year we hired our first employee (which quickly became ten), had our first customer, opened first in the city, the Hamptons and Brooklyn and then opened in the tri-State area. We look forward to opening the site up to ship nationally in the next year.
JL: Agreed. We're aggressively moving towards a national launch. I'm also really excited about getting into editorial. I hope that readers will connect with our voice, find our content fun and helpful, and also feel they are part of a community of like-minded people.
Personally, my goals are to find some balance in the new year, focus on my health and wellbeing, and spend some more time with family.
We at Tory Daily are inspired by smart, passionate women who #EmbraceAmbition and find ways to make their communities stronger. For information on the Tory Burch Foundation, which empowers women entrepreneurs to #EmbraceAmbition, click here.