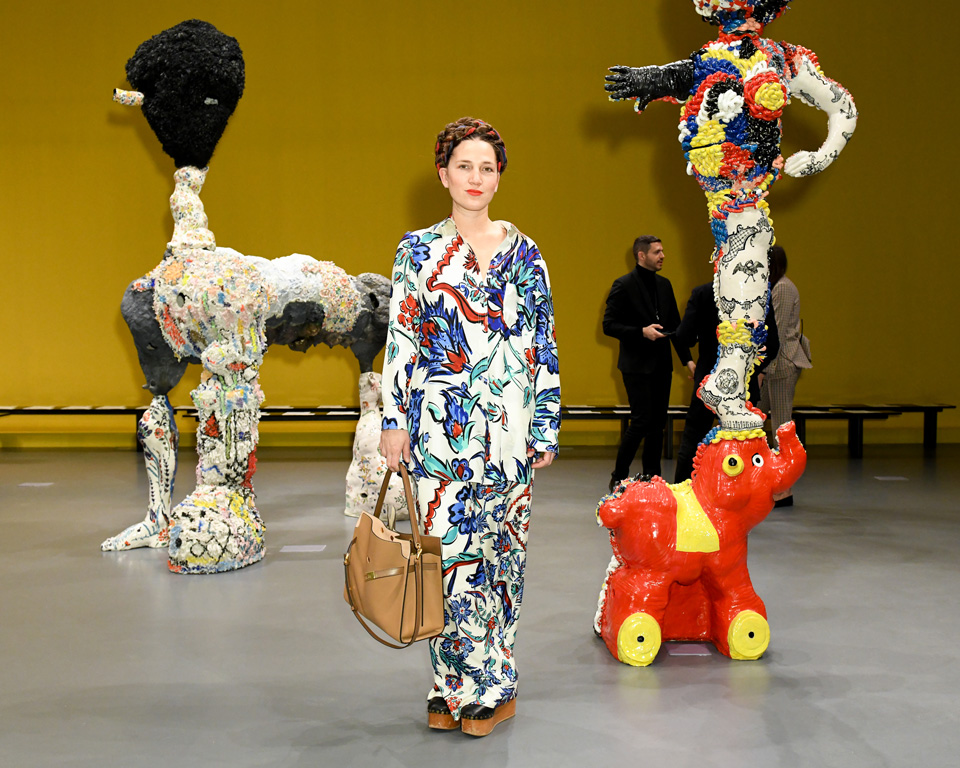 The Fall/Winter 2020 collection was a tribute to female creativity, with one muse at the red hot center. Francesca DiMattio, the ceramicist and sculptor, served as primary inspiration for the design team—as well as collaborator. In addition to supplying the eleven incredible sculptures that appeared on the runway, DiMattio created patterns that appear on clothing and accessories across the collection.
Only weeks after the birth of her second child, DiMattio appeared in the front row, wearing an outfit in her Tory Burch design and a fabulous pair of platform clogs. We spoke with her about where she finds her own influences.
How does your work reflect your views of womanhood?
Aesthetics associated with domesticity and womanhood have been dismissed as decorative, sweet and pretty.  In my work I try to imbue the decorative with strength and power.
Women artists have been marginalized throughout history. What is your reaction when you hear stories like Judith Leyster's, the Dutch Master whose husband and tutor took credit for her work?
Nothing was fair when it came to women.  I feel very lucky to be born now.
What inspired your prints for the FW20 collection?
My work has a lot to do with the history of porcelain.  I wanted to make a series of prints inspired by porcelain motifs from different eras and cultures. I wanted to imbue familiar porcelain motifs with urgency and aggression.  They are hand painted with an abbreviated urgency and toughness that is uncharacteristic from their decorative origins.
What types of porcelain did you look to for inspiration?
I looked at porcelain motifs from Ming dynasty China, Iznik designs from Turkey, English Staffordshire and French Rococo.  I hand painted these designs over and over until they became gestural, quick and expressionistic rather than their careful delicate origins.
The print colors are bright and bold. How did that come to be?
 The colors are exaggerated versions of the pastels found in the Sevres vases and dishware that inspired them. I wanted the color to be bolder than we're used to.
We at Tory Daily are inspired by smart, passionate women who #EmbraceAmbition and find ways to make their communities stronger. For information on the Tory Burch Foundation, which empowers women entrepreneurs to #EmbraceAmbition, click here.