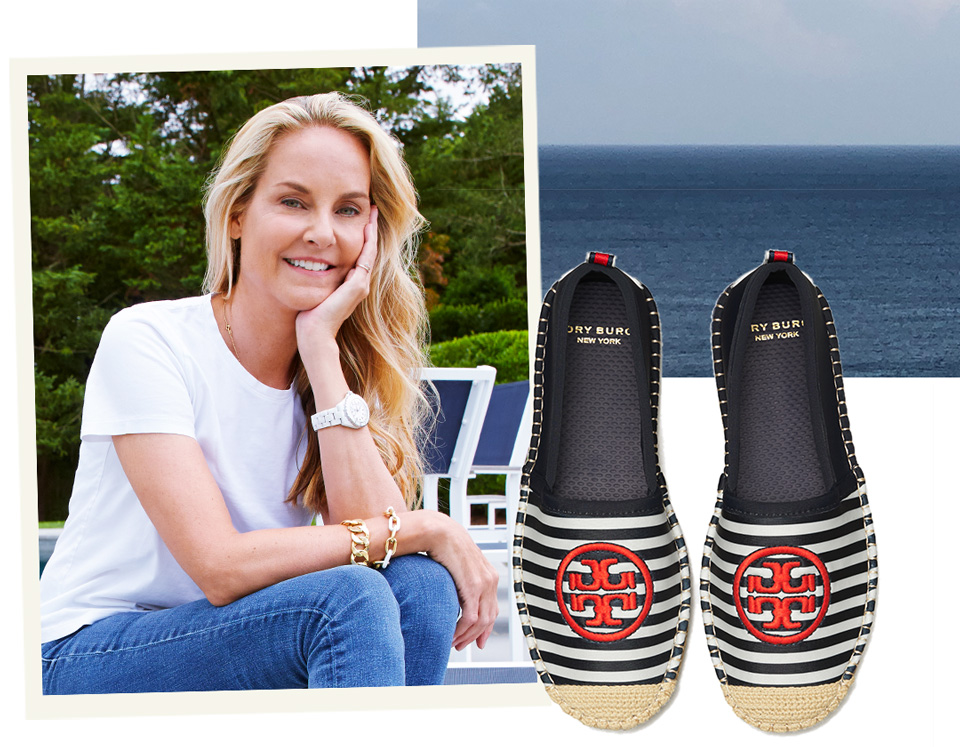 Got your eye on a new pair of espadrilles? We commend you for your good taste. "Espadrilles have strong roots in Basque culture," says Libby Fitzgerald, friend of Tory and founder of espadrille label
Sea Star Beachwear
. "They were worn by everyone, from the King of Aragon's infantry to mine workers and priests." And that was before they went on to become a
shoe of choice
for style icons such as Grace Kelly and Jane Birkin.
Fitzgerald's brilliant version builds on espadrilles of the past: Not only are they chic, but they're water-friendly, made from quick-drying neoprene and lightweight rubber. The idea came to her after a bit of playful teasing from her teenage sons, who found their mother's water shoes – the traditional mesh and rubber type — a tad embarrassing. So Fitzgerald set out to re-imagine the functional footwear, and incorporated the timeless and appealing design of the espadrille. In 2015, she launched her Sea Star brand, and its Beachcomber Espadrille, a fashionable and functional water shoe.
As part of our dedication to empowering women entrepreneurs, Tory worked with her friend and Sea Star founder to design a pair of neoprene espadrilles for the Tory Burch customer. We spoke with Fitzgerald prior to the launch for the 411 on Sea Star Beachwear.
Before I was an espadrille entrepreneur I was….
A mother of three boys! Before that I worked at Hermès in PR and Marketing and managed the family's Black Angus cattle farm in Litchfield County, CT. Three very diverse careers!
The things that have been getting me through the recent weeks are…
My family and friends have been essential, of course. I've also received such wonderful support from new and loyal customers alike who value helping small businesses, especially during this uncertain time. It's so heartwarming, and I'm paying it forward to other small and female-founded businesses as much as I can!
I met Tory when…
We were fresh out of college and I was working at Hermès. She was at Ralph Lauren, at the time.
and I can always count on her ….
For advice and guidance. Tory personally understands the obstacles that women in business face. She has always been extremely supportive and encouraging as I grow and scale Sea Star Beachwear.
Being a CEO of a company involves everything from…
Designing and patenting new products to packing boxes!
The most surprising thing about running a company is….
Surprising in a positive way, how supportive my friends and family have been. Launching a startup at age 52 has its own unique challenges. It was a big change for my family to have me in the office and traveling frequently for work. They are proud of what I have accomplished and very supportive of the business. My friends have been tremendously supportive, too. Tory has always been one of the best!
The best piece of advice anybody ever gave me when I was gearing up to start my line was…
Focus your energy on the quality and unique functionality of the product. It's all about the product. Don't be afraid to say no.
My favorite thing to snack on while I'm working is…
Notti Toffee and cheese biscuits.
My guilty procrastination is…
Scratching my dog, Duke!
When I need design inspiration I…
Go to the beach.
My work wife is….
Meaghan, my fabulous Sales Director. She was one of my first hires and has been my right hand over the last five years. She's a joy to work with, and I'm so proud of how she's grown and embraced her own ambition at Sea Star Beachwear.
The best thing about my office is….
Being located in Soho, New York. I love the vibrant diversity and creative spirit of the neighborhood.
The next thing I'd like to do with the line is….
We are working on creating our shoes out of recycled neoprene. The sole is already made by a zero-waste process, and we are looking forward to being completely sustainable.
I Embrace Ambition by….
Thinking big.
We at Tory Daily are inspired by smart, passionate women who #EmbraceAmbition and find ways to make their communities stronger. For information on the Tory Burch Foundation, which empowers women entrepreneurs to #EmbraceAmbition, click here.