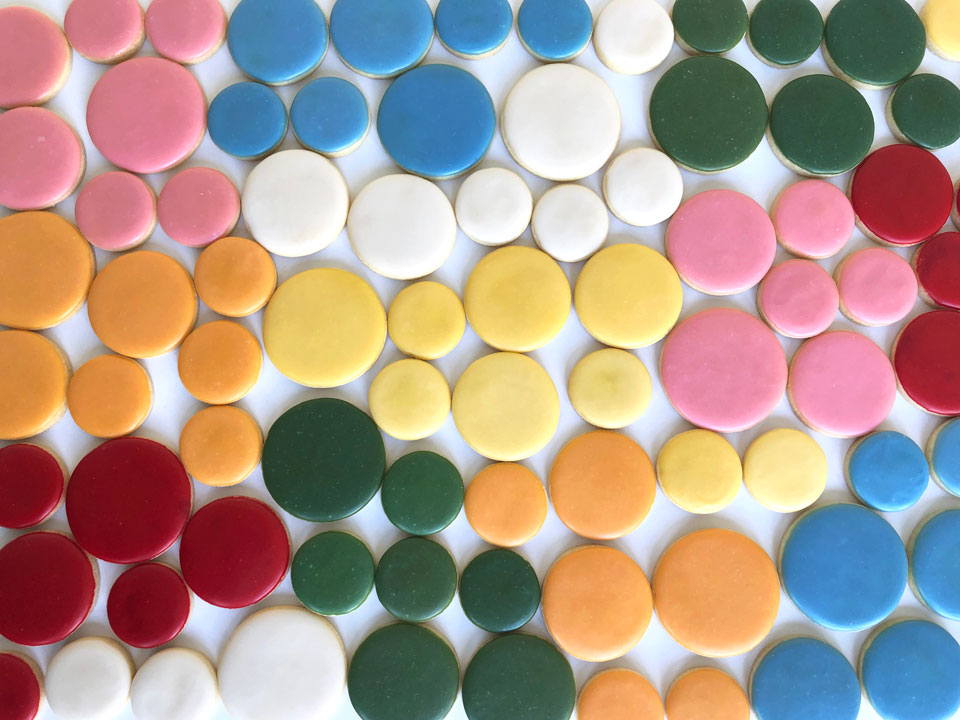 Confetti cake, Jolly ranchers, Kit Kats. These have long been the unofficial snacks of Team Tory. Now there's a treat set to unseat the incumbents: the beautiful sugar cookies from
The Rounds
, a Brooklyn bakery that offers its coin-shaped specialty in just about every color under the sun.
Anna Harrington founded her line in 2018, after a trip with her mother to Holland, where round cheese crackers called Kaaskoekjes are a staple of entertaining. "They're simple and mood-elevating," says the former accessories designer and caterer, who partly grew up in Holland. "And they're impossible to find in America." They were, anyway.
Her company makes two kinds of round cookies: savory varieties flavored with cheese, nuts, meats, and spices as well as the sweet—but not too sweet—sugar cookies that have gained a cult following on Instagram. Harrington spent years developing recipes to meet the exacting standards of her own palate. "I'm more of a savory person, and I'm not a big fan of icing," she shares. "What I came up with is more of a glaze."
She divides her customer base into two factions: The die-hard gourmands who come to her for her cocktail-hour nibbles, and "the Instagram crowd" with a sweet tooth and a penchant for a spot of color—or just an eye for beautiful things. When we told Harrington how much we love her, she created an array of cookies in our spring colors. We'd say it's the sweetest thing ever, but that might rub her the wrong way. So let's just call it beautiful. And delicious.