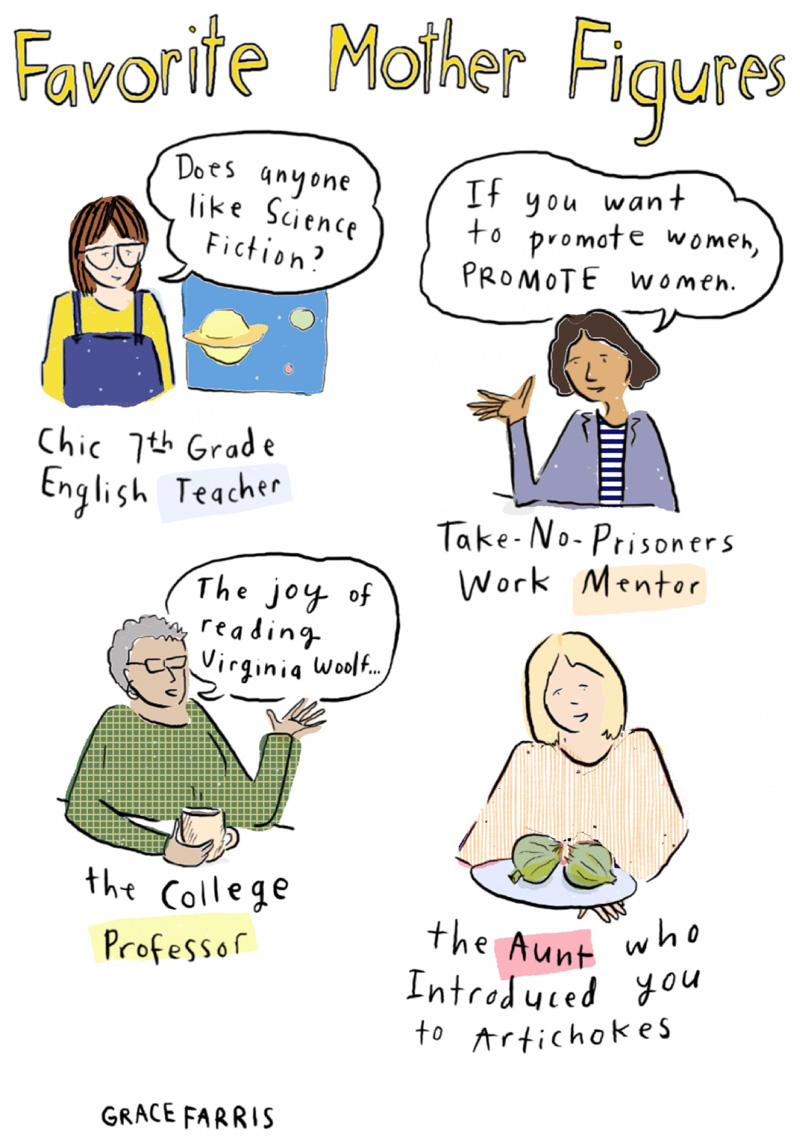 Grace Farris, M.D., known to her growing ranks of fans as @
coupdegracefarris
, has been our go-to source for bitingly funny and relatable Mom-con since what feels like the dawn of Instagram. Leave it to her to capture the hubris of a mom at the beginning of a weekend (library trips! farmers' market runs!) and the reality of a Saturday night in Momtopia (bowl of cashews, goblet of natural wine, Curtis Sittenfeld novel and we're flying high). Our love and awe for her has only grown in recent weeks, as she moved her young sons into the home of her mother-in-law in Connecticut so she can perform her job, as Chief of Hospital Medicine at Mount Sinai in New York City, where she typically treats city residents and tourists with a range of conditions, from kidney problems and pneumonia to blood clots. "Since COVID, almost all of our patients have COVID," she says. When she isn't saving lives and talking to her sons on FaceTime, she's sharing her observations—still humorous, and always brimming of heart–with her lucky readers. We thank her for all she has been doing, and wish her exceedingly well.
You made a special cartoon for Tory Daily about Other Mothers, the women in our lives who nurture and raise us. Who would you say your most important "other mothers" have been?
So many of my teachers! And I'm lucky to have a bunch of lovely aunts.
You have two young sons and an intense job, even in normal times. When do create?
I make most of my drawings around 9 p.m. every night. It has become my daily "practice." I didn't set out to do it daily, but I love the routine of finishing the day with a reflection.
What do you use besides an iPad? Where do your ideas go when they come to you throughout the day? A notebook? Notes app?
I use the voice memo feature to record ideas. The best ideas usually come when I sit down to draw though.
What do cartooning and being a doctor have in common?
Well both are very visual, and involve thinking about systems and patterns. There is a lot of storytelling in medicine (for example, a medical student might "present" a patient to me where they tell me the story of what brought the patient to the hospital), but like comics medicine involves many perspectives, thought bubbles and emotions.
What kinds of parenting comics garner the most response?
The parenting comics that seem most relatable are the ones about sleep and bedtime. Everyone has to deal with sleep.
What is the best advice your mother ever shared with you?
Plan for the best, prepare for the worst.
Do you have a Mother's Day tradition?
I try to send my mom some kind of plant each year. She always says she has too many things but she is a big gardener. I've sent rosemary, a kumquat tree and a rose bush in the past. These gifts keep on giving!