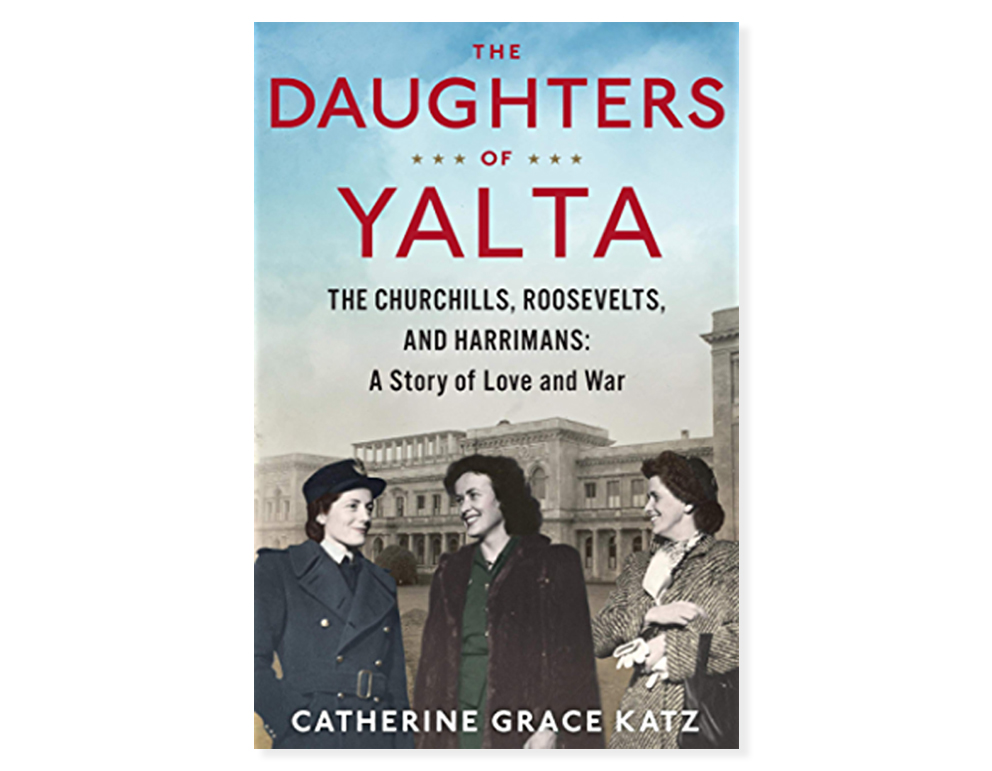 In
Daughters of Yalta
, historian and law student Catherine Grace Katz tells the incredible story of Sarah Churchill, Anna Roosevelt and Kathleen Harriman. Daughters to three of the most influential politicians during WWII — Winston Churchill, Franklin Delano Roosevelt and Averell Harriman, U.S. Ambassador to the Soviet Union — the young women joined their fathers during the Yalta Conference in February 1945, a meeting set to discuss a postwar world. Here, the author speaks about the strength and political savvy Sarah, Anna and Kathleen wielded, and uncovers a side of history that has remained largely untold.
Why did you want to write this story in particular?
Despite having studied the Yalta Conference many times between junior high and graduate school, it was not until I had the opportunity to see the letters in Sarah Churchill's archive that I realized Winston Churchill, Franklin Roosevelt and Ambassador Averell Harriman had chosen to bring their daughters as their aides. who were 27-, 30- and 38-years old at the time. Though Yalta occurred 75 years ago, this story felt remarkably ahead of its time. As I began to read the daughters' letters and diaries, it was almost as if they were old friends reaching out from the pages.
Perhaps because I was also 27, I could put myself in their shoes in a way other historians had not previously considered. Even though we think of figures like Churchill and Roosevelt as giants of history, at the end of the day, they are also someone's dad. Of all the people these leaders could have chosen to bring with them to one of the most consequential events in the 20th Century, they chose to bring their daughters. This suggested there was something incredibly special about these relationships.
What can we learn in 2020 from Sarah, Kathleen and Anna's story?
History resonates with the present, especially during this election year. The activity of the First Family has come under scrutiny, and the question of how involved the family members of an elected official should be in his or her public duties, especially adult First Children. Now we have an adult First Daughter who is more involved than any before her. Looking at Sarah, Kathleen and especially Anna, we can better understand the different ways a First Daughter can impact her parent's administration and to what extent she should be involved in an official capacity.
Second, by looking at history from a different gender and generation, we can better assess problems that face us today. The question of how to effectively deal with Russia was as essential in 1945 as it is now, and through the eyes of these three daughters, we can better understand the personal challenges and biases we confront in timeless matters of policy.
I also think Sarah, Kathleen and Anna can help us understand the impact women have had at the heights of politics and diplomacy, even before traditional leadership roles were rightly opened to them . And to see how much these fathers valued their daughters' opinions and abilities, especially during one of the most challenging moments in their careers, also helps us view these men in a different light. We don't necessarily think of them as feminists, but sometimes people can surprise you. I think they would have encouraged their daughters to #EmbraceAmbition.
What is your favorite anecdote from the book?
I don't know if "favorite" is the right adjective for this anecdote, but it's one that I find especially fascinating. Before one of the formal conference dinners, Sarah Churchill had what could have been a frightening run-in with Lavrentiy Beria, the head of Stalin's secret police, but she turned the tables on his attempted intimidation by relying on her training as an actress that served her so well as a diplomat. I just love how this feisty young woman faced down one of the most dangerous and frightening men in the Soviet Union with courage and sharp sense of humor.
Who are some other strong women in history who you think deserve more recognition?
As a historian writing about World War II, some of the stories that most inspire me are those of the wives, daughters, sisters and mothers who risked their lives as some of the fiercest spies or members of the resistance, not just in places like France and the Netherlands, but also in the enormously important but less understood fronts of the war like Japan, China and Burma. Because they did their jobs so well, keeping their identities and activities a secret, we will likely never know many of their names, but we should try to uncover their stories.
How do you embrace ambition?
By embracing stories like this, I want to show women today that ambitious women have always been with us. We have inherited their stories, and I feel a sense of duty to tell their stories in order to inspire women of the future.
What is the best advice you ever received?
When I graduated from high school, my homeroom adviser, Mrs. Henderson, gave me a framed quote from Thomas Jefferson: "I find that the harder I work, the more luck I seem to have." I do believe you make your own luck, and it's often just a matter of putting yourself out there, even when it may be daunting.
What are you reading now?
I am the type of person who has three to four books going at a time. I was on a bit of an Ann Patchett kick this summer. I finished her most recent book, The Dutch House, and have two more of her novels on my nightstand. Like many others during quarantine, I enjoyed Erik Larson's The Splendid and the Vile and I hope it inspires people to read more about this fascinating period in history. I enjoy a good spy thriller, so I always have a few of those on hand. I also keep my set of Jane Austen books beside my bed. No matter how many times I have read them, Austen's heroines never cease to delight, and there is no better master class in narrative and writing than Pride and Prejudice and Emma (though Northanger Abbey is completely underrated and might actually be my favorite).