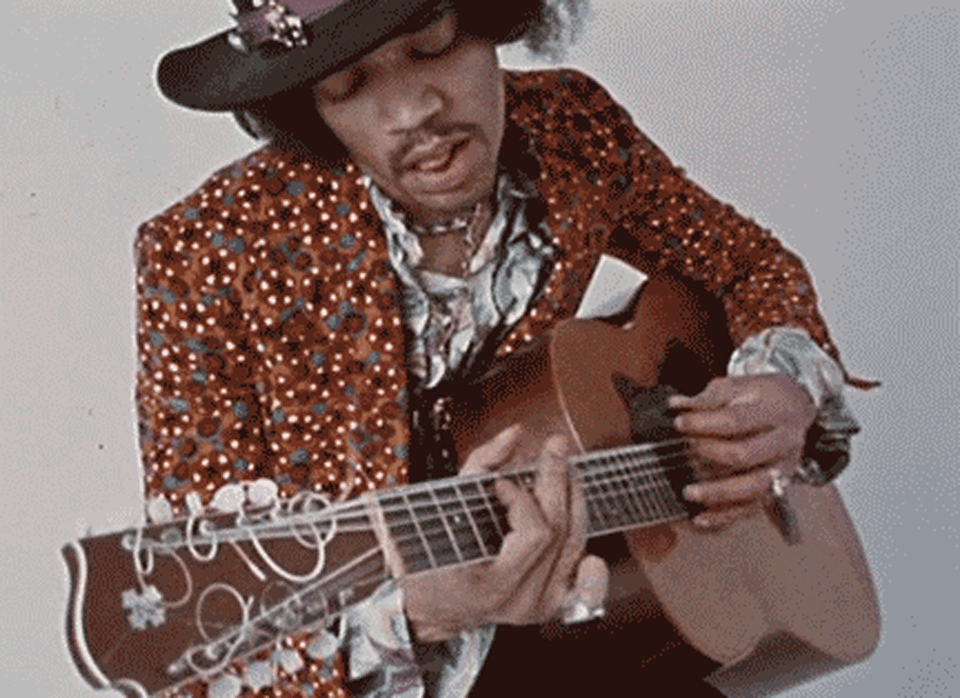 Stop the music! It's Sagittarius season… From November 22 to December 21, we're rocking out like the star sign's frontman, Jimi Hendrix. Here, astrologer and Tory Daily contributor Susie Cox maps out the coming month for all the Zodiac signs.
Sagittarius
Happy Birthday, dear Sagittarius. This will be a fun birthday month for you since Mercury will be in your sign from December 2nd – 20th. Mercury is about communication, so make sure to reach out to your friends and family during this holiday season.
Capricorn
You are almost free, Capricorn. On the Winter Solstice, or December 21st, both Jupiter and Saturn will move out of your sign and enter Aquarius. If you have any last bit issues to release, please do it by that time. You have been working very hard and you will soon see how it will pay off.
Aquarius
Your sign of Aquarius will be the center of attention for quite a while now. Both Jupiter and Saturn leave Capricorn and enter Aquarius on December 21st or the Winter Solstice. You are just starting a new phase and this is the time to prepare for your new life.
Pisces
The second week in December is your power time for this month. Planets will line up with your Pisces Sun in a way that will help you accomplish a lot in a very short period of time. Try not to get distracted and you will succeed. Do your holiday shopping early this year.
Aries
Your planet Mars has been in retrograde motion in Aries since September 11th and turned direct on November 14th. Don't feel bad if your projects were delayed, that is often part of a retrograde. Now is the time for you to move forward, just like Mars.
Taurus
Venus is aligning with your Taurus Sun this month. Since Venus is your planet, it makes this a fortunate month for you. Beauty is associated with Venus, so if you are ready to bring new aesthetics into your life, now is the best time. Be generous with yourself and yes, buy that dress or piece of art you want. Venus would approve.
Gemini
The Full Moon is in Gemini this month on November 30th. Gemini is a very social sign and this is the time to celebrate with some close friends. Go out and watch the Sun set in the west and turn around and watch the Moon rise in the east. Turn it into a Gemini Full Moon party!
Cancer
Your sign of Cancer loves food and to entertain small groups and December 4th is your perfect evening for a dinner party. Since the holiday season is here, have people dress up to make the party even more special. Formal attire would be appropriate.
Leo
The weekend of December 4th is your best celebration weekend this holiday season. In Leo style, put on your finest clothes and strut your stuff. You know the Leo in you would love that and now is the time. Are Led lights too bright? Hey, it is the holiday season.
Virgo
The second week in December is your best time until the holidays to do a project. Not only will your fastidious Virgo shine, but you will feel this surge of creativity, not usual to your Virgo style. There might be an artist in you, who knows?
Libra
This will be a holiday season for relationships for you, dear Libra. Not only will personal relationships come into focus, but also dealing with your family and extended family. You might find yourself being the entertainment director for a while – a job that would come natural to you.
Scorpio
Lucky you, Venus is in Scorpio until December 16th. Now is the time to not only buy presents for others, but also buy presents for yourself. Be very generous, especially with items of beauty, music or art. Yes, you can splurge on that present this year, dear Scorpio.
射手座
射手座の皆さん、お誕生日おめでとうございます。12月2日から20日まで水星が射手座に滞在するため、楽しいお誕生日月になります。水星はコミュニケーションを司る星。ホリデーシーズンに、友だちや家族に連絡を取りましょう。
山羊座
山羊座の皆さん、もうすぐ自由を手に入れることができます。12月21日の冬至の日に、木星と土星が山羊座を出て、水瓶座に入ります。手放しておきたいことがあれば、それまでに済ませましょう。これまで一生懸命に取り組んできたことが、もうすぐ実を結びそうです。
水瓶座
水瓶座はこれからしばらくの間、注目の的になります。12月21日の冬至の日に、木星と土星が山羊座を離れ、水瓶座に入ります。あなたは今、新しい段階に歩み出そうとしているところ。この先の新しい人生に向けてしっかり準備を進める時です。
魚座
12月の第2週は、今月の魚座のラッキーウィークです。全惑星が魚座の太陽と直線状に並ぶため、短い期間に多くのことを達成できそうです。しっかり集中して取り組めば、良い結果がもたらされます。今年のホリデーシーズンのお買い物はお早めに。
牡羊座
牡羊座の支配星である火星が、9月11日から牡羊座で逆行していましたが、11月14日に順行に戻ります。プロジェクトが遅れることがあっても、それは逆行による影響なので気にしないで。今こそあなたが、火星のようにパワフルに前進するときです。
牡牛座
今月は、金星が牡牛座の太陽と直線状に並びます。金星は牡羊座の支配星。そのため、今月は幸運な月になります。金星は美を司る星でもあります。人生に美しいものを新たに取り入れたいなら、今が絶好のタイミング。自分へのご褒美に、欲しかったドレスやアート作品を買いましょう。金星も後押ししてくれています。
双子座
今月の満月は、11月30日に双子座で起こります。社交性に優れた双子座の皆さん、親しい友人たちと一緒に、満月を祝いましょう。さあ、外に出て、西に沈む太陽を眺め、東から昇る月を愛でましょう。双子座らしい最高のフルムーンパーティに!
蟹座
おいしいものを食べたり、親しい仲間内と楽しむことが好きな、蟹座の皆さん。12月4日の夜は、ディナーパーティに最適。ホリデーシーズンが近づいています。ドレスアップしたゲストを招いて、特別なパーティにしましょう。フォーマルな装いがオススメです。
獅子座
今年のホリデーシーズンのお祝いは、12月4日の週末に計画するのがベスト。獅子座らしく、特別な一着をまとってスタイリッシュに。今こそ、獅子座の個性を発揮しましょう。LEDライトがまぶし過ぎるって?ホリデーシーズンですもの、楽しみましょう。
乙女座
ホリデーシーズンに突入する前の12月の第2週は、ちょっとしたプロジェクトに取り組むのに最適な時期です。乙女座ならではの几帳面さを活かすだけでなく、普段とは違う創造性が自分の中に芽生えるのを感じられるはず。自分のアーティストな側面に気づくことになりそう。
天秤座
天秤座の皆さんにとって、人間関係が育まれるホリデーシーズンになりそう。プライベートな関係だけでなく、家族や親戚との関わりも深まりそう。しばらくの間、おもてなしのホスト役を担うことになりそう。あなたにこそふさわしい、この役回りを引き受けて。
蠍座
金星が12月16日まで蠍座に滞在するお陰で、ラッキーなひと月になりそう。この期間に、大切な人へのプレゼントを買いましょう。自分へのご褒美もお忘れなく。美容、音楽、芸術関連のアイテムで贅沢をしてみるのも良いかも。蠍座の皆さん、今年のプレゼントは豪華にまいりましょう!