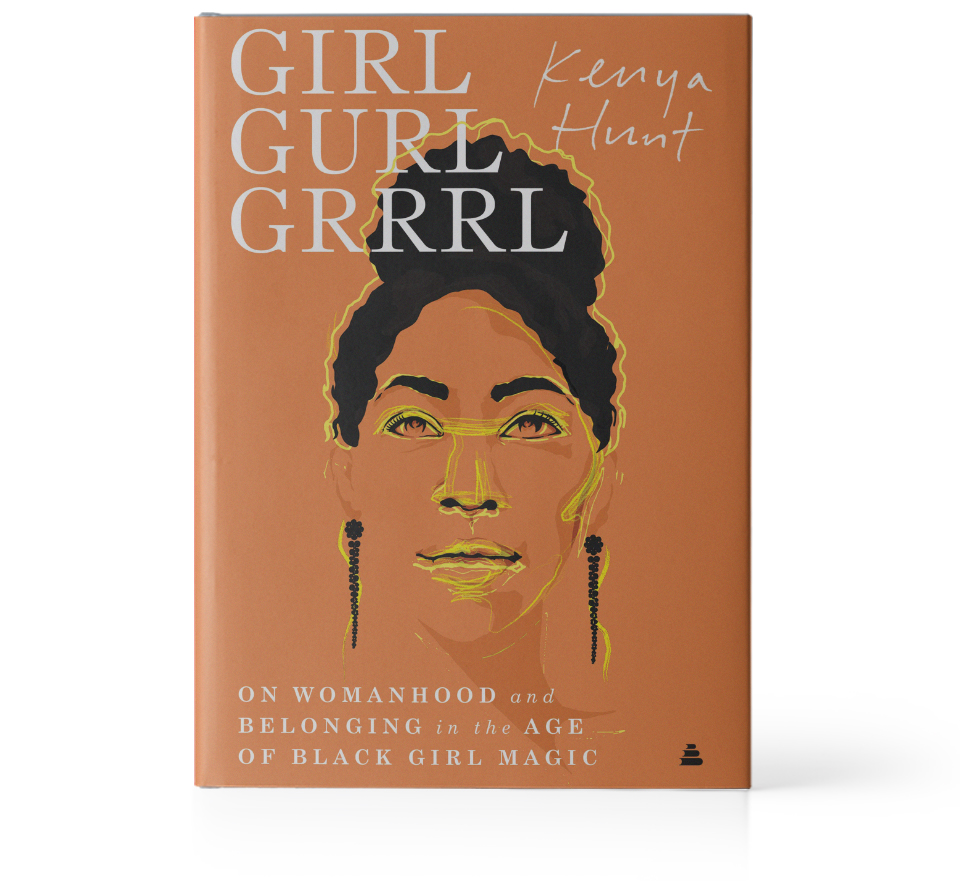 Kenya Hunt started thinking about and writing her first book, Girl, Gurl, Grrrl, prior to the social and cultural upheaval that was 2020. But with its arrival this month, as our collective sights are set on what must-be/has-to-be a better 2021, Hunt offers perspective on the past, insight into the present and irrepressible hope for the future.
Girl, Gurl, Grrrl is a collection of essays from the Grazia UK fashion director, who is a fixture in American and European fashion and cultural journalism. Here, she speaks directly to what it means to be a Black woman today. Not just Black Girl Magic — a subject she carefully discusses in one essay — but what she calls "regular degular" days. Any woman, married or not, mother or not, Black or not, will find common ground here and, one hopes, a deeper connection and respect for the women around us.
On the eve of the book's launch, Hunt answered our questions…
I wanted to write Girl, Gurl, Grrrl because…
I wanted to celebrate how Black women advocate for ourselves and show up for each other in a world that often does not. I also wanted to contribute to the expansion of how Black womanhood can look. Our stories are so often pushed to the margins or written out of history and yet Black women have been powering global social justice movements, shaping culture and swinging elections. I wanted to participate in bearing witness to this and celebrating it.
When people read it, I hope they take away…
Regardless of race or gender, I hope that people will read this and come away with a heightened sense of empathy, in a year when the world could use a lot more of it.
My writing process for Girl, Gurl, Grrrl…
As a working mother of two boys, I had to snatch the moments to write when I could grab them. Most often, this was in the wee hours of the night with a glass of wine in hand. I'd also take chunks of time to write during most weekends at one of my local cafes. So I'd end up dedicating several hours each night and a longer stretch over weekend. I also took an extended break to visit family back home in Virginia and North Carolina and staged a mini writing retreat for myself during that time.
A line or story in the book that stands out to me the most…
Lately, it's been the chapter Bad Bitches, which explores what happens when the idea of Black Girl Magic gets twinned with the idea of Black Excellence, and how this can become complicated when the magic in the everyday, regular-degular gets lost. This year alone has been filled with so many incredible movements that have been powered by women who don't necessarily make the headlines.
My favorite part about writing this book…
Quite simply: having the luxury of time to write and really sit with my thoughts. I've spent so many years of my professional life learning how to write quickly (for magazines, for newspapers, for the web), I loved being able to write freely and not have the pressure of a word count or short turnaround.
And the most challenging…
Deciding when to stop writing. When I began the book, I had no idea that so many of its talking points would take on a new layer of meaning in 2020. There was a point after I had delivered the book to my publisher, when I wanted to keep revisiting it and adding more to it in response to what was happening in the world. There reached a point where I had to make an active decision to stop writing and let the work be.
I combat writer's block by…
Writing through it as best I can. When writer's block hits, I usually then write in a stream of consciousness way — Julia Cameron morning pages style — knowing that what I'm writing might make no sense and get scrapped. And I'll keep writing in that way until I reach a breakthrough.
For me, writing is…
Away to make sense of my thoughts, my life and the world around me.
I embrace ambition by…
Being honest about where I'd like to be and how I'd like to get there, while also taking the time to recognize the value in down time and getting off the treadmill
My holiday plans this year are…
Staying put, due to COVID, rather than traveling back home to Virginia like we'd normally do. We'll be taking the kids out to the countryside here in England as much as we can during Christmas break.
Some of my favorite holiday traditions…
Because we are expats who feel like forever tourists in the UK, our favourite thing to do over the holiday period is explore parts of England that we haven't been to before.
This year, the holidays will be different. My style will be…
Much more relaxed than usual. I'm currently stocking up on graphic silk pajamas that I can wear all day.
We at Tory Daily are inspired by smart, passionate women who #EmbraceAmbition and find ways to make their communities stronger. For information on the Tory Burch Foundation, which empowers women entrepreneurs to #EmbraceAmbition, click here.