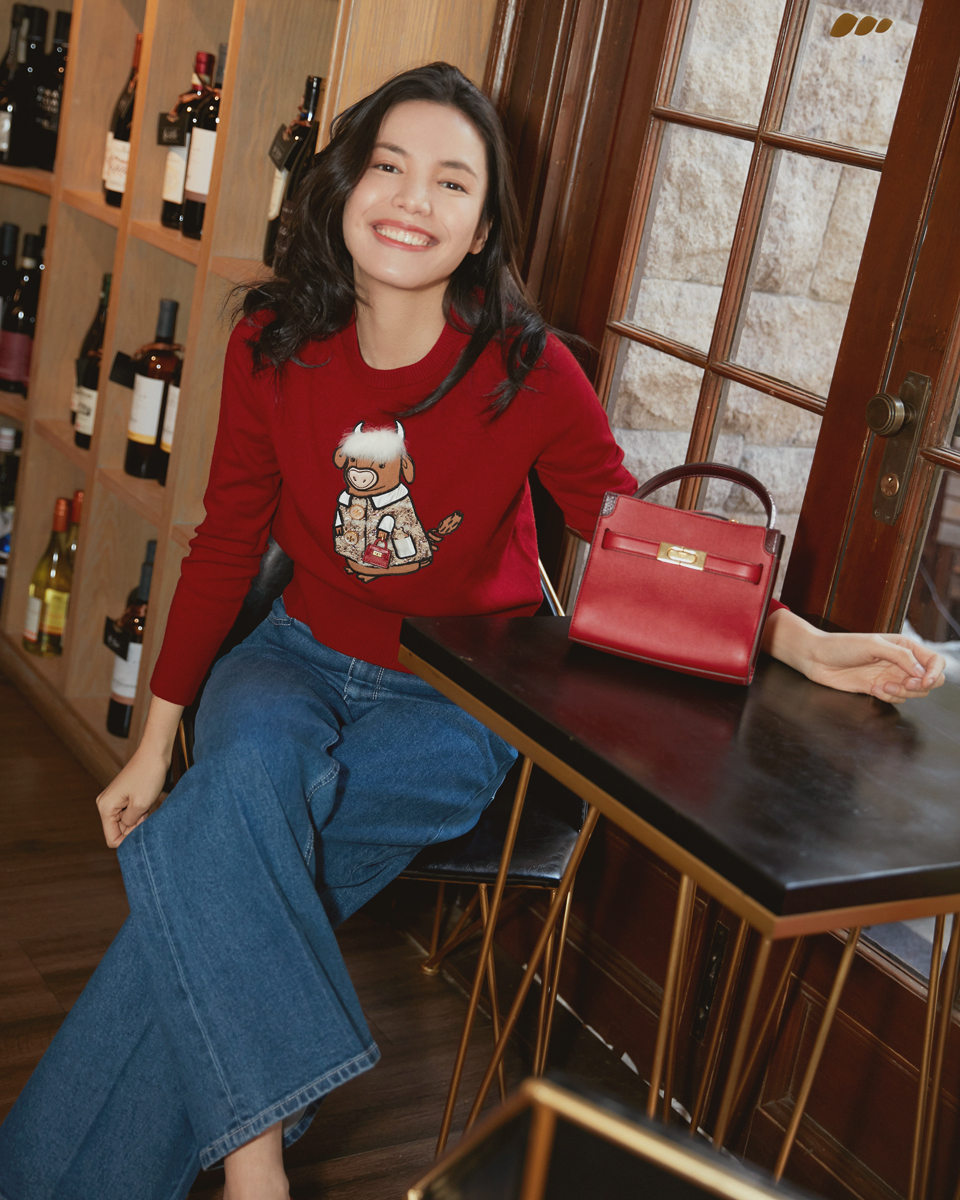 Let the Lunar New Year celebrations begin… We are ringing in the Year of the Ox with Linda Li, one of China's most celebrated style inspirations. Linda recently stopped by one of her local hangouts in Shanghai — where she lives with her husband and twin boys — looking especially festive wearing pieces from our exclusive Lunar New Year collection. Here, Tory Daily checks in with the pop culture multi-hyphenate to get the inside scoop on her New Year plans and traditions.
Growing up, my favorite Lunar New Year traditions included…
Growing up, my favorite festival was Lunar New Year. There is just so much to love about it, like getting together with my family and having the New Year feast, buying new clothes for myself and giving gifts to family and friends… This is what the Chinese love the most.
And new traditions I've started myself…
My husband is French and we have twin boys. For the New Year, we take a family trip together, like a ski trip in China.
This year I'll celebrate by…
My girlfriends are now all moms and our kids are about the same age, so we have all our families together. We will stay at a resort, or a nice hotel and the kids can play together. This is something to look forward to.
My favorite food for a New Year celebration…
I love traditional festival food, like from my childhood. Things like stir fried rice cake, dumplings, homemade soup by mum…
When dressing up for a New Year celebration…
For the New Year, I always go for bright colors. I leave black and grey for my daily life. I love to be in bright colours — it's like waiting for the spring to come…
My Chinese zodiac sign is…
My zodiac sign is a dog. I am a sincere and loyal person. All my best friends have been my friends for more than 10 years. I like the feeling of companionship and growing up with them.
山羊座
从小到大最爱的农历新年传统是…
成长过程中,我最爱传统农历新年了,包括很多事情,像是家人团聚在一起,一起吃团圆饭;给自己买新衣服,礼物或者送家人朋友,这也是中国人最喜欢的事情。
由我开启的新传统…
因为先生是法国人,又多了一对双胞胎男宝宝,那现在新年的时候,我会组织家庭旅行,比如滑雪.
今年将如何庆祝…
因为我的闺蜜们都成为妈妈了,我们的孩子都差不多大,所以我们会组织家庭聚会,比如找个好的风景名胜区,好的酒店聚在一起,让孩子们可以从小在一起玩,这也是很让人期待的。
过年最爱吃的是…
最喜欢的传统食物,还是那些童年的味道,像是炒年糕、北方的饺子,妈妈炖的汤等等。
迎新年穿的是…
新年我还是喜欢颜色鲜艳的衣服,这点没有办法,黑色,灰色只会平时穿。我还是喜欢颜色鲜艳的衣服,等待春天的到来
我的属相是…
我属狗的,我也是一个非常真挚且忠诚的人,最好的朋友都是十几年的关系,我喜欢这种一起陪伴和成长的感觉。