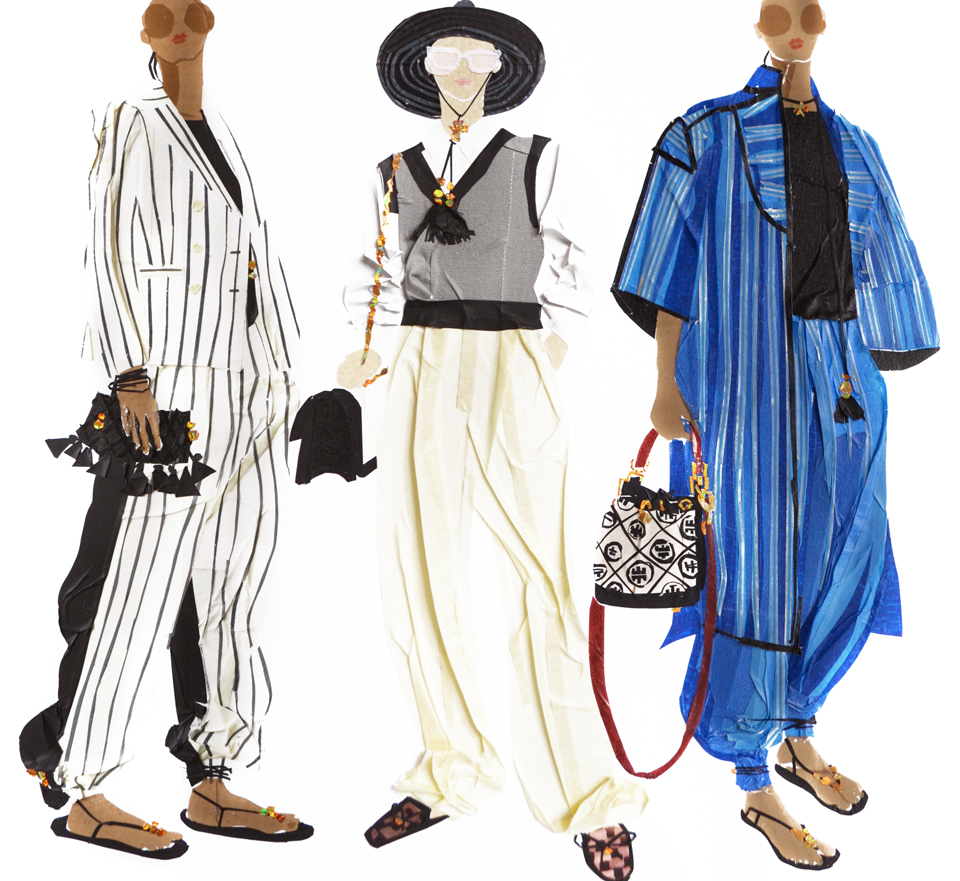 London galleries and museums may be closed for now, but that doesn't mean artists have stopped creating. In fact, Blue Farrier has never been busier. The London-based artist and designer — whose portfolio of brands includes Chloé, Anya Hindmarch and Stella McCartney — continues to receive commissions for her sought after tape collages, ink paintings and vibrant oil pastel drawings. All while homeschooling her two children.
Last week, Tory Daily had the opportunity to speak with Farrier while she completed three of her signature tape collages for our Spring/Summer 2021 collection. Here, enlightening excerpts from a candid conversation on art, me time — spoiler alert: for Farrier, they're one in the same — and embracing ambition.
On becoming an artist…
I've really struggled with calling myself an artist because, in my head, to be validated as an artist is to be at such a high caliber. I'm actually a fashion designer. That's the world that I come from. It's only really recently that I've had this sort of explosion of art come out of me. I used to be laughed at as the jack of all trades, master of none because, somehow throughout my career, I've been able to work on film, collaging and painting under the huge umbrella of fashion.
Something that I've realized over the last couple of years is that you don't just have to be one thing. When I think of some of the world's greatest artists, they had the most incredible discipline, but they evolved. I've realized that the essence of being a designer is that you can you put your heart into and design anything — the inside of a house, the outside of a house, a rug, a painting, a teapot… You could just go on and on and on, and I really enjoy that.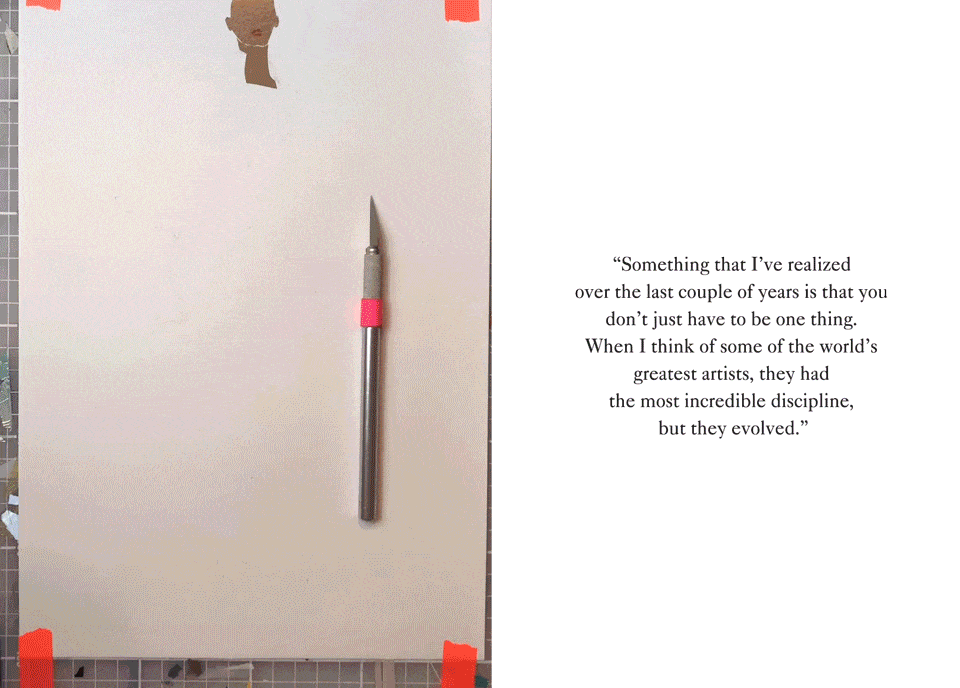 On finding inspiration…
Right now, my go-to places aren't open. All the places and things that bring joy and color… It's hard to find inspiring things at the moment, which is why I think I listen to a lot of podcasts. I find listening to other people's journeys and how they became who they are really inspiring.
I've also discovered some amazing artists on Instagram. It has actually been a really big eye opener to me, following people and having communications and seeing what other artists are doing. At the end of the day, it's just like connecting, isn't it? Connecting with people, connecting with things that resonate with you…
On free time…
I think you can't separate yourself from being a designer or an artist. I mean, I constantly seem to be doing something along those lines. I'm either editing some film, or I'm working out what to put on Instagram. I hardly watch TV. I'm probably one of those really annoying people that doesn't like much downtime. I am constantly thinking of ideas.
On embracing Ambition….
I've always had a drive to push myself. With what I do, I just can't stop doing it. I have this natural desire to make and to create. It's like this energy force. I've been very lucky to fall into certain areas of the world of fashion and design and art, and just saying, 'okay, I can and I'm determined.' And I guess when you're surrounded by people who are very likeminded, that's quite infectious, as well.
I have really talented friends. They have a real sense of knowing what they like, knowing what they love. I have a very talented sister who's a fashion designer and my mom, she was an artist and a teacher. She is somebody who had a desire and did what she wanted to do. There were a lot of strong women around me growing up and my friends are very strong, very creative individuals.