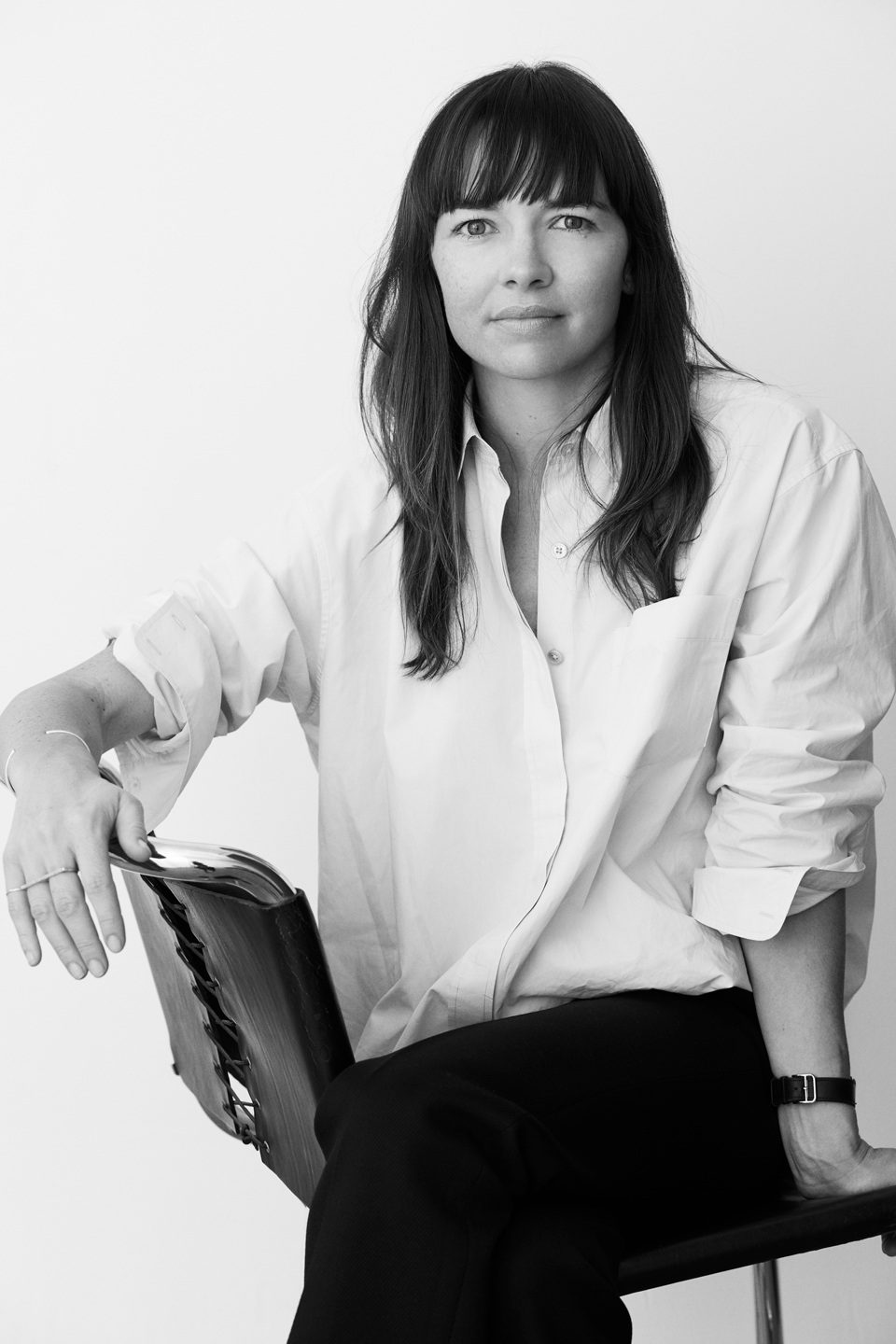 It is said that entrepreneurs require three key things to start a business: expertise, strategy, and execution. With more than 20 years of experience in the fashion industry, Maria McManus is prepped with all the essentials. Earlier this year, McManus launched her eponymous line of environmentally conscious wardrobe staples — luxurious recycled cashmere sweaters, organic cotton button-downs, responsible wool wide-leg pants…. The Irish-born, New York-based designer doesn't use fabrics that aren't recycled, organic, biodegradable or sourced responsibly. McManus' collection caters to a climate-conscious and chic customer whose expectations of quality and responsibility mirror her own.
Before debuting her namesake brand, McManus, earned her stripes at companies including Rag & Bone, Edun and, most recently, Tory Burch. Here, we catch up with the designer, mom-to-two and Team Tory alum to discuss the roses and thorns of being a business owner and her greatest learnings over the last year.
Before I launched my collection…
I had worked in the fashion industry for 20+ years at such brands as rag & bone, Club Monaco, Edun and, most recently, as Chief Merchant at Tory Burch.
I knew I wanted to start my own business when…
Having worked in the industry for so long I was becoming increasingly alarmed about fashion's detrimental impact on the environment. I was working closely with Tory on new sustainability initiatives, which she was very passionate about, but I felt I needed to go deeper and in a more personal way. Starting my own business felt like the perfect way to merge my interests in design, business and sustainability.
The most rewarding part of being a business owner…
Having control over what we create, ensuring that everything is, of course, incredibly chic but also made with the lowest environmental impact using as little water, chemicals and waste as possible.
And the most challenging…
Trying to create clothing in a more sustainable manner is hard and the dynamics change weekly. Recycled cashmere is becoming scarce, organic cotton prices are increasing and there is so much green washing so sometimes it is hard to tell if a material is actually better environmentally.
When I need inspiration, I like to…
Go to galleries, which has been difficult this year. I am not only inspired by art, but I find women in the art industry to have the best taste and most interesting take on fashion.
My guilty procrastination is…
My expenses. I hate doing expenses.
The thing I am most proud of…
My daughters Luella and Poppy Rain.
The best advice I have ever received…
Trust your instincts.
The last year has taught me…
Wow, how does one answer that question. This past 12 months has been a doozey. From a big picture perspective, the Black Live Matters protests really had a profound impact on me, in some ways more than the actual pandemic (given that my husband works in the restaurant industry and I started my company in Feb 2020 I think that is saying something). Pre-May 25th, I naively considered myself to be an aware, socially conscious individual. I think both the protests and the pandemic made social and racial inequalities, in this country and worldwide, even more apparent and every day I try to consider these inequalities in how we work as a company.
On a more personal level, it has taught me to spend more time with my daughters. I am a workaholic by nature and love what I do, so it is a muscle I have to constantly exercise.
I embrace ambition by…
Trying new things, even if they are outside of my comfort zone.
And the person who inspires me to embrace ambition….
My business partner Stella Ishi. She has amazing taste and has had an incredible career in the fashion industry launching such brands as Margiela, Sacai, The Row and Alexander Wang, yet she has no ego, loads of integrity and a lot of grace.