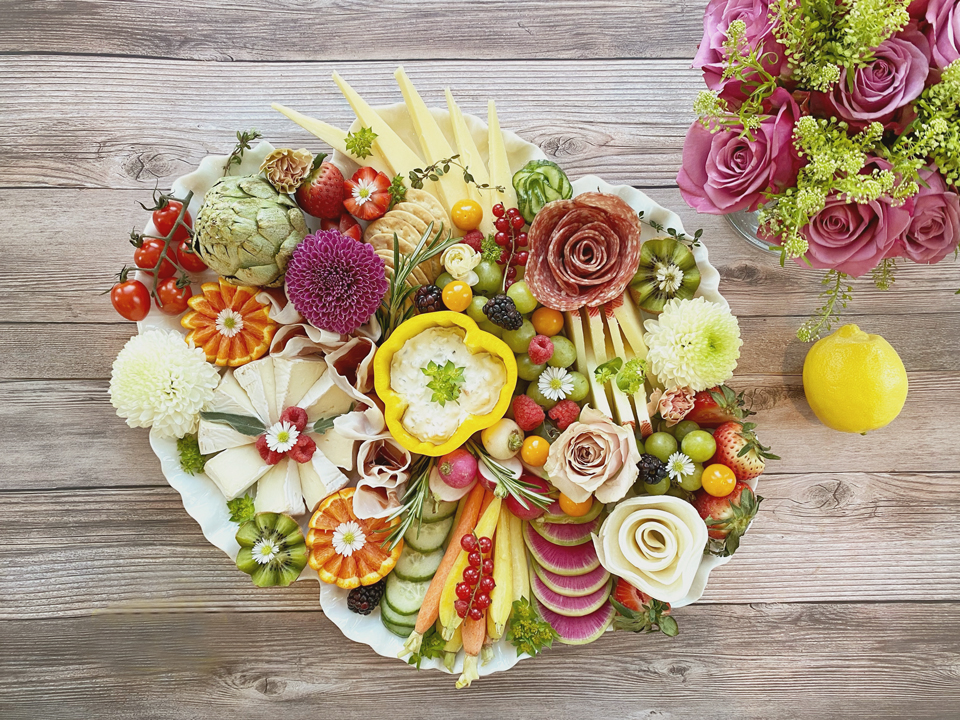 Great conversation, a crisp glass of wine or bubbly and a charcuterie board overflowing with delicious meats and cheeses… We're excited just thinking about it. It's no secret that parties often orbit around the hors d'oeuvres. Tiffany Wei is here to ensure they look the part. Through her small business Amazing Graze, Wei builds beautifully curated grazing boxes and boards for groups big and small. For Mother's Day — which she will be celebrating with breakfast in bed — Wei used our Lettuce Ware platter to create the ultimate springtime display of fruits, vegetables, meats and cheese. Here, we talk with Wei about building the perfect charcuterie board and the lessons she's learned as a mom and a business owner.
I was inspired to launch Amazing Graze NYC…
When my children started getting older — I have always wanted to do something for myself, to do something I love. I love gathering friends and family together for a meal, having conversations and bonding over food. I believe that food should be not only delicious but also beautifully presented.
My pro tip for the ultimate grazing platter…
Start the platter with a theme in mind. I also usually start with the must-haves and end with special touches, like sprinkling herbs and flowers around to make it look beautiful and bountiful. I love adding pops of color to create more depth and vibrancy — raspberries sprinkled on green grapes, honeycomb, pomegranates on brie… Always buy what's in season as they taste and look the best.
And how to make it feel special for Mother's Day…
For a Mother's Day Cheese Platter, I would include Mom's favorite cheeses, fruit and her favorite chocolates and sweets. All things decadent, such as Truffled Cheese, truffled chocolates and unique dips. I would have her favorite color in mind when creating the platter, adorning the platter with her favorite flowers and greens for the finishing touch.
The most important lesson I've learned as a mother so far…
Allowing my children to try new things on their own and make mistakes along the way. They know that I am always there when they need me.
One lesson I hope to pass on to my children…
Always to be kind and, in whatever they do, to try their best. Lastly, to have faith and hope.
I will be spending Mother's Day…
Waking up with a breakfast platter in bed, made by my children, along with my favorite flowers on the tray.
The last year has taught me…
To be open to changes, adapt, be positive and count my blessings. Most importantly, it has taught me to be compassionate and help others who might not be as fortunate.
My words of encouragement for moms during this time…
We are stronger than we think. We are not perfect, and we make mistakes sometimes, but we always try our best to be the best mom for our children because we love them.