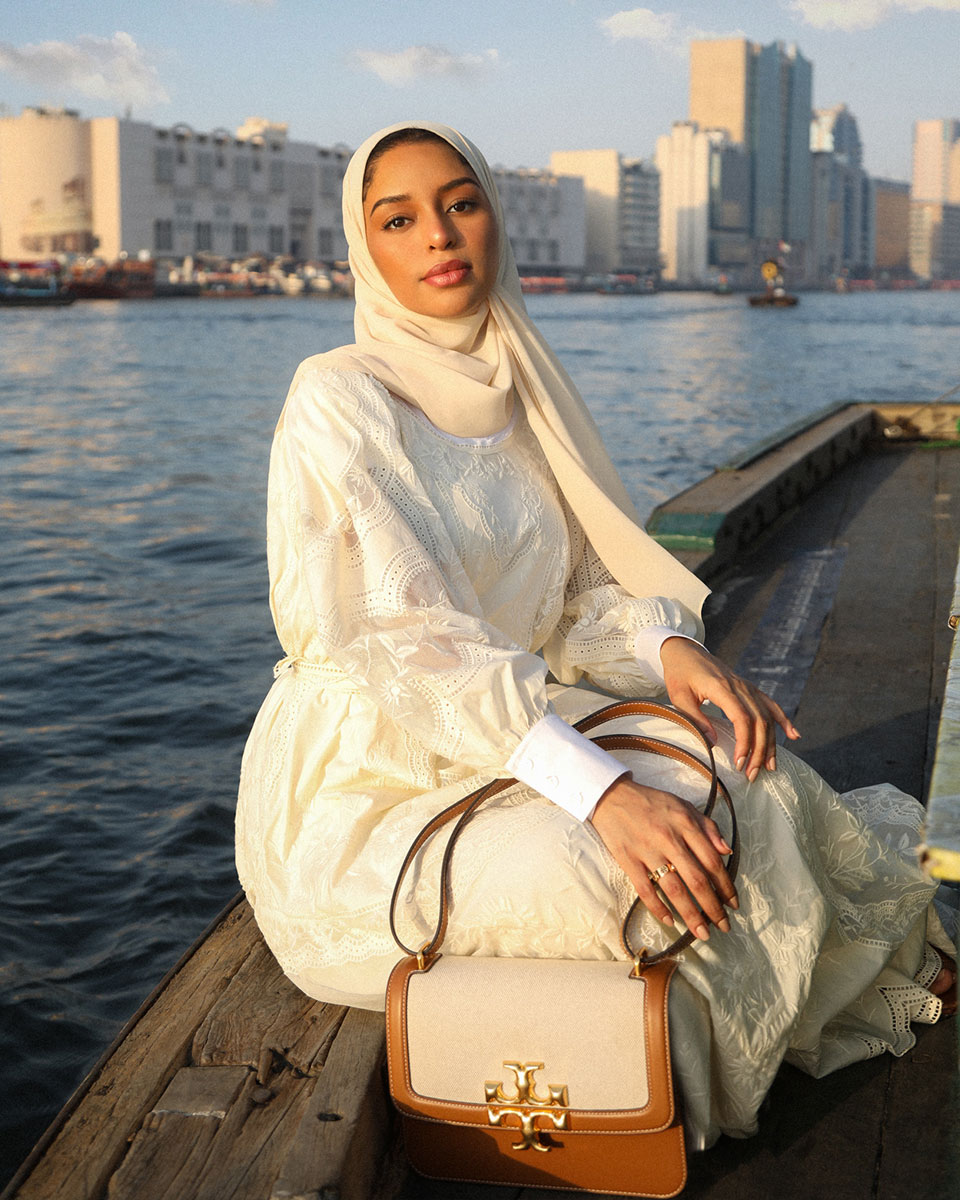 As Ramadan — a month of fasting, prayer and reflection for the Muslim community — comes to an end on May 12, observers worldwide are looking forward to Eid celebrations. That includes Dima Sheikhly, Hala Abdullah and Saufeeya Goodson. The three tastemakers share their favorite foods and traditions during this special time, and show us how they will be wearing Tory's Spring/Summer 2021 collection for this year's Eid festivities.
Ramadan is a special time because….
Dima Sheikhly: This is the most spiritual and giving time of the year when we get to focus on kindness, our community, and self-reflection. It's also the best times with family and friends!
Hala Abdullah: It is a good time to slow down and care about my inner self, health and to connect with family.
Saufeeya Goodson: It's a Holy month and, as we fast through the month, it gives us a lot of time to reflect on ourselves and our faith. It's also a time where the discipline of mind and body are put to the test!
My favorite food during Ramadan is….
DS: Anything Iraqi from Kebab Erbil in Jumeirah or Mom's cooking. :)
HA: Soups and Sambosa.
SG: The meals spent at home, with the people I love.
For my Ramadan style, I tend to go for….
DS: I love and live in long and light weight pieces during Ramadan! I usually choose items that can take me from Iftar to Suroor. I'm almost always in flats and a little looser fit as it's the time to sit on the floor, eat and be super comfortable!
HA: Comfy, loose, modest dresses with embroidery.
SG: My Ramadan style is all about keeping it modest and comfortable!
Growing up, my favorite Eid traditions were….
DS: Waking up with excitement to go and see our grandparents and family! There was always a feeling of happiness in the air and a new outfit that was ready the night before to dress up in! Yep, I've always loved a new outfit for as long as I can remember!
HA: Getting Eid gifts and dressing up.
SG: Staying up late, getting henna and my hair done, and getting dressed in my most glamorous dress.
This year I will celebrate Eid by….
DS: Being with my close ones! It's all about family and being grateful!
HA: Going to the beach.
SG: This year I will celebrate Eid abroad, in another destination.
When dressing up for an Eid celebration…
DS: I wear a full outfit that I have planned ahead, I still keep it the same vibe that I had during Ramadan but with a little more bling!
HA: I like to put a lot of perfume and take pictures.
SG: I always go for my most festive outfits as I change multiple times during the day (morning, mid-day, evening/night). It's a full experience, filled with so many beautiful memories.