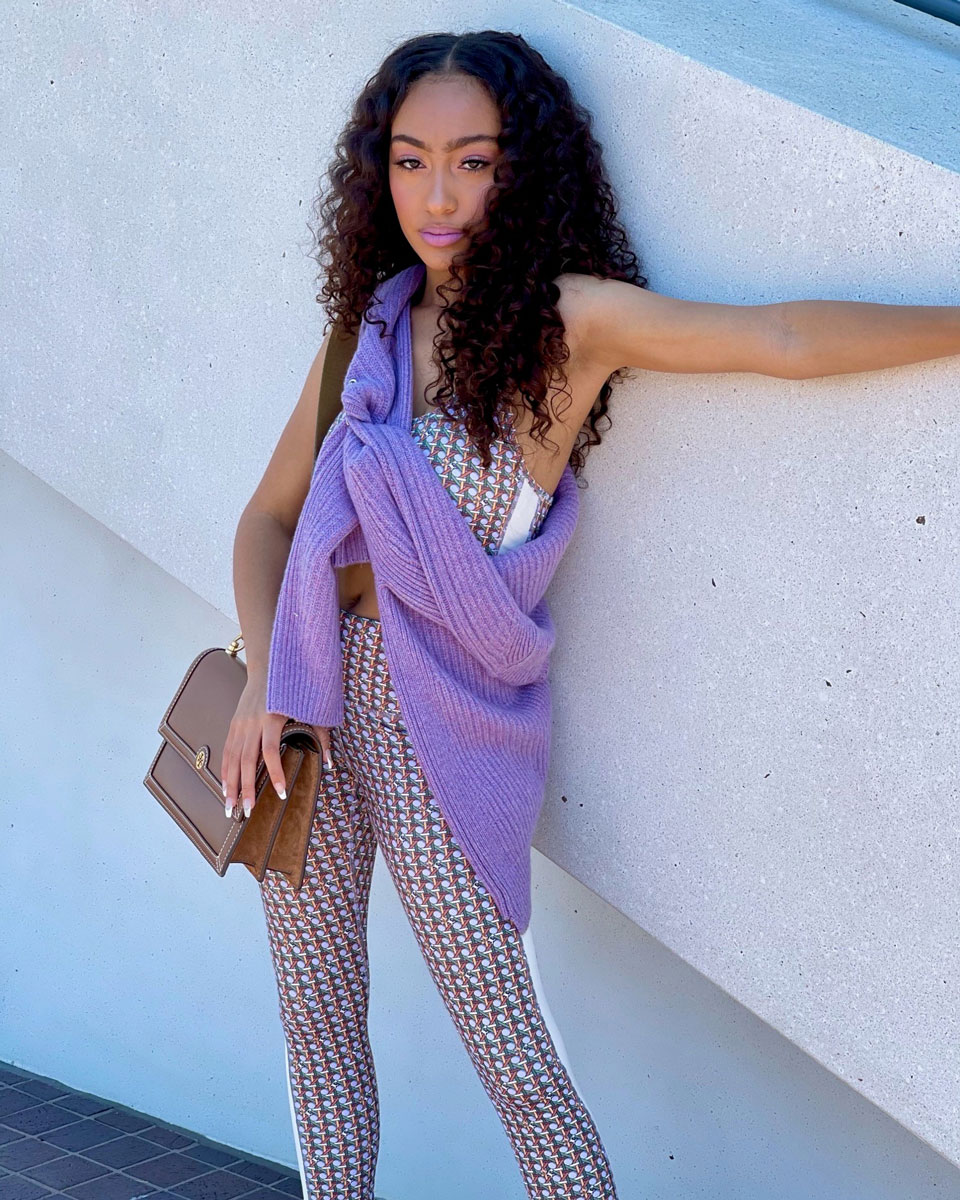 As evidenced by her head-to-to lavender look, rising star Lexi Underwood isn't afraid to stand out. At age 11, she landed the role of Nala in the Lion King on Broadway. By 15, she was on set with Kerry Washington and Reese Witherspoon filming the book adaptation turned television sensation Little Fires Everywhere. And it's not only on stage or camera that she's carving her path, either. Underwood uses her platform to speak up about mental health, diversity in Hollywood, the Black Lives Matter movement… The 17-year-old actor is characteristically Gen-Z, navigating life with purpose and pragmatism.
Most recently, Underwood was cast as Malia Obama in Showtime's upcoming anthology series The First Lady. Michelle Obama will be played by Viola Davis, one of Underwood's role models and an actor she says she's always dreamed of working with. We caught up with the burgeoning Hollywood star to discuss mood-setting music, memorable auditions and her favorite behind the scenes moments.
The acting bug bit when…
I was young. Honestly, I've always gravitated to anything arts related. I would attend performing arts summer camps and participate in school productions. One moment that sticks out the most is when I saw the Lion King Musical with my parents in New York and I looked at them and said, 'I want to do that.' A year later, I was Young Nala in the National Gazelle Tour.
Most memorable audition…
Was actually for the Lion King. It started as an open call with over 500 girls and boys that was eventually narrowed down to 20 kids. A month later, I found myself auditioning for the last call for Matilda on Broadway and the Lion King on the same day, changing clothes and going back-and-forth between each audition. I had to learn the music and choreography for both. My parents were shocked at how calm and focused I remained. I was in a zone and was energized by the challenge. My heart was with the Lion King so it was incredibly rewarding when I booked it.
One memorable behind the scenes anecdote from Little Fires Everywhere….
The table reads. Each one was exciting and bursting with anticipation. Hearing the words come to life for the first time was so wonderful. The table reads would be full of laughter, gasps, even tears. Such a special moment.
And what I am most looking forward to in The First Lady…
Honestly, being a part of this wonderful production is still something I'm processing. It's funny because, during press for Little Fires Everywhere, I manifested my desire to work with Viola Davis one day. So, now, here we are and I couldn't be more honored to have this opportunity. I look forward to working with and learning from Viola Davis as well as Susanne Beir.
Between takes, you'll usually find me…
Staying in character so I can keep the momentum going and step back into the essence of the scene, or listening to a playlist that I created for my character.
To pump up for a day on set I listen to…
Megan the Stallion, Nicki Minaj, Sweetie, Chloe & Halle, Erykah Badu, Harry Styles, Bjork or Aaliyah
And to wind down I listen to…
Mariah the Scientist, Giveon, Kehlani, Brent Faiyaz, Jazmine Sullivan and Sza
If I could star in any movie, past, present or future…
From the past: 10 Things I Hate About You
Present: I would love to be a part of the Star Wars or Marvel franchise
Future: Aaliyah bio-pic
My role models in Hollywood are…
Kerry Washington, Viola Davis, Reese Witherspoon, Meagan Good, Regina King, Gabrielle Union, Malina Matsoukas and Ryan Destiny are all amazing women who inspire me.
I hope to inspire other young actors by…
Being authentically and uniquely me while creating an inclusive space for underrepresented voices. I want to tell stories and create joyous, inclusive, empathetic and complex projects that challenge us to understand that, as humans, we are more connected and alike than we are different. If you can see it, you can be it.