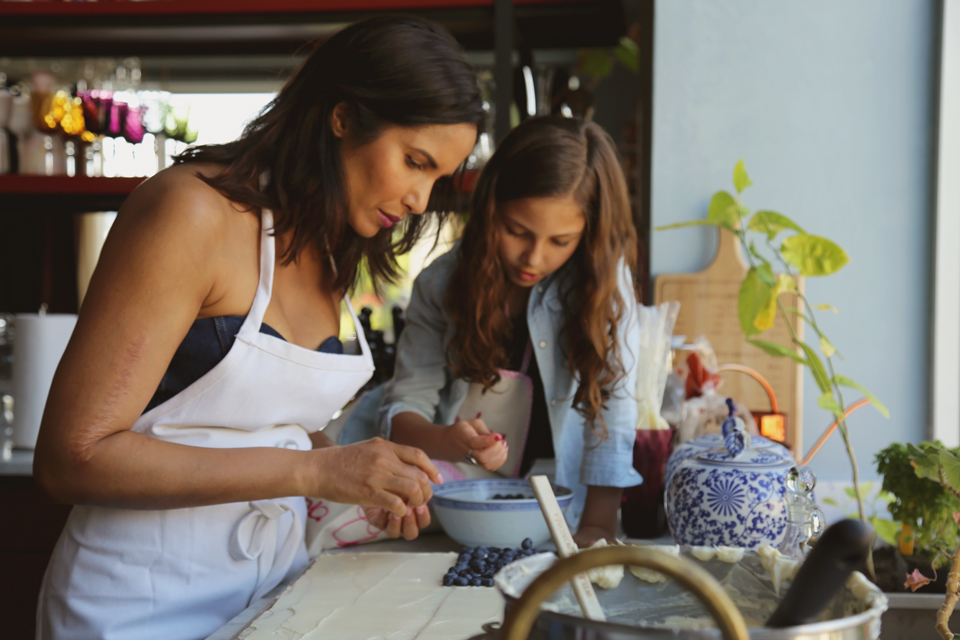 Padma Lakshmi wears many hats with style, grace and humility. Lakshmi is the host of the double Emmy-winning television show, Top Chef — a role she's been in for the past 15 years — as well as Taste the Nation, Hulu's 2020 series highlighting the influence of immigration on American food and culture. Immigration is a topic that is especially close to Lakshmi, who emigrated from India to the United States at age four. Today, she is an ACLU ambassador for immigration and women's rights.
On top of her career in television and her tireless activism — in 2019, she was named a United Nations Development Programme Goodwill Ambassador — she has written three cookbooks and a memoir, with a fourth cookbook and a children's book on the way. And, of course, she has the job of a lifetime: mom to Krishna. For our Mother's Day issue, Tory Daily talked with the modern renaissance woman about staying creative and her greatest takeaways from the last year.
What is the best piece of advice about motherhood that has been passed to you?
It's a marathon, not a sprint — said by every single woman in my family.
What do you hope to instill in Krishna?
I hope to instill a sense of independence, logic, respect for one's own intuition and a good measure of self-reliance. While I may not be able to give my daughter every answer to the problems she may encounter in her life, I can hopefully give her the tools and ability to problem-solve on her own, helping her to hone her own judgement and trust her instincts.
What's one thing you want her to remember when things get tough?
I think my daughter said it best once while we were going through a small rough patch: she said, "I just want to remind you that we really love each other."
Are there any rituals or new traditions that you and Krishna do together that started within the last year?
While in lockdown, after a couple of months of sheltering in place and not leaving the house at all, we decided to take the car and go for a drive, just the two of us. That was something safe we could do together, and I think we needed that alone time together, away from the rest of the household, to just talk and check in on one another. We also started making mammoth snack trays around midnight.
Lessons learned from the past year?
What I learned this past year is that I had previously spent a lot of my time doing things that were really unnecessary. I always felt busy, but not everything that I was doing was actually productive. Today, my list of things to do on any given day has become shorter, and hopefully more meaningful.
What are you working on? What's been helping you stay creative?
I've been working on editing the anthology for the Best American Travel Writing and writing its introduction, while also working on a children's book called Tomatoes for Neela, both of which will be out this fall. I've also been testing recipes for my next cookbook, which will be a companion piece to Taste the Nation.
What is something you cooked during lockdown that brought you comfort?
I love a roast chicken on Sundays.
And something you ordered in that brought you comfort?
We've been ordering a lot of falafel and shawarma from Fle Fle Grill, a Mediterranean restaurant in our neighborhood.
What are you most excited about for the rest of 2021?
Getting back to work, not having to wear a mask and doing more activities that my daughter and I enjoy — going to the theatre or opera, to restaurants and roller skating.
What are five local restaurants or shops in your neighborhood that you'd like to give a shout out to?
· Il Posto Accanto — I love the wine list and the hospitality. It's a very welcoming neighborhood spot for Italian cuisine. It's my "Cheers."
· La Mercerie, a great French restaurant attached to a furniture and pottery shop. Service is always excellent, it's not pretentious. The food is outstanding. I hope they bring back their little flower shop as well.
· Miss Lilly's is a great little neighborhood joint with awesome curries and jerk chicken.
· Ordering from the Dosa Man in Washington Square Park is always such a treat.