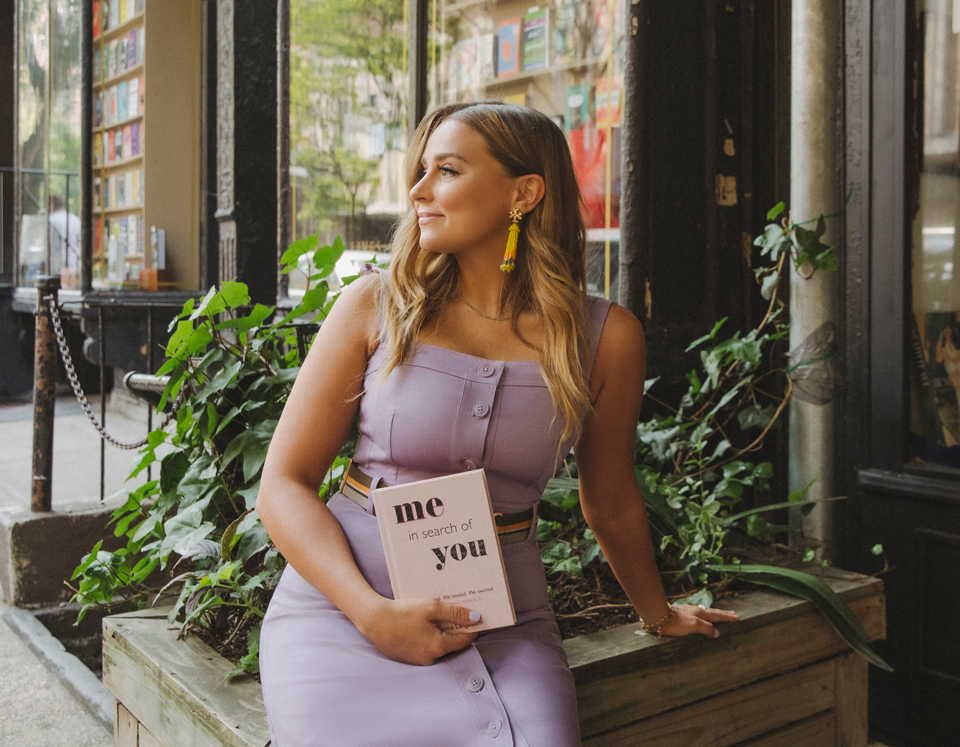 New York City has got dreams covered, but love? That's Paris' thing for a reason. Despite its dazzling lights, beautiful skylines, and endless fun, New York City doesn't necessarily make finding romance such a simple task. Author Jenna Langbaum is as familiar with this struggle as any young New Yorker. In her debut novel, Me in Search of You: I promise there's more to it, Langbaum guides readers through micro-fiction stories that convey the toil, disappointment, humor and adventure of dating as a millennial in NYC. Gracefully meshing personal dating experiences with her own imagination, Langbaum skillfully adopts a universal tone, allowing readers to relate to her very raw accounts of finding love. She leaves behind the glamorous versions of city romance that so frequently populate media today and instead seeks to give voice to the true experiences of those brave enough to tackle a world full of dating apps, heartbreak and excitement.
Earlier this month, Tory Daily met up with Langbaum to get to know her better and learn more about the inspiration and process behind Me in Search of You.
Me in Search of You has been percolating for…
For 5 years I compiled tiny notes, phrases, thoughts, feelings and curiosities in the notes section of my phone, assorted google docs, random receipts and scraps of notebook paper. During this time, I was embarking on the wonderous and often disheartening world of dating as a millennial in NYC. Coming off a long-distance relationship with my college boyfriend at the age of 22, I marched headfirst into the world of dating apps — naive, boisterous and way in over my head. After many, many Bumble and Hinge dates and endless conversations with single friends, I felt our perspective was missing from the narrative of modern dating. So many books, movies and TV shows glamorize the vision of dating in NYC, I wanted to create something tangible, true and accessible.
On whether details from my own life seeped into the novel…
Me in Search of You is a swirl of my own experiences, experiences of friends and acquaintances and observed moments. I tapped into my own specific set of emotions to create the material. From a long-distance relationship that tore apart, a surplus of first and second dates, confusion, whirling, ghosting, loneliness, nights that were so hopeful I felt I might burst, nights that were so hopeless I felt I might burst… I emptied and splattered myself across this book. It's a very surreal feeling that people are reading some of my innermost thoughts.
My writing process for Me in Search of You…
It began as a collection of full-length essays but, as I reviewed each one, I would find myself hovering over three or four sentences. These tiny, short stories mimicked the frenetic chaos of the millennial NYC dating app experience.
The most difficult part was weaving together a succinct narrative arch from start to finish. Over time, I arrived at the conclusion that there wasn't some great message but rather it was simple — how I came to know, embrace, befriend, comfort and laugh with my own self and how I triumphantly moved her forward.
While writing, I like to listen to…
Formerly known as Queen of the Mix CD in high school, I still religiously make monthly Spotify playlists. If I want to write about a certain time, feeling or experience, I will dig through these playlists to re-enter a specific frame of mind. However, beyond that, I will often put on alternative or indie songs — Alexi Murdoch, Bon Iver, Iron & Wine, The Album Leaf… I only listen to songs I've heard many times so the lyrics don't distract me. Like so many millennials, I owe my music taste to two critical soundtracks: The O.C. and Garden State.
To unwind after a long day, I turn on…
There is nothing more peaceful and soothing to me than the sound of Ramona Singer, Luann De Leeseps and Sonja Morgan arguing over a bottle of Pinot Grigio. I could write a dissertation on my profound appreciation for the Bravo portfolio, specifically on the fascinating ebbs and flows of the Real Housewives franchises.
A book that changed my life…
Another Country by James Baldwin was one of the first books that I remember being really blown away by. I was entranced by the rich patchwork of each sentence — even in some of the grittiest scenes the language is so palpably beautiful and emotionally dense — not to mention the way Baldwin creates real, intimate, intricate romantic dynamics riddled with complexities. It is the perfect book in my opinion.
The book I always recommend…
The Lover's Dictionary by David Levithan. The book takes readers through the entirety of a relationship using a different word in alphabetical order to tell the tale. evithan's style is the kind of writing I so deeply admire — raw, honest, unexpected and the ideal mix of incredibly personal and yet seemingly universal. The book drew me on with it's unconventional style but has remained a bedside staple for its poignant descriptions of falling in and out of love.
If I could be a fictional character from any book, I would be…
I would choose to be Eloise, living the most gloriously wonderful life in the Plaza in her perfect pink room. Beyond her fabulous outfit and prime NYC real estate location, I always loved her spark of sass and mischief.