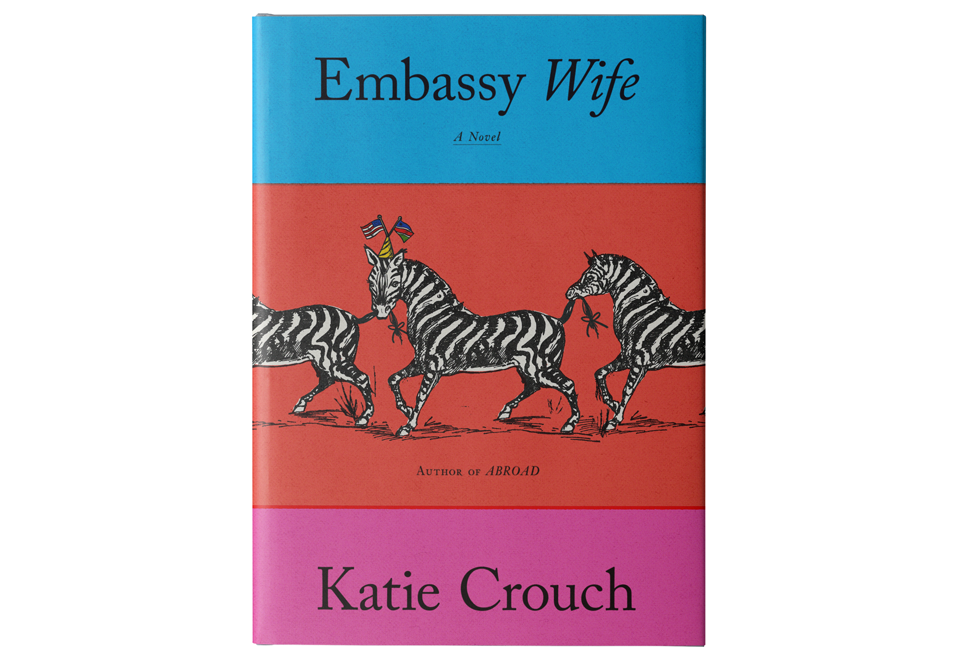 Gossip and intrigue, delivered with wit and wry humor. Katie Crouch's latest page-turner, Embassy Wife, has everything you could possibly want in a summer read. The novel centers around Amanda Evans, who, because of her husband's career, has relocated from the comforts of California to the vast deserts of Namibia. There, she finds herself immersed in the spectacle that is high society and questioning the life she thought she knew. Embassy Wife is inspired by Crouch's own adventures, having spent two years living in Namibia for her husband's Fulbright project. "I'd just had a baby and was a ball of hormones, so to cheer myself up I'd jot down all of the ridiculous things that were happening, like baboons stealing my last can of organic baby formula," the author tells us. Through colorful characters and equally rich drama, Crouch writes a story that will leave readers spinning. Here, we speak with the author about her writing process and pro-tips for aspiring novelists.
Embassy Wife is…
A novel about a woman who goes with her husband to Namibia for his job, only to find out he has ulterior motives for being there.
I hope my readers…
Get swept up in a story that takes them far, far away and leaves them both ruminating on relationships and madly researching a trip to Etosha Game Reserve.
My favorite line in the book…
On page 86: She was becoming allergic to her husband.
I do most of my writing…
In an office I rent in an old house that I've painted a lovely shade of light pink and filled with books and pictures of authors I love.
I combat writer's block by…
Using Hemingway's trick of "Stop when you are going good." I always put the pen down in the middle of the scene so I'm already in it the next day when I start. It works!
My pro-tips to aspiring novelists…
Turn off the internet and write one thousand words a day. In two months, you'll have a novel-length work! Congratulate yourself, then go back and make it make sense.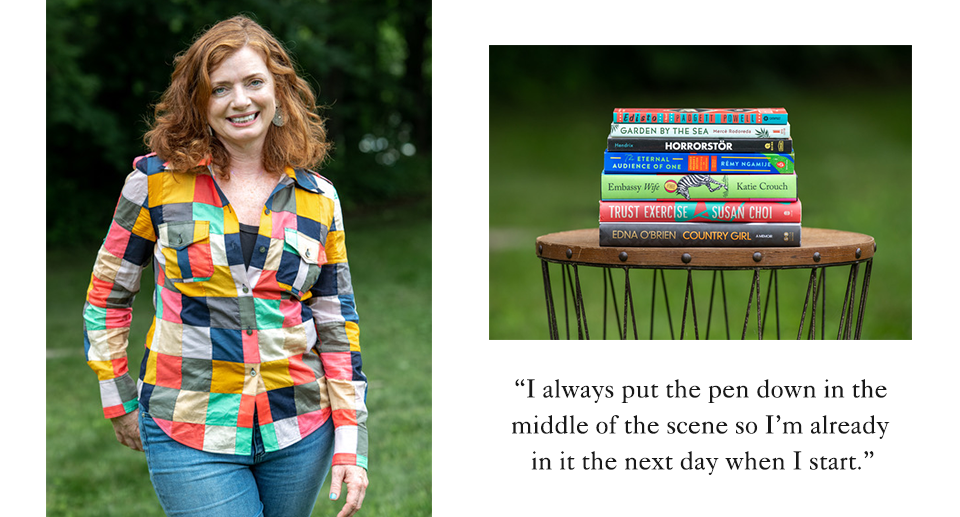 A book that changed my life…
Wide Sargasso Sea by Jean Rhys. It's told from the perspective of Bertha Mason, the "mad" wife shut up in the attic in Jane Eyre. I read it when I was very young, and it made me think a lot about people in real life we dismiss for various reasons. From then on, they fascinated me as characters. Also, Jean Rhys taught me never to date surly silent types, because what if I acted in an untoward manner, and then ended up trapped in a drafty garret? Literally or figuratively. No thank you.
The book I always recommend…
There are so many! But here's one you might not have read because it was just recently translated. Garden by the Sea by Mercè Rodoreda. It's about a gardener who works in a villa in 1920's Spain, and it's just gorgeous. Love, intrigue, wild parties, death, sex. And, of course, flowers.
What I'm reading now…
I just finished Lauren Groff's Matrix, out this fall. It's Lauren, so I knew it would be good, but…holy moly! Tough, sexy nuns who take no prisoners. Don't miss it.
If I could be a fictional character from any book, I would be…
Jordan Baker in the Great Gatsby. She just has so much ahead of her at the end of that book, heading into her international golf career after shedding boring Nick. And that wit! She's terrific.