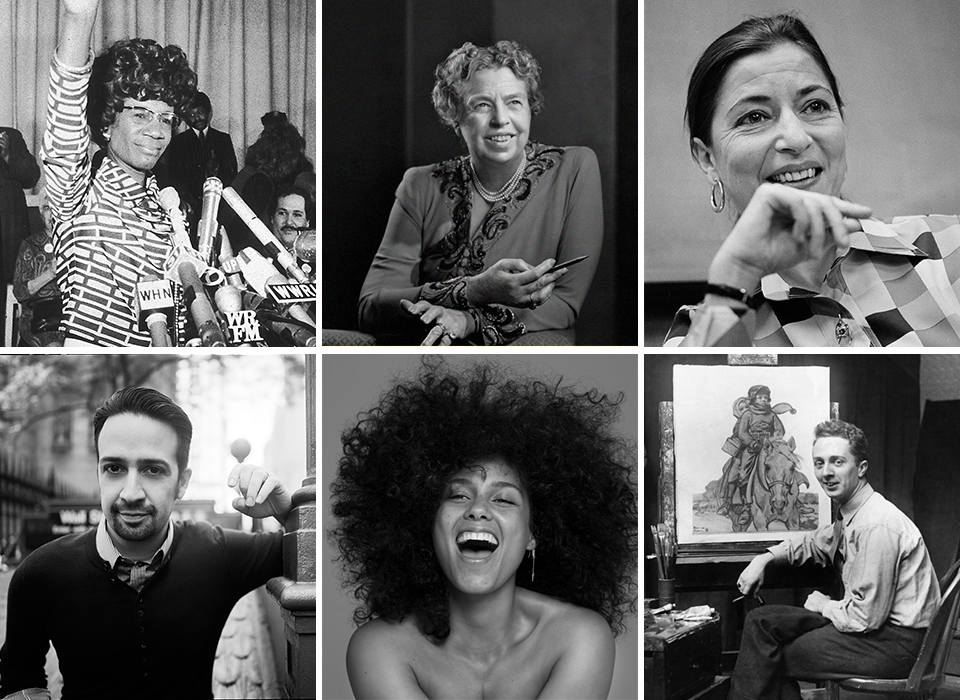 To celebrate our Fall/Winter 2021 collection and Tory Daily's first-ever New York Issue, we compiled a list of six New Yorkers who embody the city's spirit of individuality, creativity and unparalleled opportunity. These exceptional individuals speak to the millions of people that, in Tory's words, make New York City "both the dream and reality of possibilities."
Eleanor Roosevelt
Born in Manhattan in 1884, First Lady Eleanor Roosevelt stands as a symbol for boundary-breaking, stereotype-defying women everywhere. Often called the "the President's eyes, ears and legs," Roosevelt revolutionized the previously passive role of first lady, actively aiding her husband, holding press conferences and even writing her own newspaper column. Her endless contributions, including the drafting of the Declaration of Human Rights, set an incredible precedent for all future first ladies and women politicians.
Norman Rockwell
Known for his intimate depictions of American life, Norman Rockwell fathered the idea of "art with a purpose." The native New Yorkers painted hundreds of Americana magazine covers that illustrated national social injustices, and later devoted his craft to raise over 130 million dollars towards the World War II effort. In 1977, Rockwell was awarded the Presidential Medal of Freedom for using his talents to benefit and unite his nation. As Gerald Ford said, Rockwell's "vivid and affectionate portraits of our country and ourselves have become a beloved part of the American tradition."
Alicia Keys
No one is more familiar with the power and promise of New York City than 15-time Grammy Award-winning singer, songwriter and producer, Alicia Keys. Beyond blessing us with her incredible voice and artistic prowess, Keys has used her international platform to help the greater good. In 2003, she founded the New York City-based non-profit Keep a Child Alive, which works to support children suffering from HIV/AIDS and has become a powerful player in the world of philanthropy. Keys is the ultimate role-model for women, artists, POC and New Yorkers alike.
Shirley Chisholm
Born-and-bred in Brooklyn, Shirley Chisholm harnessed the fierce spirit of her city to become the first African American woman in Congress (1968), and the first woman and African American to seek the presidential nomination for one of two major political parties (1972). Her life motto and autobiography title, Unbossed and Unbought, speaks volumes about her attitude and perseverance, as she continuously retaliated against constant discrimination to advocate for female and Black rights. Nicknamed "Fighting Shirley," Chisholm became the catalyst of change she always hoped she'd be: her refusal to abide by stereotypes and expectations set the stage for major politicians, like Barack Obama and Hilary Clinton, to become national leaders themselves.
Lin-Manuel Miranda
Lin-Manuel Miranda — the Pulitzer Prize, Grammy, Emmy, Tony Award-winning composer, lyricist and actor — is just about as decorated a New Yorker as they come. His genius produced the beloved Broadway play Hamilton as well as the recently released musical movie In the Heights, set in Miranda's birthplace, Washington Heights. In true New York style, Miranda has used his success to give back: the Miranda Family has created an institution to support and develop artists of color, aid the underserved in Manhattan and help Hispanics through means of donations to immigrant rights' groups and COVID-19 relief programs.
Ruth Bader Ginsburg
This list would be wholly incomplete without mentioning Ruth Bader Ginsburg. From day one, the Brooklyn-born icon never took no for an answer. Smashing ceilings with grace, poise and impeccable style, RBG became the second female justice of the U.S. Supreme Court and dedicated much of her career to protecting and advancing women's rights in fights for equal pay, college admissions, the right to choose, financial independence and more. RBG will forever be remembered as proof that with persistence and confidence there is nothing women cannot do.