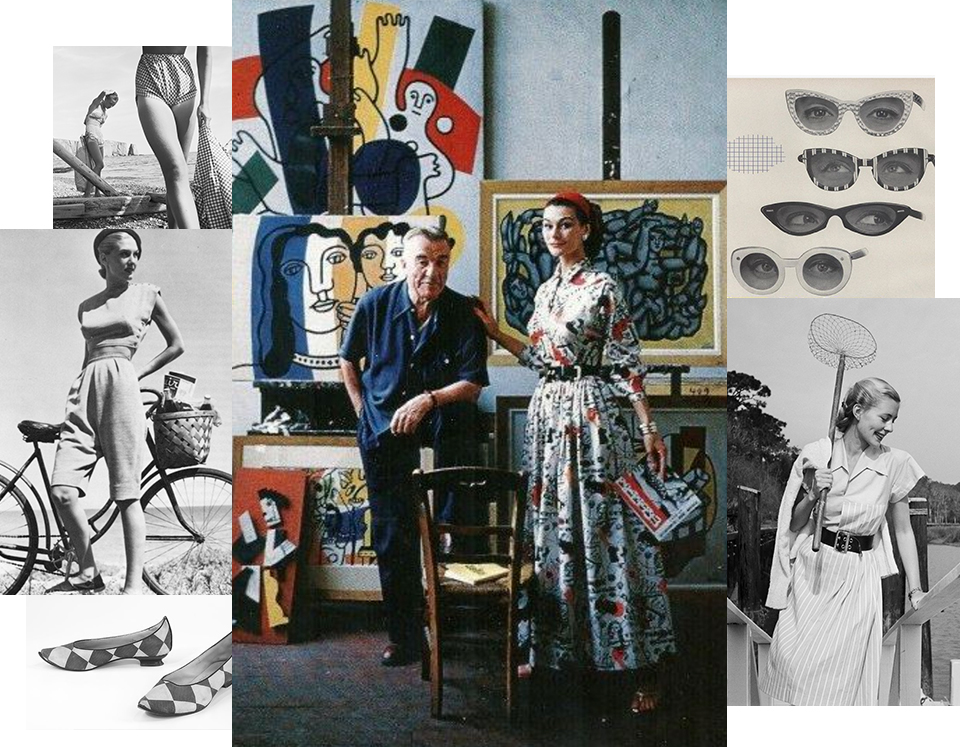 Comfortable flats, roomy pockets, easy to reach zippers…Trailblazing American designer Claire McCardell added in such innovative details (for the time), known as McCardellisms. Her contributions to fashion during the 1940s and early 1950s paved the way for generations of designers to think critically about combining what women want to wear with silhouettes and details that will make their lives easier.
For Spring/Summer 2022, Tory incorporated McCardellisms such as hook-and-eye closures and double topstitching — construction that also served as a beautiful design details — into the collection. Here, we discover the ready-to-wear designs that cemented McCardell's reputation as the mother of American sportswear.
Ballerina Flats: Always with practicality and an entrepreneurial spirit, McCardell used the war-time leather shortage to create something new, stylish and functional for women. She popularized the ballet flat, even going so far as partnering with ballet company Capezio on an original non-dance style.
Side Zippers: Dissatisfied with difficult-to-reach zips down the backs of dresses, McCardell instead added side zippers to her clothing. Small but innovative shifts such as this are so ingrained in what we wear today, we take it for granted.
Monastic Dress: Introduced in 1938, this waistless, bias-cut dress was one of McCardell's most popular designs. Its tent-like shape lacked form on its own but, using the designer's signature fabric sashes and ties, could be belted several ways to fit all body types. Unsurprisingly, it was the best-selling dress that year.
Hook-and-Eye Closure: Much like the side zipper, McCardell added hook-and-eye closures to clothing, creating a more accessible and self-sufficient dressing experience for women.
Pop-over Dress: With a collar and cuffed sleeves, a buttoned waistband and a top-stitched, capacious pocket, this dress spoke to McCardell's vision of sensible fashion. Designed in response to a challenge by Harper's Bazaar  to create a stylish, 'wear anywhere' dress, the pop-over was as suited to the kitchen as it was to dinner out. Sold for only $6.95, the dress was an instant hit for its functional and chic design.
Spaghetti strap: These additions were one of Claire McCardell's best-kept secrets for accessorizing. Used as halters, straps or tied around waists, spaghetti straps were effortless compliments to the designer's timeless creations. The name was inspired by an Italian seamstress on McCardell's team, who referred to the thin straps as "spaghetti"!
Mix-and-Match Dressing: Always ahead of her time, McCardell pioneered the concept of separates, now a staple of American fashion. Tired of packing entire wardrobes for her semiannual trips to Paris, she designed interchangeable pieces of clothing that were easy to travel with, and incredibly versatile.
Diaper Bathing Suit: Like many of today's designers, McCardell expanded her womenswear line to include pieces beyond ready-to-wear. Her diaper bathing suit, with a tie-up halter neck and sleek silhouette, was ahead of its time and would later inspire 1970s swimwear.
Sunglasses: McCardell developed one of the first collections of fashion sunglasses, with unique shapes and names such as 'Bolena,' 'Vixen,' and 'Round-Eye.' Marketed for their elegance as well as sun protection, her sunglasses — available in solid colors and prints — were the perfect finishing touches to a McCardell ensemble.
Photo captions clockwise from top left: Models in Claire McCardell swimwear, photo by Genevieve Naylor/Corbis via Getty Images; Artist Fernand Léger pictured with model wearing Claire McCardell dress printed in one of his artworks; Claire McCardell sunglasses; Model wearing McCardell's "Monastic" dress, photo by Genevieve Naylor/Corbis via Getty Images; McCardell's flat, made in partnership with ballet company Capezio; Model wearing a Claire McCardell design for LIFE magazine.