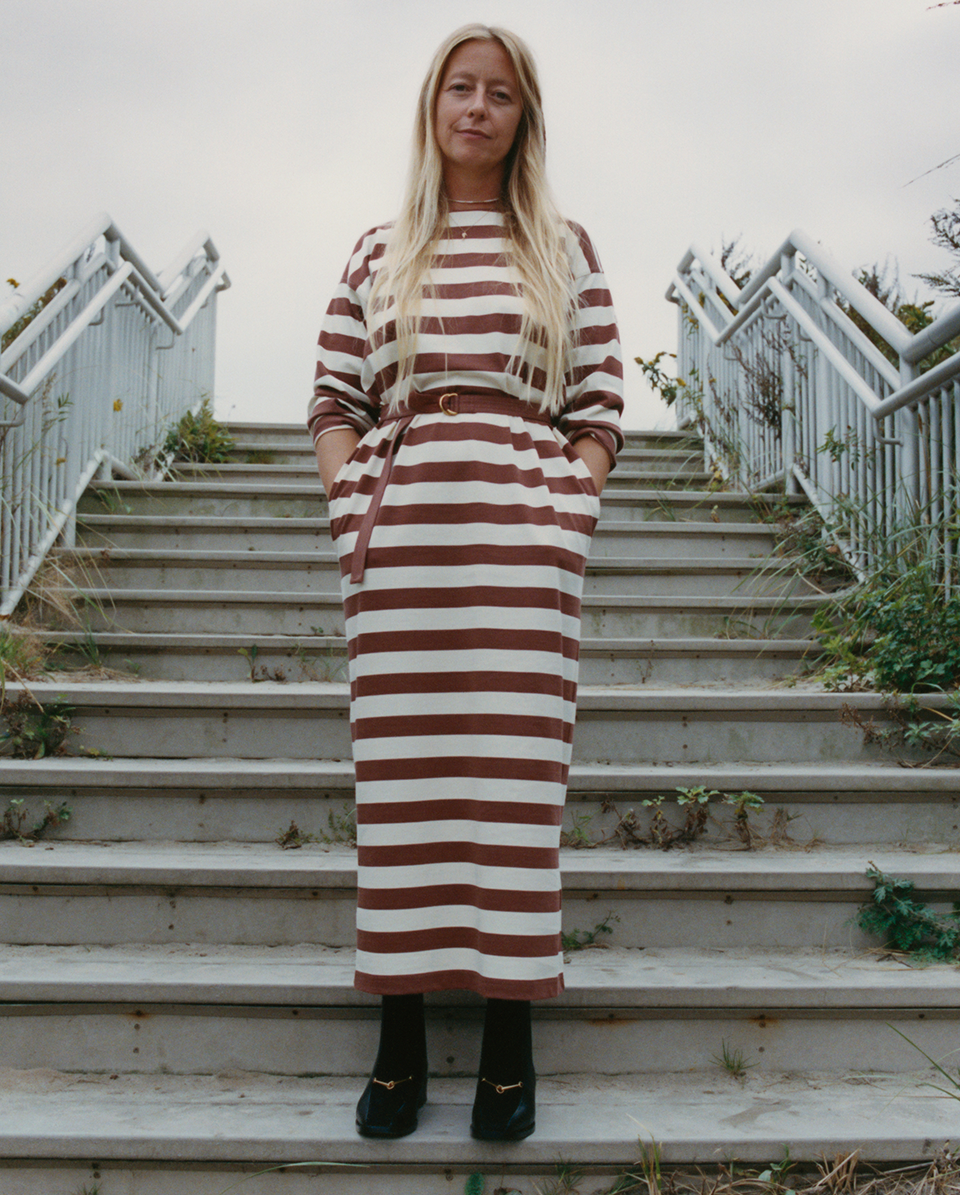 Sarah Trogdon is Goldie in Goldie's Natural Beauty, a small-batch line of organic personal care products made in Rockaway Beach, N.Y. As part of our new "A Day in My Shoes" series, writer and editor Kate Branch spoke with the single mother, home-school parent and business owner who — having seen a real demand for soaps and sanitizers throughout the last year and a half — is only on the up in her career. Here is her story in her own words.
"WHEN I WAS 27, I went to Union Square and spent, like, $130 on a soap-making book, a pot and a stainless-steel pitcher. That was the beginning of Goldie's Natural Beauty. I was working as a waitress at Roberta's in Bushwick at the time, and I'd make soap at home and then bring it to work in a little vintage suitcase. I would wait on tables and then bring over the suitcase and offer people soap to buy. It's fair to say that Roberta's was my first customer. I also had a lot of designer and creative friends who had just opened up their first shops in Brooklyn. Marlow & Sons was one of my first customers. Mary Meyer was the first person to wholesale my stuff.
My first big break, though, was after we left Brooklyn for Rockaway. My daughter Georgia's dad and I had just split up, and I moved into a little two-bedroom apartment on Rockaway Beach Boulevard. Georgia, who we call GG, was one year-old at the time and her crib was in my bedroom, Goldie's was set up in our kitchen, and the kitchen was actually part of the living room; it was a tiny apartment that we shared with a roommate, a dog, two cats and a rabbit. Every time I went to cook something I had to, like, completely clear the kitchen, and then when I wanted to make soap, I had to completely clear the kitchen again. I was given an opportunity to make the amenities for the Wythe Hotel. I honestly didn't know if I could do it out of that kitchen, with the dog, the baby… but how could I say no?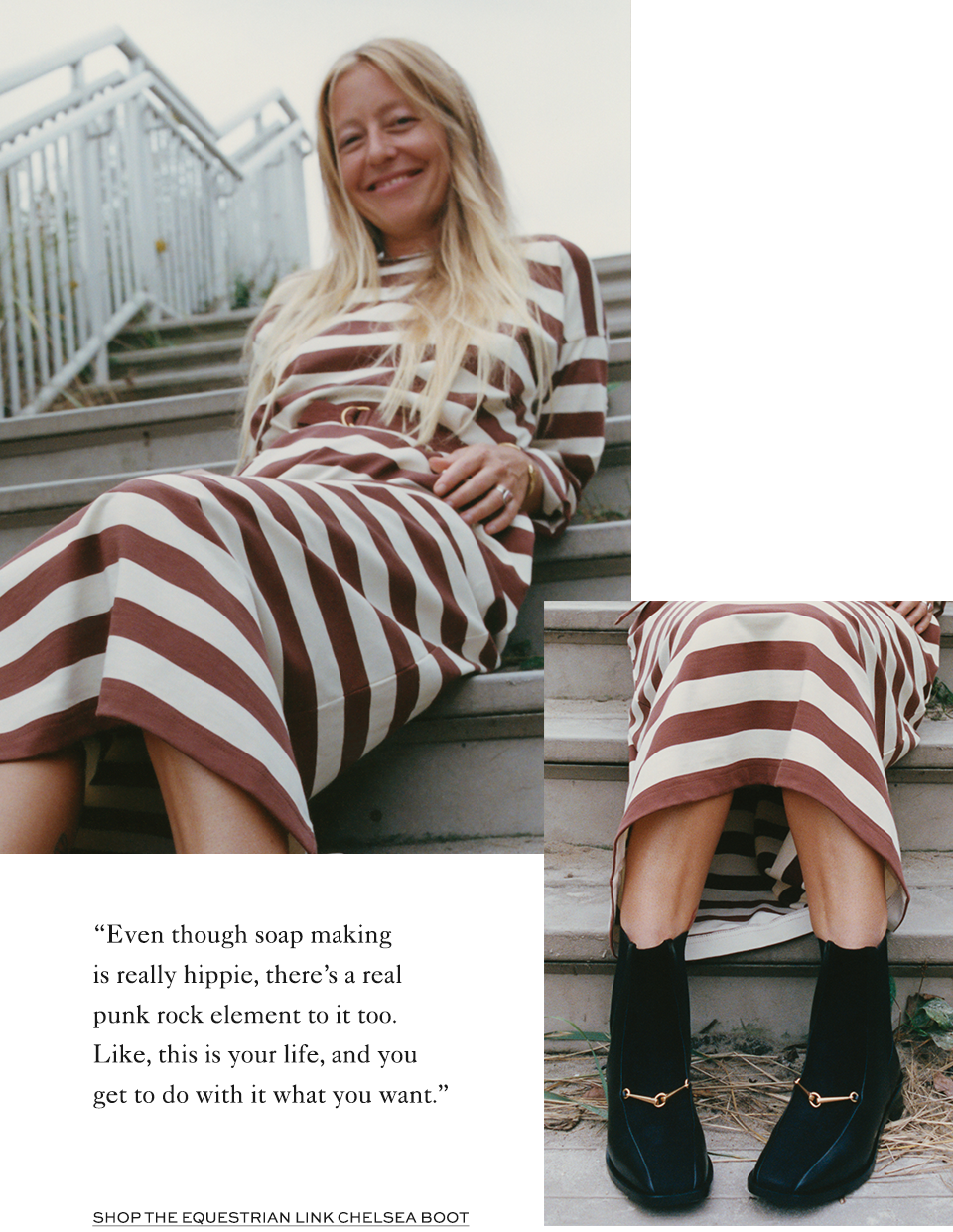 I come from a long line of DIY people out of North Carolina. My mom is a gardener. My granddad was a clock maker. My nanny was a baker. My dad was a carpenter. Georgia's dad was a big inspiration to me, too; going into a space like Roberta's and then Rippers and being like, 'I'm gonna do this and it's gonna be fun, and exciting, and I don't care how much money we make.' And even though soap making is really hippie, there's a real punk rock element to it too. Like, this is your life, and you get to do with it what you want. Those were my priorities then and it hasn't changed that much now. I've built my business in a way that I still get to have kind of a commune life, even though I live in New York City.
One day, I want to grow Goldie's to a size where it could give an employee the kind of career that it's given me — a chance to work on what I love from home with my daughter and teach her how to make stuff, which I think is really important. Since the pandemic, I have been homeschooling Georgia with her dad. We are working on ancient civilizations right now. We just left Egypt, and I think we're going to China next. Poetry week, in English, is coming up, and I'm super excited about that."