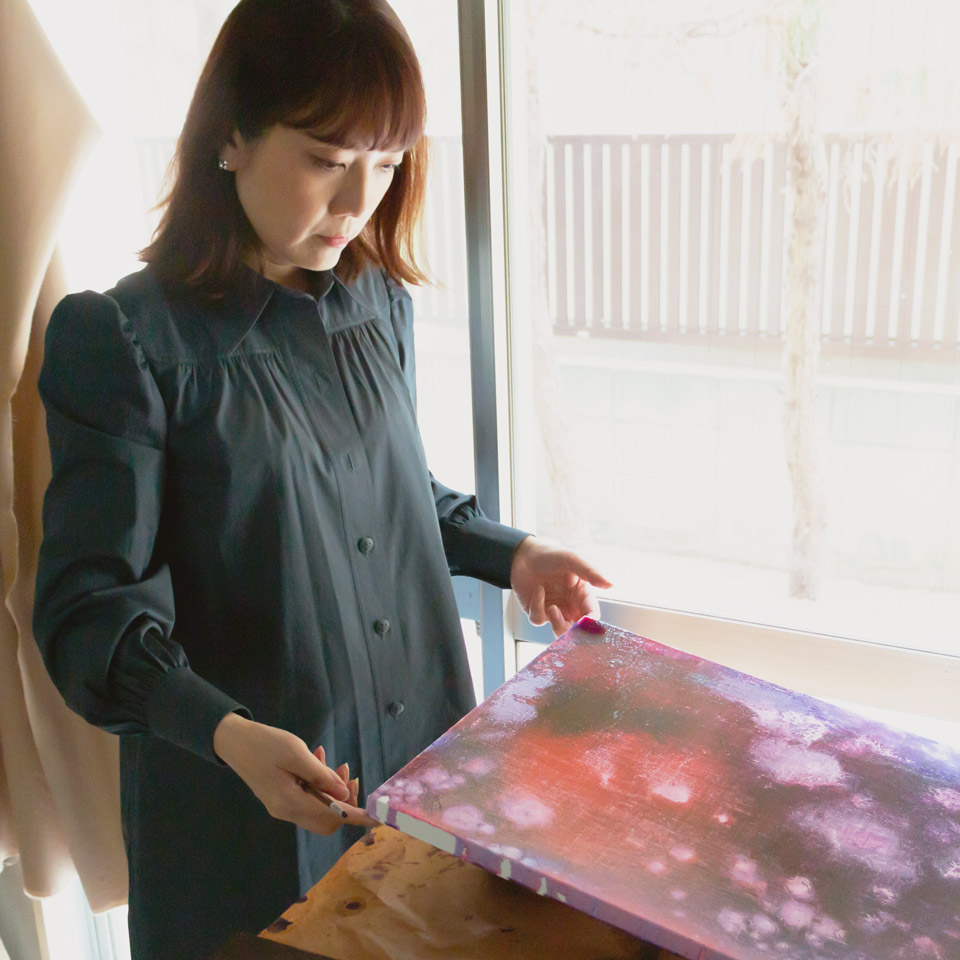 DESIGNART, the beloved annual Tokyo-wide festival, will be held from October 22nd through 31st. Tory Burch is proud to take part by featuring three extraordinary works by painter Kayoko Kimura at our Ginza store. Keep reading for a look into Kimura's colorful world.
I knew I had to be an artist when…
I have loved drawing since I was a child. Following high school, I decided that I would go to art school. Through the influence of the paintings and contemporary art I was exposed to in college, as well as my classmates and instructors, I gradually became an artist.
I would describe my signature style as…
For the past ten years, I have been focusing on "painting" as my main art form. I believe that a strong painting is born from the colors and shapes that appear unexpectedly when paint is poured onto the canvas, as well as the brushstrokes, colors and shapes that I can control. I aim to create strong paintings that will make viewers stop and think.
I draw inspiration from…
Since I mainly use plants as materials for my paintings, I am inspired by flowers from each season. In the last few years, I have been visiting tropical botanical gardens and large greenhouses to discover rare flowers that do not grow naturally in Japan. I am also fascinated by the fragility of flowers.
The tools I can't live without…
When I first started oil painting, I realized that I could not work without a maulstick — a stick that supports the artist's hand as they hold a paintbrush. During oil painting, it is difficult to place one's hands on the canvas because the paint is not yet dry, so a maulstick is essential.
When I am not working, you will find me…
I spend most of my private time in my room, watching videos and movies or talking with friends online. Since COVID-19 has reduced my physical contact with people, I have become much more aware of my connections.
To see my artwork hanging in the Tory Burch Ginza store is…
I'm very honored and excited. It is one of the biggest events in my career. I'm looking forward to seeing how my work will look alongside the Tory Burch collection.
アーティストになろうと思ったきっかけは?
子供のころから絵を描くことが好きだったので、将来は絵を描く仕事ができたらいいなと漠然と思って過ごしました。高校生の頃、美大というものがあることを知り、進学し、大学時代に触れた絵画や現代美術、同期生や担当教官の影響を受け、少しずつ作家として活動するようになりました。
ご自身のアートスタイルの特徴は?
この10年は「描くこと」を主軸に活動しています。絵の具をキャンバスに流し込んだときに予期せず現れる色や形の重なりと、自分の意志でコントロールした筆致・色・形との共鳴から強度のある絵画が生まれると考えています。
何気ない場所に展示されていても鑑賞者が思わず立ち止まってしまうような、強い絵画を目指しています。
どんなものからインスピレーションをうけますか?
主に植物を題材として扱っているので、季節ごとに出会う花からインスピレーションをうけています。
ここ数年は熱帯植物園や大温室に取材に出向き、日本に自生していない珍しい花との出会いを求めるようになりました。品種改良によって自重でこうべを垂れてしまうような花から受ける、儚さや残酷さにも惹かれます。
自身にとって、欠かせないツール(道具)は?
油彩を初めてから「腕鎮(わんちん)」が無いと全く仕事がはかどらないことに気づきました。
油彩制作中は絵の具が常に未乾燥のため画面上に手を置くことが難しく、筆を持つ手を置く腕鎮が必要不可欠になります。
仕事をしていないプライベートな時間は、どこで過ごすことが多いですか?
プライベートは自室で過ごすことが多いのですが、動画や映画の視聴や、オンライン上で友人と会話を楽しんでいます。
コロナ禍によって人とのフィジカルな接触が希薄になったこともあり、より人とのつながりを意識するようになりました。
トリー バーチ銀座店にご自身の作品を飾ることについて、今のお気持ちを教えてください。
とても光栄であり、ワクワクしています。トリー バーチ銀座店に自作が並ぶことは、私のキャリアのなかで大きな出来事の一つです。
自分の作品がトリー バーチのコレクションの中でどう映るかとても楽しみですし、お互いが惹き立て合い響きあうような展示空間になることを期待しています。
Two paintings by Kayoko Kimura, which will be on display at our Ginza store from October 22 through October 31