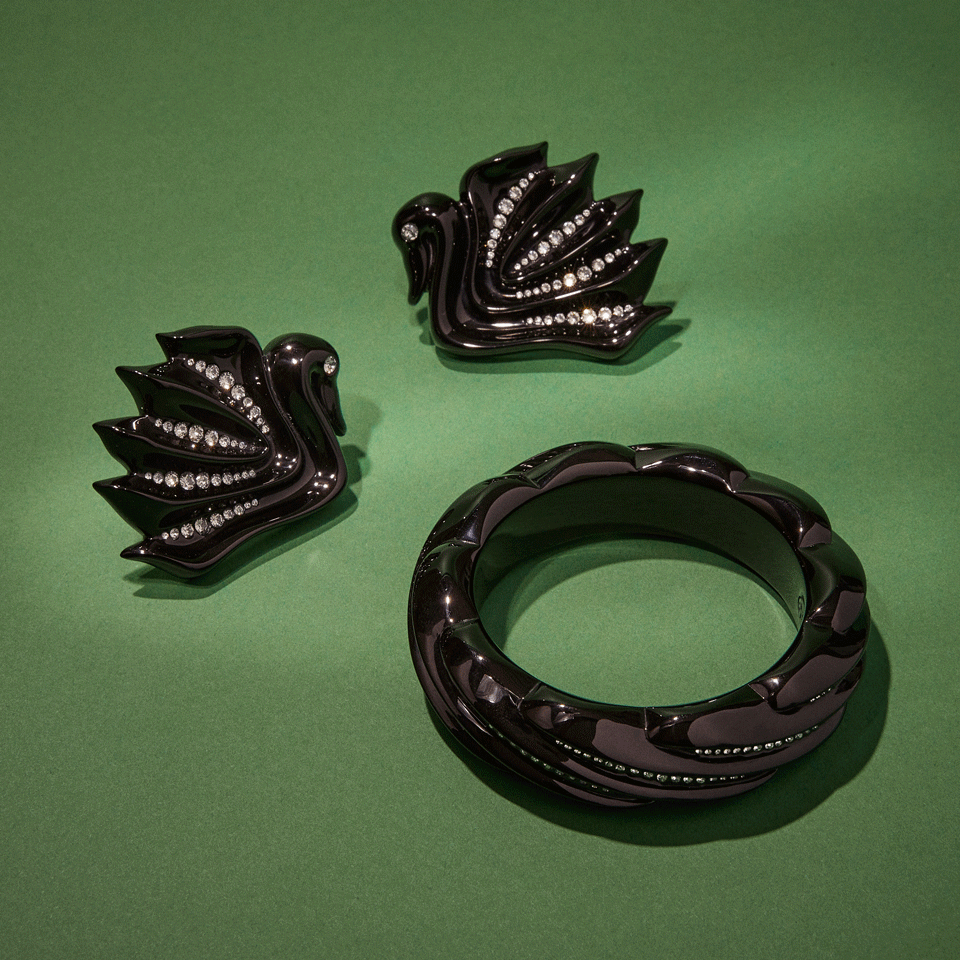 The Holiday 2021 season is a celebration of fantasy, conveying a renewed sense of hope and escape. At center stage: swans. Endlessly inspiring, this graceful, majestic and regal bird can be found throughout our collection, from a printed sheath dress to crystal-studded resin jewelry. Keep reading for four facts on the enduring allure of swans.
1. The 'Swan Song'
The term 'swan song' is used to signal a final act. It is rooted in Ancient Greek lore that a swan sings a single song before its death. The earliest use of the phrase is found in Aeschylus' Agamemnon, written in 458 BC. Today, 'swan song' is often referenced in popular culture and is even the title of an upcoming film featuring Mahershala Ali and Naomie Harris.
2. Swans establish strong bonds, often mating for life
A pair of swans represents eternal love. The mute swan — a species primarily found in the United Kingdom — are even said to mate for life. This love is often depicted in the popular image of two swans kissing, their bodies forming heart.
3. All unmarked swans in the United Kingdom belong to the crown
In the 12th century, the British monarch added "Seigneur of the Swans" to their title, declaring that any unmarked swans in open water belonged to the crown. This started the tradition of Swan Upping, an annual census of the swan population on the Thames.
4. Swans make for great stories
Writers and composers throughout history — like William Yates, Mary Oliver and Peter Ilyich Tchaikovsky — have looked to the elegance and movement of swans for inspiration. Tchaikovsky's Swan Lake is perhaps the greatest example to date. Or Hans Christian Andersen's Ugly Duckling, a tale of self-acceptance and transformation.