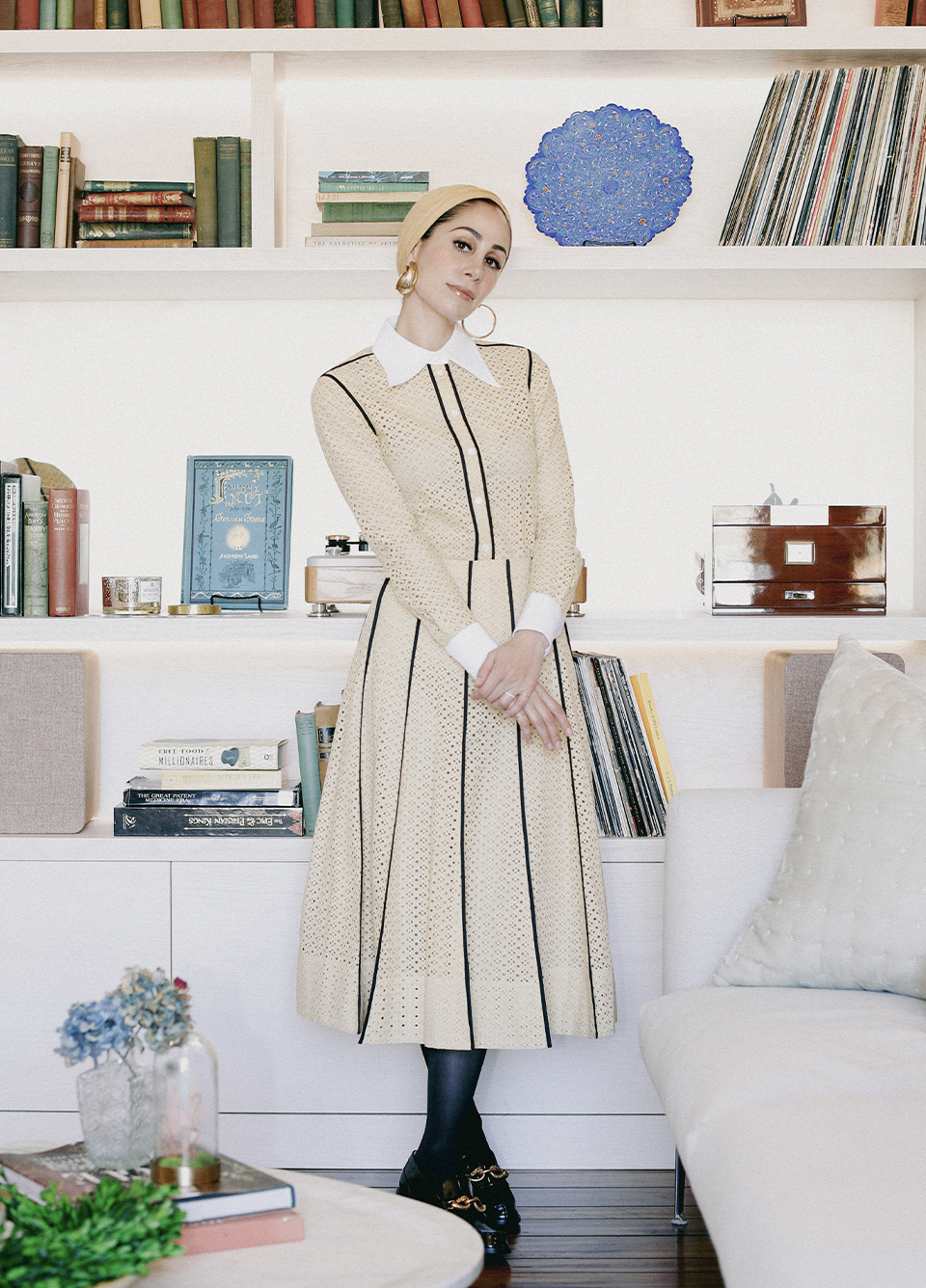 Tahereh Mafi was just 23 when she debuted her bestselling young-adult series, Shatter Me. A decade later, and with more than a dozen books under her belt, the Iranian-American author shows no signs of slowing.
In the last three years, Mafi published four new books — including the critically acclaimed novel, An Emotion of Great Delight — while simultaneously working on the first in an exciting new trilogy, This Woven Kingdom, which launched last month. "I was able to let this fantastical world simmer in the back of my mind while I tackled other projects," Mafi tells us. "This Woven Kingdom was this delightful, secret thing no one knew about yet, which made it feel like a special escape."
From her home in Southern California — where she resides with her husband, fellow author Ransom Riggs, and their daughter — Mafi discusses work mantras, early mornings and the joys of motherhood.
My writing process is…
These days I get the best writing done before dawn. I wake up around 4am every day and work in the quiet hours before the sun comes up, before my email goes off, before anyone needs me. I really treasure those hours.
The most challenging part about writing…
Every stage of the process — drafting, revising, promoting — can be taxing, but I think the most complicated aspect of writing (in the pursuit of publication) is the commodification of self. Writers put a great deal of ourselves into the things we create, which makes it feel, sometimes, like we're putting a price tag on ourselves. This can be emotionally jarring. I try to remind myself that — counterintuitive as it seems — I am not, in fact, my art. We're all so much more than a product of what we do for a living.
My pro tip to would-be novelists…
Read. Read everything, read widely. Read like it's your job. (It will be!)
I combat writer's block by…
When I'm stuck in a scene it's usually because I'm trying to forge ahead in the story despite having left something essential unresolved. I usually have to take a closer look at the previous scene and figure out where I went wrong — or what I was trying to force a character to do — before I can delete and try again. After that, I usually regain my momentum.
My proudest moment…
I realize even as I prepare to type this that my answer will sound trite, but the most rewarding moments in my life have everything to do with my family. Professional accolades are wonderful; being nominated for a National Book Award was amazing; learning that I'd sold millions of copies of my books was incredibly rewarding; but when I watch my daughter run around shouting, "Mommy, this is the best day ever!" there is no greater joy, no greater feeling of fulfillment. Making her smile is always my proudest moment.
The books I recommend to everyone…
Some truly exceptional novels out in the world right now include All My Rage by Sabaa Tahir, Ain't Burned All the Bright by Jason Reynolds, They Both Die at the End by Adam Silvera, Pachinko by Min Jin Lee, and The Unsinkable Greta James by Jennifer E. Smith. Highly recommend!
If I could be a fictional character from any book, I would be…
I don't know. So many of the books I love are about tortured characters living through harrowing ordeals. I think I'd most like to be an undramatic, happy, well-adjusted character from a very pleasant story where only pleasant things happen. Then again, I'm not sure such a book exists.