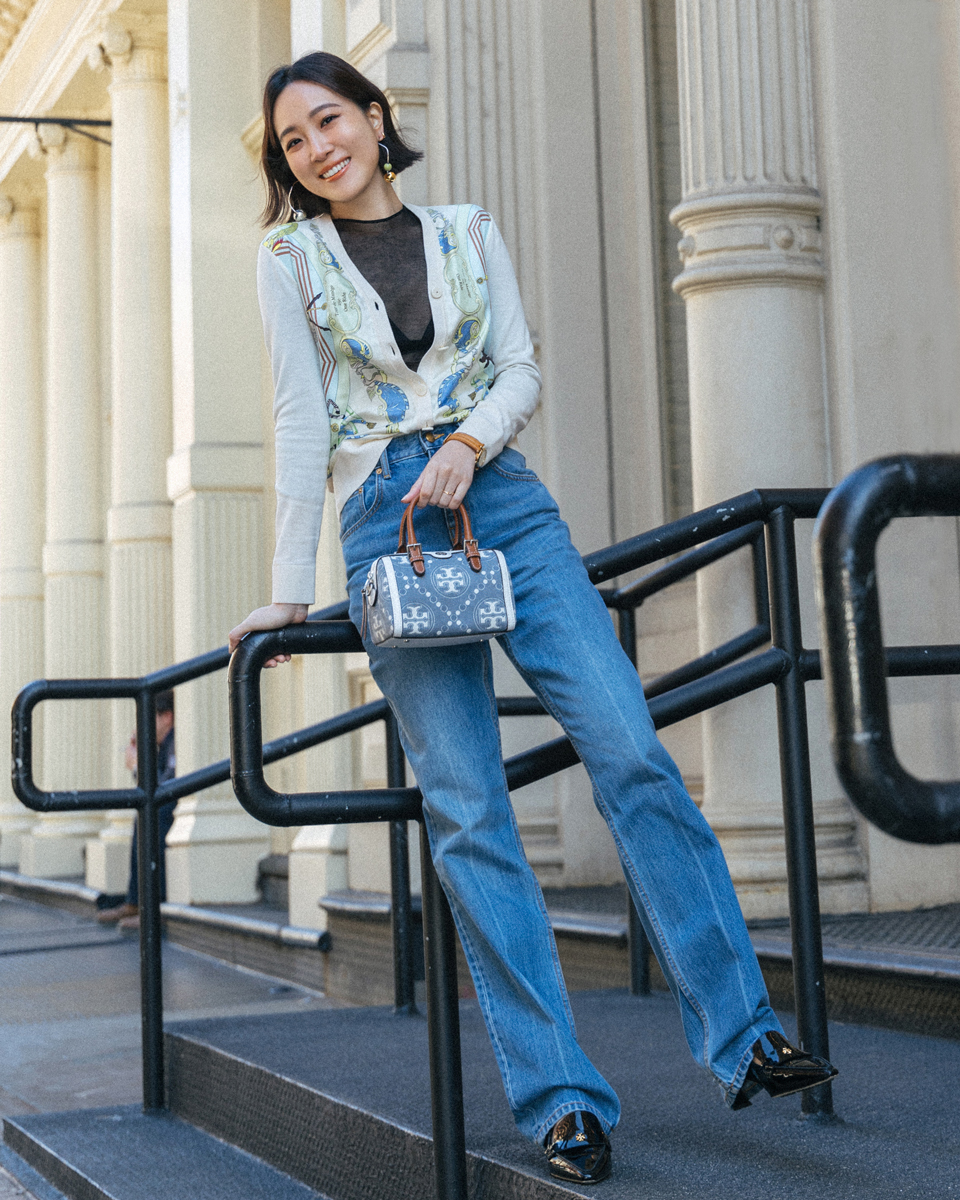 A happy and healthy mom is a good mom. That's the philosophy to which beauty entrepreneur Melinda Wang subscribes. The CEO and co-founder of vegan skincare line Nomel makes sure to prioritize taking care of herself so as not to fall prey to a draining mindset of martyrdom or sheer burnout, while running a business and taking care of her two-year-old daughter. "Your healthy attitude toward sleep, food and discipline will affect your children in the most important ways," she explains. Melinda spoke with Tory Daily about the underrated benefits of double cleansing, the ups and downs of entrepreneurship and how she finds balance as a mom.
The ethos of Nomel is…self-expression through imperfection, together. When you flip the word "nomel," it reads "lemon." Lemons usually suggest sourness or difficulty in life; but to us, it's a state of mind and you can always flip your thoughts around and turn life into lemonade – something positive. We want to remind you to embrace the feelings, beauty and thoughts of all people, while putting out quality products that promise to deliver results. The products are a way to communicate with our community. We want to develop a series of lifestyle products that can be integrated into every aspect of life.
The most rewarding part of being an entrepreneur…is that I can conquer all kinds of challenges with my team, while maintaining our core intention of why we started the brand in first place, as well as leading the brand into a brighter future! Being an entrepreneur is such a blessing to me personally. It really is a one-of-a-kind journey, full of ups and downs, full of experiences and memories.
And the most challenging…establishing a mutual bond with the team. My mission as a founder and CEO is to nurture an understanding, compassionate, and empathetic community. But building relationships is a two-way street. Keeping emotional intelligence in mind really is an ongoing lesson!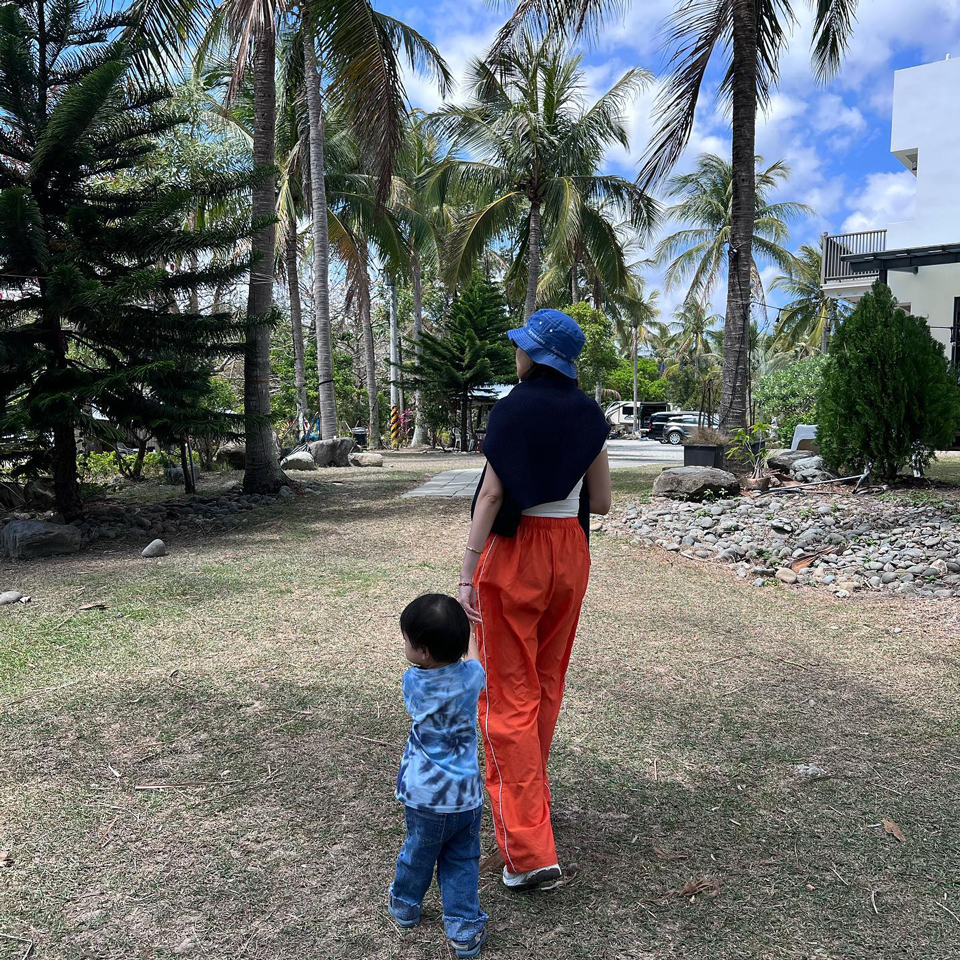 My daily skincare routine is…fairly simple. I start with a double cleanse. Usually, people disregard this step, but if you cleanse right, you're halfway done and working toward a solid foundation. On a regular basis, my second step would be a renewal solution to exfoliate and speed up cell turnover. Then an essence to help soothe my skin and enhance previous treatments. I have dry skin, so a rich cream to lock in hydration is key. Maintaining a good skin barrier and acid mantle health is the first defense your skin needs. Adding a facial oil strengthens hydration retention whilst leaving my skin soft and radiant. Finally, sunscreen for protection and anti-aging.
Three things every mom needs to have in her bag…lip balm because I hate the feeling of chapped lips, hand cream because it combats pigmentation and premature wrinkles, and a small mirror to keep your mom look in check! I am always about self-care, anywhere and everywhere I go!
After my daughter is in bed, I relax with…a well-orchestrated reality show. There's nothing more relaxing. I love putting on a sheet mask and letting myself indulge with a healthy dose of silly shows.
If I had 24-hours without childcare or work, I would…most likely fit in a work-out session to sweat out all my worries and toxins. Then call up my other half or friends for a chill night out.
The best of piece of advice about motherhood I've ever received…your healthy attitude toward sleep, food and discipline will affect your children in the most important ways. Leading by example is key!
作为一名创业家,您最大的收获是什么?
于我而言,成为一名创业家是幸福的事,这真的是一段独一无二的旅程,充满了酸甜苦辣,留下了丰富多彩的经验和回忆。我最大的收获是能够与我的员工团队一起克服各种困难,坚守品牌初衷,引领品牌走向更加美好的未来!
您遇到过的最大的挑战是什么?
在不同的阶段,我会遇到不同的挑战。作为一名创始人兼首席执行官,我的使命是培养出富有同情心、同理心和善解人意的社群。然而,人际关系的建立是双向的过程,在团队中建立相互的连结,是需要时刻谨记情商的重要性,也是一门我仍在持续学习的课程!
您的日常护肤流程是怎样的?
我的护肤流程通常很简单,我首先会用双重洗卸组合进行清洁(人们往往会在"护肤流程"中忽略这一步,但我们想要推广的理念是,如果你做好了清洁,就完成了一半的任务,并为后续的护肤步骤打下了坚实基础!)通常情况下,第二步我会使用角质焕新调理水来去除死皮细胞,加快细胞更新速度。接下来,我会使用精华液来舒缓我的皮肤,提升后续的护肤效果!由于我是干性皮肤,因此保湿步骤很重要,我会使用富含滋润成分的乳霜来锁住水分,这一步很关键!保持良好的皮肤屏障,也就是保持酸性皮脂膜健康是护肤的第一道防线,再加上脸部精华油能够增强保湿效果,让我的皮肤时刻保持柔嫩、富有光泽。最后的关键步骤,是使用防晒霜来保护皮肤和抗衰老!
每个妈妈包里的三件必备品是什么?
唇膏,因为我讨厌嘴唇干燥的感觉;护手霜,因为它可以对抗色素沉淀、脱水和过早出现的皱纹;此外,我还会携带一个小镜子,方便随时检查自己的仪容。无论到哪里,都会时刻照顾好自己的状态!
女儿入睡后,您会采用哪种方式来放松自己?
没有什么比观看有趣的真人秀节目更能让人放松了,这点大家应该都有所体会。所以,女儿上床睡觉后,我喜欢敷上一张面膜,看一些轻松愉快的节目来放松身心。☺
如果您有 24 小时的自由时间,既不需要照顾孩子,也不需要工作,您会选择做什么?
我很可能会去健身,让汗水带走我所有的烦忧和身体里的毒素。随后邀上我的伴侣或朋友,一同外出享受美酒佳肴,度过一个放松的夜晚!
关于母亲一职,您收到过的最好的建议是什么?
身为母亲,在睡眠、饮食和纪律上拥有健康的态度是影响孩子最主要的层面。以身作则即是关键所在!