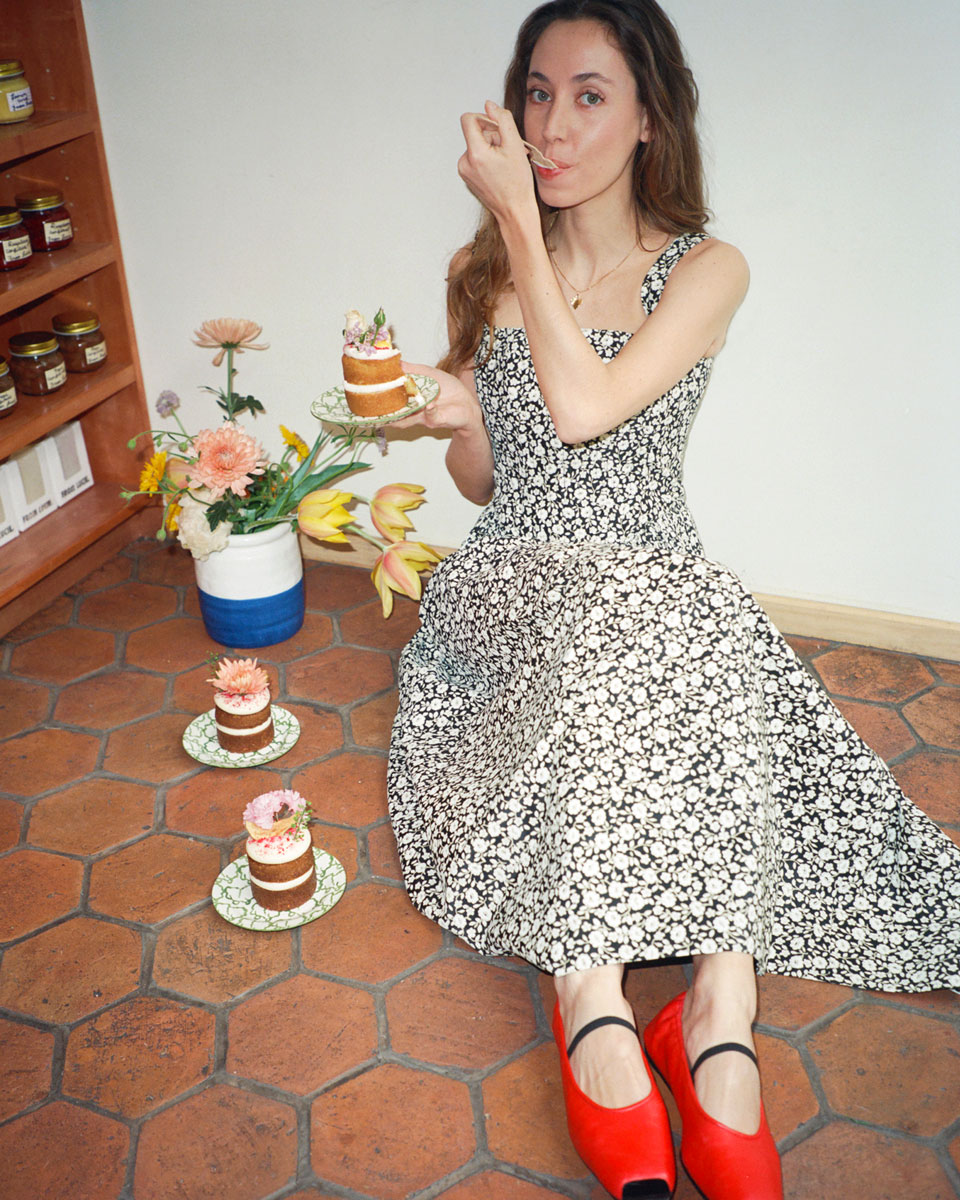 When gallerist Lucie Franc de Ferriere wanted to pivot after losing her job in the early days of the pandemic, she returned to her roots. She channeled the rustic homemade cakes served at her family's bed-and-breakfast in the south of France, and her mother's love of flowers into downtown New York's most charming new bakery. With the help of a Kickstarter campaign, Lucie opened her bakery, called From Lucie, earlier this year in New York's East Village. The French transplant recently spoke with us about her pinch-me moment of baking with Martha Stewart and why the East Village might be the city's best neighborhood.
You grew up in the French countryside and now you live in downtown New York. How do they compare?
They are as different as it gets! The one similarity is food. Not to brag but my small town in France called Sainte-Foy La Grande is known for the best food market in France and it's something that I love here with the amazing produce at the Union Square Market.
Tell us about the process of raising money as an entrepreneur on Kickstarter.
It was one of the scariest things. Any fundraising makes you vulnerable as you are putting yourself out there to convince people that your ideas are worth their time and trust. I found this amazing director, Marina Elise, to shoot a video explaining how I started the business and where I see it going. She did an amazing job at bringing the story to life. The response from people who participated, from family to strangers who just wanted to help a small business, was overwhelming. It made me realize how important it is to have a strong community and always accept help from others as they are all part of your business in some way.
What is your community like in the East Village?
I might be biased but I believe that the East Village is one of the best neighborhoods to be in. It is one of the only areas in Manhattan where subway access is tough, so it feels more neighborhood-y than other areas. Most shops in the East village are small, with owners who actually work in their shop. Just the other day, a neighbor came in and gave me his copy of a magazine with one of my cakes in it. This is why I make cakes—for people like this!
Which flowers are especially inspiring to you now?
At this very moment, I am obsessed with lilacs, cherry blossoms and grape hyacinths.
You've had an incredible year. What was your most "pinch-me" moment?
It's hard to beat teaching Martha Stewart how to make my pear raspberry cake with maple buttercream but another amazing moment was collaborating with Claire [Ptak] from Violet bakery on making a mini cake in my kitchen. I've always loved her work and love it even more now that I know she's a wonderful person.
What's the best advice you ever received from your mother?
Never let someone tell you what you can and cannot do or tell you where you belong. She also taught me to always stay curious and open-minded, to keep reading and learning and live in the present moment.