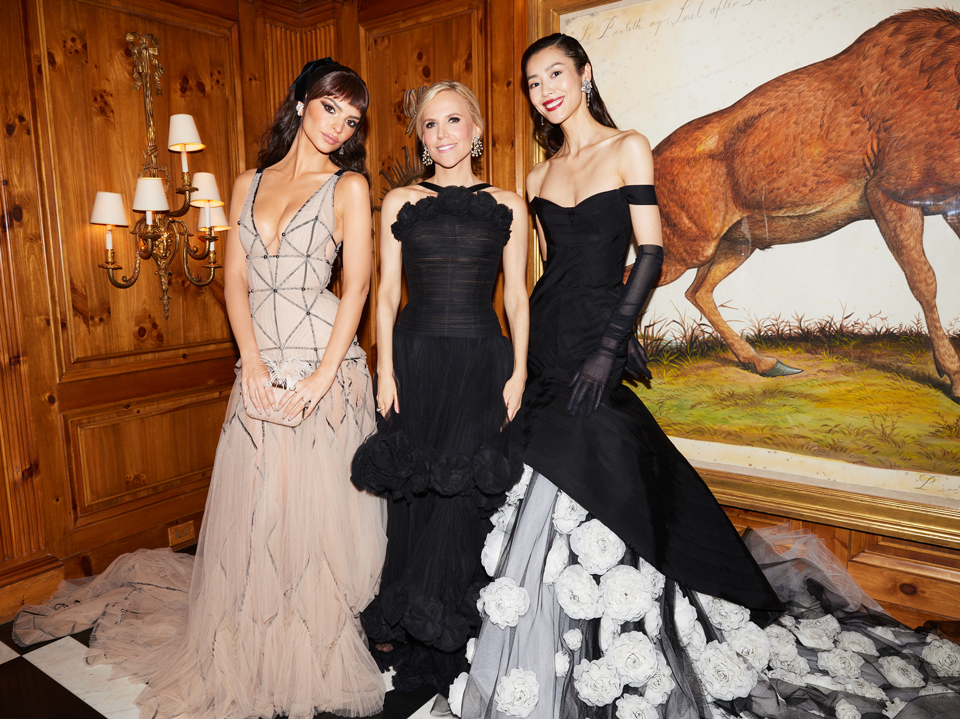 After two years of celebrating American fashion, the Costume Institute of the Metropolitan Museum of Art turned its fashionable gaze to Europe. The focus of the latest exhibition, "Karl Lagerfeld: A Line of Beauty," is the prolific work of the German-born designer, spanning six decades and five mostly French fashion brands, including Chanel, which he transformed into a luxury powerhouse.
At last night's Met gala, Tory's guests – model, author and podcaster Emily Ratajkowski, model Liu Wen, and musician Phoebe Bridgers – wore custom dresses that nodded to the evening's dress code: In Honor of Karl. Emily's gown in layers of micro-pleated beige tulle was rich with Chanel references: the corset inspired by a '90s haute couture collection, black silk tape in the pattern of its signature matelassé and the neutral hue which Coco Chanel loved for its "unadorned elegance." Liu Wen's black-and-ivory gown was reminiscent of the 1950s when Lagerfeld was designing for Jean Patou, while the skirt was completely embroidered with handmade organza flowers – a classic Chanel brand code. A musician with her own black-and-white signature look, Phoebe wore a lingerie mesh and duchesse satin gown that abstractly combined the skeleton suit she wears onstage with Chanel's inventive use of pearls. Befitting of gala gowns inspired by a designer whose oeuvre included many haute couture collections, the dresses were designed in our New York atelier, and involved extensive work by hand. For her part, Tory went the vintage route, in a black halter neck dress from Chanel's Spring 1995 haute couture collection.
Here, more pictures from fashion's biggest night.