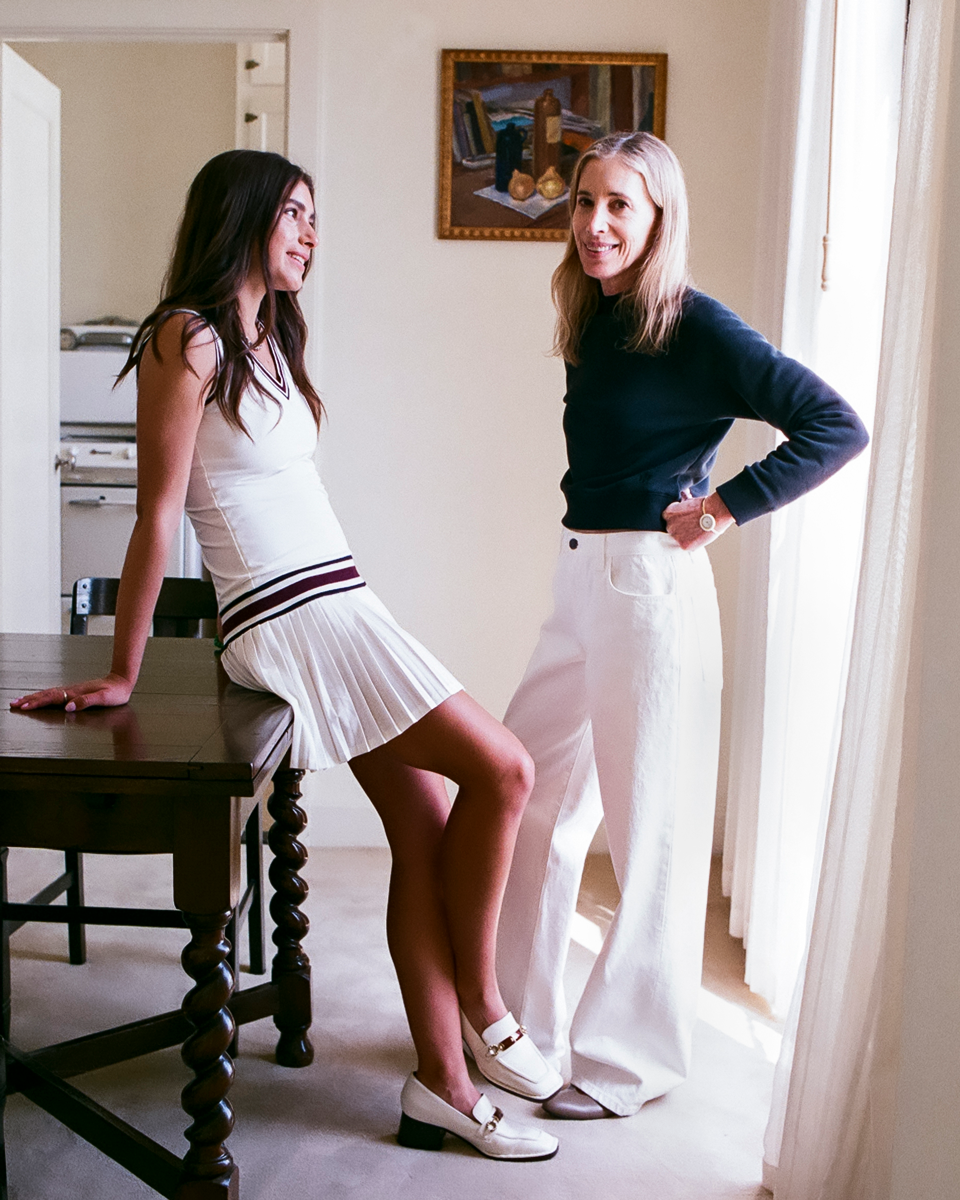 Elissa Santisi's tomboyish glamour and penchant for great pants is legendary for those who know the coolly low-key stylist whose career includes long tours at Harper's Bazaar and Vogue. Though her 25-year-old daughter Franny decided to pursue acting over fashion, she's always loved style and has developed a unique look of her own. Tory Daily captured the striking mother-daughter pair at the Chateau Marmont in Los Angeles.
From Elissa:
My style after motherhood…didn't really change. It's always been minimal and classic, slightly boyish, but it evolves depending on my mood or what's going on in fashion.
What I admire about Franny's approach to fashion…is her fearlessness. She has her own opinion and doesn't listen to mine, so she often goes in directions I've never considered. It's fun to watch her put together a persona that's so different from mine.
The best Mother's Day gift I've ever received…are Franny's cards where she fills 3 or 4 sides of the paper with insightful, quirky, funny observations about me. She does it with such intuitiveness and humor. I've saved all of them.
The life lesson I hope to pass on to Franny…is that the world is her oyster. Our Mother's Day traditions are…to overdo it. There's always some sort of pageantry in the morning with balloons, banners, gifts and flowers.
Our favorite thing to do together…is to act ridiculous.
The best motherhood advice I've ever received…is nothing I can remember. You kind of have to figure it out yourself. Welcome to the club.
From Franny:
My view on fashion growing up…I never wanted to enter the industry, because it seemed stressful on my mom. I always loved style, especially as a performative somewhat precocious kid. Playing dress up was my way of absconding into creative realms
My current aesthetic… changes day to day. I have fun wearing outfits that fit my mood. Some days I feel dark and edgy, some days masculine or balletcore. I'm having a mid-length skirt moment right now.
My most memorable fashion moment with my mom… probably when I decided to make a dress out of a Fashion's Night Out T-shirt when I was 10 or so. She loved it. That was my favorite night of the year. I adored tagging along with her.
What I admire about my mom's style is…her collection of pants is to die for. She always has the most stupendous silhouettes.
Three things I love to borrow from her closet are…her baggy cream jeans, a deconstructed silk Celine sweater and all of her shoes.
I find inspiration in… my friends, movies, art, nature, travel and cathedrals. I am transfixed by cathedrals.
The best style advice from my mom…is that you can be a slob and have a good bag and look better.
The best life advice from my mom…is too hard to pinpoint. She is so empathetic and hysterical. I've learned how to be a good Samaritan growing up by her side; to be kind and nonjudgmental.