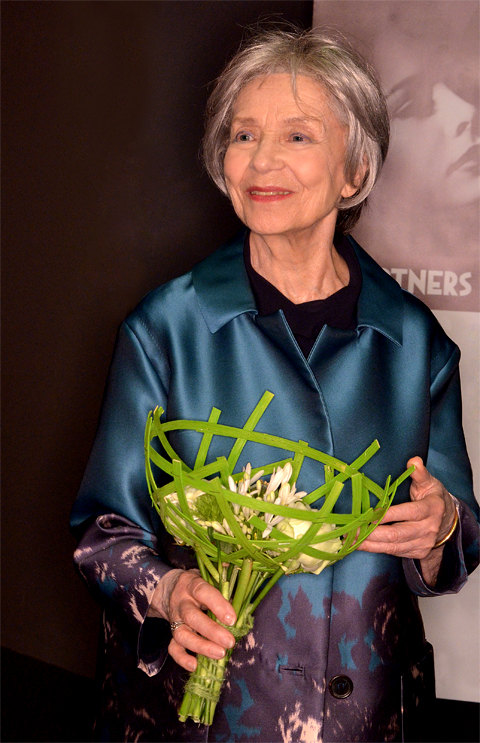 Paris film critic Olivier Joyard on the legendary actress
Emmanuelle Riva is older than all the other nominees in this year's best actress category at the Oscars, by a minimum margin of 40 years. In fact, she is older than the ceremony itself. This elegant French woman was born in 1927, two years before the first Academy Awards were held at the Roosevelt Hotel in LA.
Riva has never attended the party and didn't imagine that she would one day. How could Hollywood feel like friendly territory for a girl raised through the harsh winters of eastern France, whose father considered acting to be a form of prostitution? Yet, Emmanuelle Riva stands a good chance of flying home after the Oscars with extra-luggage to check in — a golden statuette she fully deserves.
Her touching but unsentimental performance as an aging woman suffering a series of strokes in Michael Haneke's impressive Amour (the film competes in the Best Picture and Best Foreign Picture categories) initiated a serious burst of love among moviegoers worldwide. At Cannes Film Festival last year, the quiet melodrama turned out to be a hit, winning the Palme d'Or. An unexpected shed of light for an actress who first entered cinematic legend in the late 1950s, starring in Alain Resnais' classic New Wave masterpiece Hiroshima Mon Amour.
In the Sixties, Riva became an icon but chose not to live like one, turning down offers to appear in mainstream movies. "What uglier word than star?" she stated in a recent interview. She longed for something different, favoring long conversations with friends like famed writer Marguerite Duras. For the past five decades, Riva's petite silhouette stood mainly on the theater stage. She made a few films with highbrow directors such as Philippe Garrel. Her own version of glamour.
The Paris Latin Quarter resident may have to think twice about stardom if she wins on February 24th. Surely a night to remember, as Emmanuelle Riva will celebrate her 87th birthday at the Dolby Theater (talk about karma!) and will inevitably be asked to pose for pictures alongside Quvenzhané Wallis. While Riva is the oldest Oscar nominee ever, the nine-year-old Beasts of The Southern Wild sensation is the youngest nominee in history. Seventy-eight years apart, two sides of life will glitter together — and surely steal the show.