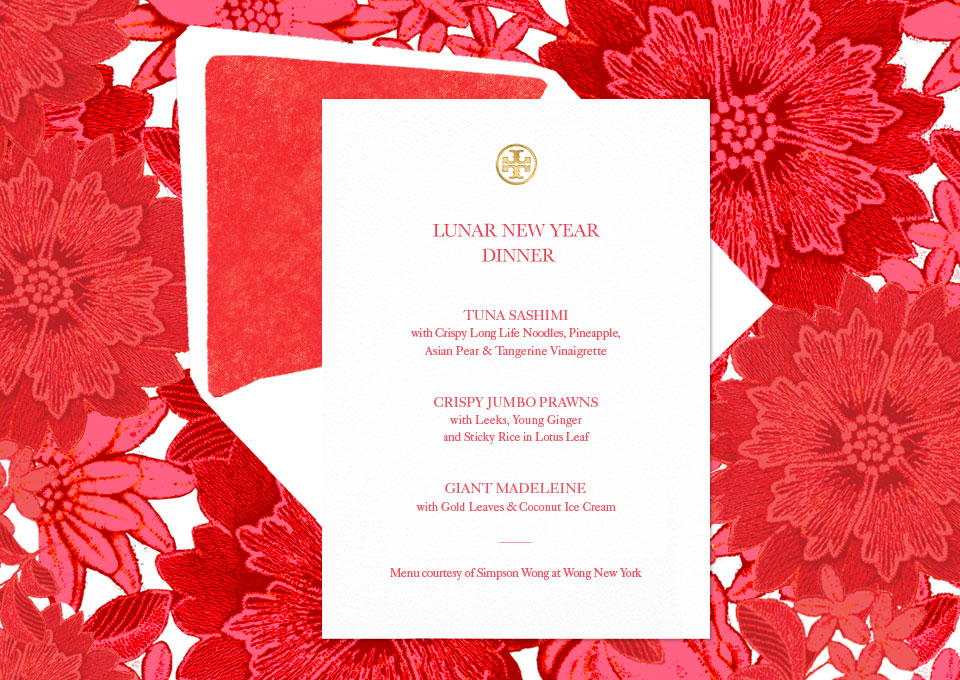 The Malaysian chef behind Asian locavore hot spot Wong New York
on ringing in the New Year the right way — plus, get his celebratory menu above
Favorite New Year tradition growing up…
Collecting
ang pow
(red envelopes with money) and wearing a completely brand new outfit, from head to toe.
New Year superstitions to know…
Wear red for good luck (gold and silver are great, too, but black is a big no-no). No using sharp objects since this cuts off the good fortune and no breaking of glasses and mirrors. Clean the house before the first day of the New Year. No cleaning on the first day, only on the second day. And no harsh words.
On the actual day…
I will wake up early, put on my new outfit, wish my parents Happy New Year and Gong Xi Fa Cai (wish you prosperity) and they'll hand me the red envelopes. Then I'll go visit relatives in the neighborhood. We'll have oranges (gold), tea and pumpkin seeds (fertility).
My fantasy New Year's dinner includes…
Ai Weiwei, Meryl Streep, Aung San Suu Kyi, Albert Einstein and Barack Obama.
The dishes my mom always made…
Whole fish, steamed with lily bud, moss seaweed and dried oysters — all the ingredients that, when pronounced in Chinese, sound like the words for abundance and happiness. That way, the rest of the year will be filled with prosperity, good fortune and health. Long noodles — for longevity and long lives. Sweets, like the New Year glutinous rice cake — for a sweet and successful year. And large shrimp since, when pronounced, the word sounds like laughter, which equals happiness.

In Malaysia, the holiday is…
Pretty similar except on the second day of Chinese New Year, Malaysians eat a dish called yu sheng. It's sashimi, orange slices and some crunch. We all stand up, put all the chopsticks together in the large platter and toss the contents as high as possible signifying "up the ladder" with lots of prosperity and gold.
Phrase most overhead in my kitchen…
"Taste your food" and "f***."
A first-time visitor to Wong must try…
The lobster egg foo yong.
In the kitchen, nothing beats…
Passion, patience and palate.