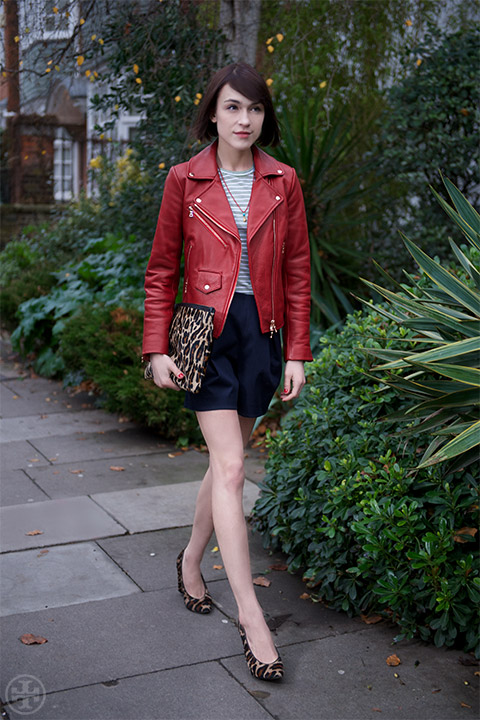 The London-based La Petite Anglaise blogger on how to take London Fashion Week by storm — and in style
My style is…
Preppy with a twist.
My personal styling trick…
Matching pops of bold color, whether that's hot pink nails and phone case, a bright red skirt and lips or turquoise ballet flats and blouse.
Here, I'm wearing…
Tory's Mariah tee and navy city shorts. What can I say, I'm powerless to resist a stripe. The shoes and bag are Hobbs, my jacket is Club Monaco and my necklace is Anne Bowes.
Best style advice I've ever received…
Presentation and upkeep are everything. No matter how chic your shirt, if it's crumpled, then all hopes of elegance are a goner. Paraphrased from my incredibly chic grandmother.
LFW is like no other Fashion Week because…
The level of creativity and fearlessness you see in London is above and beyond anything else.
My favorite spot to grab a bite during LFW…
Somerset House has some lovely spots like Tom's Kitchen, although sometimes you need a break from it all. For 20 minutes non-fashion respite, I usually head to the nearest itsu.
And a drink…
I'm a lifelong Starbucks addict, so between shows you'll usually find me grabbing my caffeine fix there. If it's a little later in the day, then I might stop for a glass of wine with fellow showgoers at Soho House or Cafe Boheme.
Between shows…
I can usually be found either frantically trying to write show reviews on my iPad or, more likely, hanging out with friends. That said, last season I did very little of either because my schedule was virtually back-to-back all week!
My non-fashion distraction…
Non-fashion during Fashion Week? Never!
My essentials for LFW…
An umbrella is always a good thing to have handy, as well as a pair of sunglasses and a scarf for when the weather inevitably changes from glorious sunshine to torrential rain and back again.
And for Paris Fashion Week…
For Paris, I glam up more during the day, so never leave the apartment without spare sheer tights and a killer lipstick. In both cities an iPhone charger, lip balm, camera and some sort of sustenance are essentials.