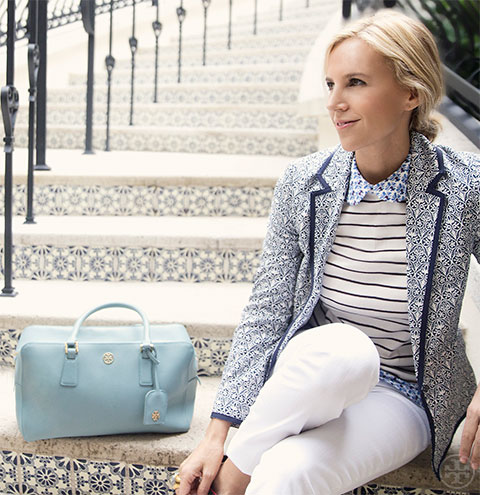 What do you love about spring?
I love being in my garden and seeing the flowers bloom. Everything just feels lighter, brighter and more cheerful.
What are you wearing here?
Our Alexandria top, skinny jeans in white, a custom Tory jacket (in our Carinthia print) and our Robinson square satchel, which I'm really excited about. It's a new style to our classic Robinson collection, named after my parents.
What's new about it?
The whole silhouette is cleaner for a really understated yet chic look, and we added a removable luggage tag. I bring this bag everywhere with me — here I am at Palm Beach with it.
What if I'm looking for something a little more feminine?
In that case, you'll love our new Fleming collection. It features ladylike quilting and an elegant chain strap for a really polished, dressed-up look. Even on my most casual days, I throw this bag on and feel completely pulled together. It's perfect for evenings, too.
And if my style is more tomboy?
Backpacks. We have some amazing styles this season, from sporty nylons to fun leopard prints. We even designed a quilted backpack, with gold chains, for those who like both the ladylike and the sportif. Athletic chic was a big trend on the runways and this is a great and subtle way to wear the look.
What's in your bag?
iPad for reading and work — and for movies on planes. Evian water to stay hydrated. Our Pas Du Tout lip color, lip and cheek tint, and our new rollerball eau de parfum — for easy touch ups on the go. And a grosgrain red ribbon for good luck. It's a tradition handed down in my family.
Shop the Robinson Collection. Shop the Fleming Collection. Shop all backpacks.