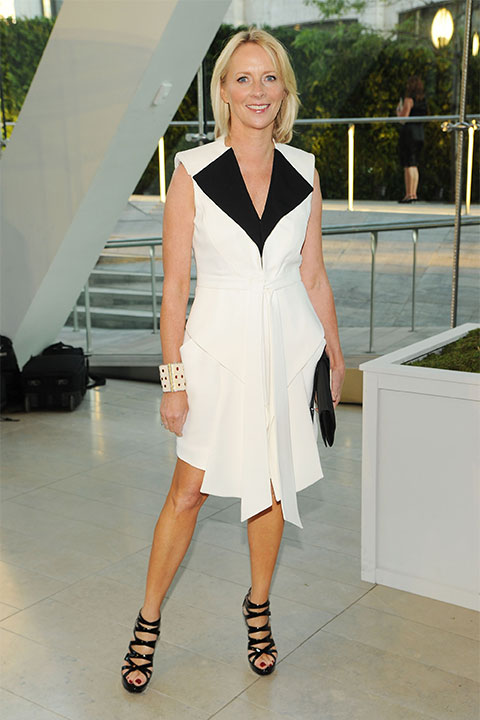 The founding Editor-in-Chief of Allure magazine gives us the inside scoop on her beauty secrets — from morning routines to travel tips to the one secret indulgence every stiletto lover will love.
My morning beauty routine…
Shampoo and conditioner every day. Shave legs every day (even in the winter — yes, I know it's crazy). Wash face in the shower. Apply body lotion in the shower (after blotting off). Antioxidant serum followed by moisturizer with SPF on my face. Volumizing spray and mousse on wet hair. Blow dry with my head upside down and The New York Times on the floor. Then I apply makeup. I'm not speedy in the morning; I actually really like to dawdle.
And evening beauty routine…
No matter what, in sickness or in health, I remove my makeup and wash my face. Okay, sometimes I cheat and use a facial wipe. But I never go to bed with makeup on. Rule number two is I moisturize every night, first with an anti-aging serum and then with a nice, thick cream that I apply all over my face, my neck, around my eyes and on the backs of my hands. Then lip balm, a cup of Bedtime tea and a good book.
My personal beauty trick…
My best one is how to prevent liquids from leaking in your luggage. Take the bottle of shampoo or conditioner, etc., remove the top, and squeeze the bottle until the liquid rises to the lip of the bottle. Then hold the squeeze while you twist the top back on. You get a vacuum-like seal. But I still put everything in Ziploc bags just in case.
My beauty indulgence…
I'm crazy about foot reflexology — it's supremely relaxing without messing up your hair and makeup. And it's usually much shorter in duration than a traditional massage, which often makes me antsy. I like going to Angel Feet in the West Village, but I've gotten reflexology all over the place and it's almost always good. It's especially excellent after skiing or long days in high heels.
The top healthy beauty practices…
Sleep and SPF — the two "s"s. If you don't have those, it's all a struggle.
Best way to take care of your skin…
Make the effort. Apply sunscreen every single day no matter the weather. Then find the best dermatologist and, assuming you trust him or her, let them do what they do best.