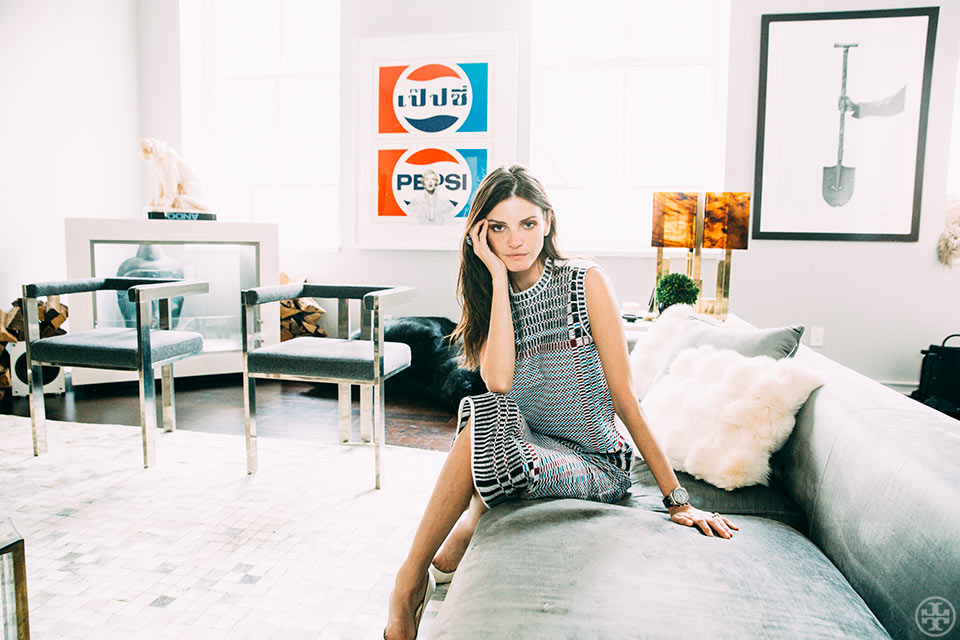 This Fashion Week, there's another reason to groove — the dates coincide with the annual, anything-goes festival in Brazil called Carnaval. It's endless revelry, dazzling color, tripping the light fantastic in costumes and headdresses, pulsing music, pulsing bodies, all-out exuberance… But don't just take our word for it; get the Carnaval 411 straight from an insider, Brazilian model Jeísa Chiminazzo, here wearing Tory's jacquard crewneck vest and jacquard skirt.
Carnaval is…
Three days of fun right after Ash Wednesday. In the Catholic religion Carnaval is celebrated 40 days before Easter, right before the start of Lent. The origin of the word "carnaval" comes from "carnis levale" in Latin, which means "farewell to meat."
My favorite part is…
In Brazil, Carnaval is synonymous with fun and a time when the rich and the poor get together to enjoy and celebrate this beautiful holiday. In Rio, for example, people at the samba schools work all year to create those beautiful costumes you see at Sapucaí (where the samba parade takes place). It's a lot of work and mainly all that work is done by people from the favelas. I think my favorite part is that Carnaval brings people together and gives hope for those who are not so fortunate. They are the stars; they are the ones who make this beautiful celebration happen.
How we celebrate in my hometown…
I'm from Muçum, a small town in the state of Rio Grande do Sul. The way we celebrate is by dressing up, going to parties and spending time with friends. I moved to New York when I was 13 and what I remember most from before was dressing up in Carnaval costumes and going to the streets to dance with friends and family. Those are amazing memories from my childhood.
This year on Carnaval, I'll be…
In New York. :( It's Fashion Week here and I will be busy working, but if I could choose, I would be in Rio, watching the samba parade, or in Salvador, dancing with Ivete Sangalo on the trio elétricos.
Favorite Carnaval eats…
Brazilian food is superb! Anything you eat has a lot of flavor. One of my favorite parts of my country is actually the food, especially street food — and it's safe to eat! My favorites: pastel, our version of fried wontons that are filled with ground meat, heart of palm, catupiry (our cream cheese) or shrimp; coxinha de frango, our version of chicken drumsticks that is filled with chicken and catupiry (really yummy!), and acarajé, a dish made from peeled black-eyed peas formed into a ball and deep fried in dendê oil, which is then served split in half with vatapá (a spicy paste made from shrimp, ground cashews and palm oil). Also, you have to try the feijoada and our churrasco!
And my drink of choice…
Definitely the caipirinha! It's a drink made with cachaça, sugar and lime. Very refreshing but be careful — because of its sweetness, it's easy to drink a lot and get tipsy quickly! The other thing that I love and always try to have in my house in New York is this soda called guaraná; it's really good!
My Carnaval playlist…
When I think of Carnaval I think more about the musician than a specific song. I love Ivete Sangalo, Alceu Valença, Beth Carvalho and Paulinho Moçidade.
Words or phrases to know…
Olá (hello), quanto custa (how much), obrigada (thank you), por favor (please). And the list goes. There are many apps right now that you can download for English-to-Portuguese translations. I would really recommend you have that in your phone before you leave for Brazil.
Lastly, an insider tip…
My advice is to just go enjoy, eat a lot of Brazilian food, spend time with Brazilians — they are very friendly. Go to the Sambódromo in Rio to watch the samba parade and have fun! You won't regret it! I wish I could go this year! I'm sure it will be splendid!