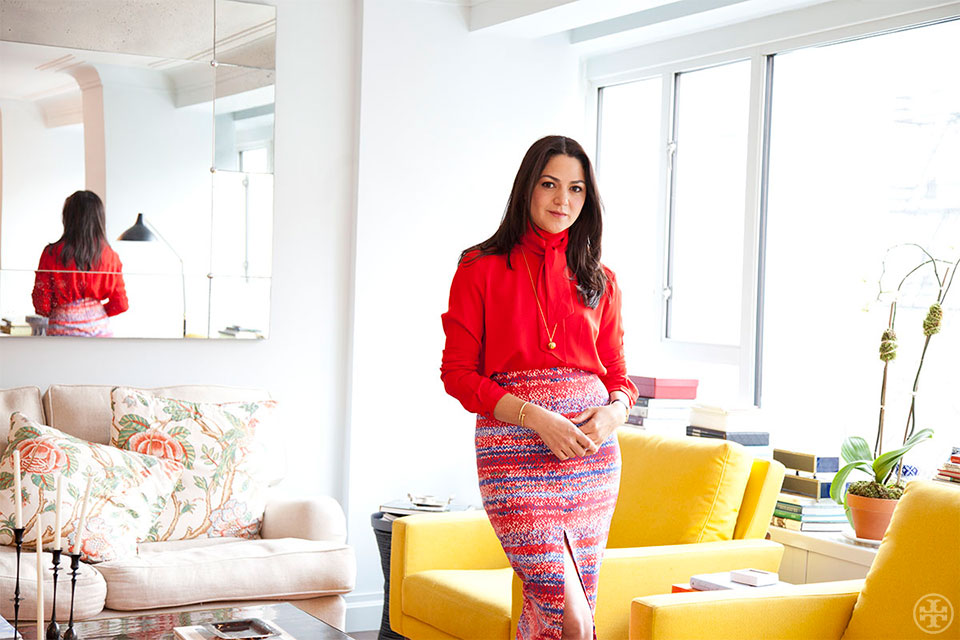 Discover how the Fashion Director of Women's Accessories at Neiman Marcus and Bergdorf Goodman, here wearing Tory's Valya skirt, tackles New York Fashion Week — from her can't-leave-home-without-'em essentials to must-wear trends and favorite spots for a nightcap.
My NYFW essentials…
Before we go out on the field, my essentials include water (hydration is key), almonds (emergency energy booster) and an extra Mophie battery for my iPhone.
And go-to look…
Weather is so unpredictable this time of year! It's all about layering so you can bundle up or down. For winter, I love a midi or maxi skirt paired with a chunkier heel and this season's bucket bag. Fun novelty knits are great for layering under great outerwear. I try and invest in one important coat per season. This year's find is a Chloé cream leather and shearling reversible coat with a woven panel. It is my take on the global-chic trend we loved on the runways.
What's in my bag…
Chanel's Deauville shine lipstick (I buy in multiples and never leave home without one), Byredo Gypsy Water oil fragrance roll-on and Herban Essentials Towelettes (fresh lemon antibacterial wipes because getting sick this time of year is never an option).
Footwear of choice…
I am a chameleon when it comes to shoes! This Fashion Week, I am embracing chunkier heels and log soles. A heavier shoe with a softer, quiet feminine silhouette is the perfect balance.
Spring trend I'm most excited about…
I am dreaming about Spring's new bohemians in beautiful shades of spice-market colors — cayenne, paprika and curry. A boho yet modern look, think Talitha Getty in Marrakech. Soft tunics and blouses worn with piles of long, layered necklaces, maxi dresses and lace-up Roman sandals.
Required reading for the week…
I start with the usuals — WWD, Style.com, Herald Tribune and WSJ — and everything else is an Instagram away!
Favorite fashion Instagrams to follow…
@JJMARTINMILAN, founder of LaDoubleJ — a maximalist with a great eye for vintage mixed with today's latest fashions. @TAMUMCPHERSON, blogger and street-style photographer. Tamu's style is at times as great or better than most of the subjects she photographs. Her fun posts validate that fashion moms can be great fun! @MRBAGSS — who doesn't love a bag? @Karliekloss — love her charming and clever take on the runways, food, fashion, beauty and the rest…
Between shows, I'll be…
Have you seen the schedule? Unfortunately, there is no between time.
Where I go for a nightcap…
I look forward to NYFW dinner catch-ups with industry friends. Some of our favorite spots are Sant Ambroeus Soho for the Bolognese tagliatelle and Charlie Bird for anything local. There is nothing better than great food and company to unwind and recap the day.

My fashion-week beauty secret…
I am addicted to Natura Bisse's Diamond Extreme Cream. A little goes a long way for that dewy and glowing skin we all want.
And my fashion week workout…
I have a wonderful yoga instructor whom I don't see as much as I should. During market and show season, she sends me off with a 20-minute voice-note session. I try hard to squeeze in whenever possible. It's a great travel relief and fantastic jet-lag fighter.
My non-fashion distraction…
I love interiors. When I am not reading fashion magazines and blogs, I find myself on 1stdibs, Apartment Therapy, Remodelista, Houzz and Pintererst.
And when it's all done, I'll unwind with…
A weekend with the family in Litchfield County where the air is pure and I can put everything into perspective.