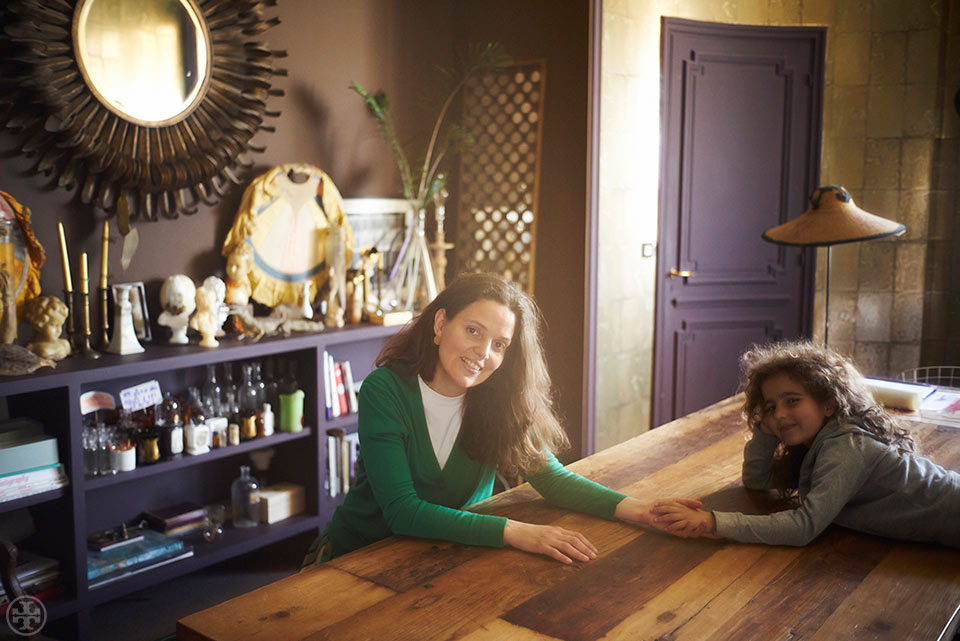 Our series of Parisian Insider Guides continues with fashion and beauty vet Victoire de Taillac, who, with husband Ramdane Touhami, has relaunched not one but two storied French brands: the centuries-old candle company Cire Trudon and the 19th-century fragrance and apothecary firm Buly 1803. (For a quick in-Paris escape, swing by the beautifully decorated Buly shop in Saint-Germain-des-Prés, which transports you back to the Paris of Old World yore.) Here, the mother-of-three and consummate hostess shares her favorite spots to shop as the locals do — plus, she gives her quick primer on French dinner parties.
My favorite view in the city…
Crossing the Seine between the two banks. On Pont des Arts or Pont Alexandre III.
Favorite garden or park…
Jardin Catherine-Labouré (29, rue de Babylone), a beautiful small and closed garden, and the Tuileries.
And flower market…
Quai de la Mégisserie for the plants; Baptiste (4 rue de L'Abbe Gregoire) for the flowers.
And home decor store…
Paris is full of specialized stores and it's nice to go to A la Mine D'Argent and, for linens, Le Pré aux Clairs or Sylvie Thiriez.
And where to go for great only-in-Paris gifts and/or local treasures…
Colette or Au Bain Marie.
Favorite host/hostess gift to give…
A Buly candle.
Favorite dinner party I've ever thrown…
The next one, always better when unexpected.
No dinner party in Paris is complete without…
Wine and political talk.
Parisian etiquette to know…
None. Parisians don't like to play by the rules.
And words/phrases to know…
Never take a French "no" for an answer — the conversation is only starting.
Notre série sur les meilleures adresses parisiennes continue avec Victoire de Taillac, qui, avec son mari Ramdane Touhami, a ressuscité non pas une, mais deux vénérables maisons françaises: Cire Trudon, fabricant de bougies depuis des siècles, et Buly 1803, officine du XIXème siècle. (Si vous êtes à Paris, faites un détour par cette boutique située à Saint-Germain-des-Prés et plongez dans le Paris d'autrefois.) Hôtesse émérite et mère de trois enfants, Victoire de Taillac partage ses lieux préférés et confie le b.a.-ba des dîners parisiens.

Ma vue préférée à Paris…
Entre les deux rives, sur le pont des Arts ou le pont Alexandre III.
Mon jardin/parc préféré…
Le jardin Catherine Labouré (29, rue de Babylone), un très joli petit jardin caché, et les Tuileries.
Pour acheter des fleurs…
Quai de la Mégisserie pour les plantes, et Baptiste (4 rue de L'Abbe Gregoire), pour les fleurs.
Et pour la déco…
Paris regorge de boutiques spécialisées, j'aime bien aller A la Mine D'Argent, et, pour le linge de maison, au Le Pré aux Clairs, ou chez Sylvie Thiriez.
Où aller pour trouver des cadeaux typiquement parisiens…
Chez Colette ou Au Bain Marie.
Qu'offrir aux maîtres de maison…
Une bougie Buly.
Le dîner le plus mémorable…
C'est toujours le prochain, et c'est encore mieux quand on improvise!
À Paris, aucun dîner n'est parfait sans…
Du vin et des débats sur la politique.
Une chose à savoir, en matière de savoir-vivre…
Les Parisiens n'aiment pas suivre les règles.
Une expression à connaître…
Si un Français vous dit « non », ne vous formalisez pas, la discussion ne fait que commencer.
Follow Victoire de Taillac on Instagram.
More to read…