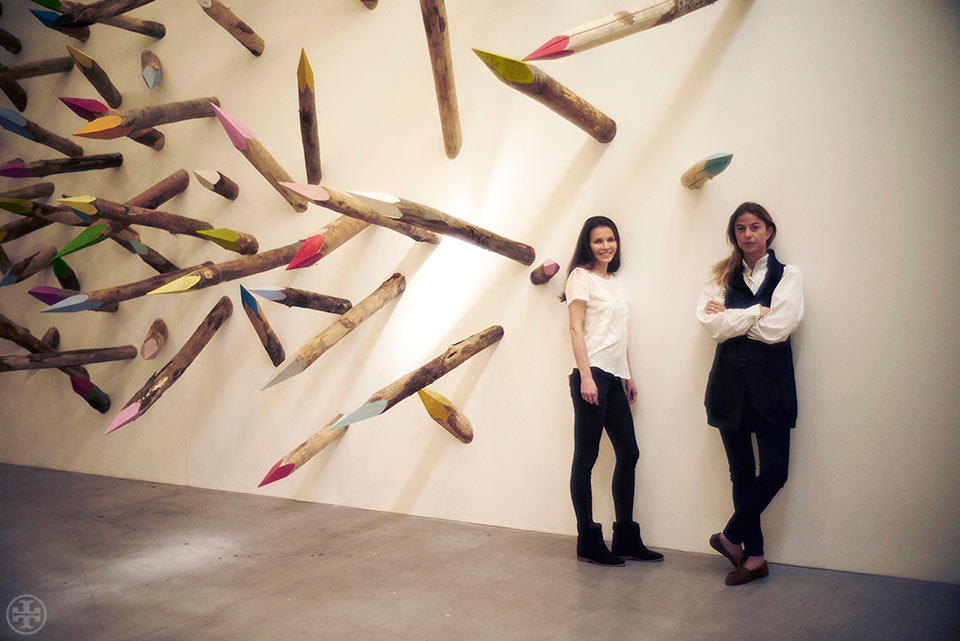 There's a new gallery in Paris built on the very spot where legendary gallerist Yvon Lambert set the city's contemporary art scene, with exhibits by Joseph Beuys, Nan Goldin, Jenny Holzer and others. Big shoes to fill, yes, but owners Victoire de Pourtalès and Hélène Nguyen-Ban of the months-old VnH Gallery are up to the task. Pourtalès was previously Director at Thaddaeus Ropac Gallery (and helped launch the magazine L'Officiel Art) while Hélène Nguyen-Ban was the former Fashion Director of Nina Ricci. Here, the duo open up about the start-up experience.
The focus of VnH Gallery is…
Representing artists of all horizons and all generations. We want a dynamic and ambitious program.
We were inspired to start this company when…
Our individual paths have led us to meet many artists with whom we have wanted to work. We have similar tastes and have had an ever-increasing number of discussions about opening a gallery… leading to today.
How we met…
At various dinner events here and there. When you have the same interests, you always end up meeting at some point.
The importance of our location at 108, rue Vieille-du-Temple…
It is a place laden with history. Yvon Lambert spent 28 years here, exhibiting many famous artists. It is an honor to take over a gallery such as this one and give it new life.
Most exciting part about owning your own business…
Because you have to get involved in a wide variety of domains, you gain a better understanding of the work of a gallery owner.
Having control over every aspect of such an adventure is very exciting!
And the most challenging…
Every single day is a new challenge at our gallery!
And how we overcome the above…
We travel a lot, meet a lot of people… It is necessary to continue on our path. We are in the middle of completing our program, which is an exciting and difficult challenge!
When starting a company, you must…
Be very motivated and attentive!
And never be afraid of…
Failure! Sometimes we succeed, sometimes we learn…
We've received great guidance from…
VP: I learned the ropes at Thaddaeus Ropac, an international gallery with very high standards.
HNB: We would also like to thank the Continua Gallery with whom we have organized this first exhibit, Gri-Gri by Pascale Marthine Tayou. It has been a great pleasure to begin this adventure with them.
And our tips on buying art and curating your own collection…
You must always believe in what you are buying! Not to be influenced, but seek good advice…
What's next for us…
We are going to concentrate on the program of our first year. We must organize interesting and challenging exhibits in order to apply to the major art fairs.
Une nouvelle galerie vient d'ouvrir en lieu et place de la légendaire galerie Yvon Lambert, célèbre pour avoir exposé, entre autres, Joseph Beuys, Nan Goldin et Jenny Holzer. Le défi était de taille, mais Victoire de Pourtalès et Hélène Nguyen-Ban, fondatrices de la galerie VnH, l'ont relevé. Victoire de Pourtalès, ancienne directrice chez Thaddaeus Ropac, impliquée dans le lancement du magazine em>L'Officiel Art, et Hélène Nguyen-Ban, ancienne directrice mode chez Nina Ricci, nous ont révélé ce que cela implique de diriger sa propre entreprise.

La mission de VnH Gallery, c'est de…
Représenter des artistes de tous horizons et de toutes générations. Nous voulons faire une programmation dynamique et ambitieuse.
Nous avons eu envie de nous lancer quand…
Nos parcours respectifs nous ont amenées à rencontrer de nombreux artistes avec lesquels nous avions envie de travailler. Nous partageons des goûts similaires et la question de l'ouverture d'une galerie s'est posée de plus en plus… jusqu'à aujourd'hui.
Nous nous sommes rencontrées…
À l'occasion de dîners ici ou là. Quand vous partagez les mêmes intérêts, vous finissez toujours par vous rencontrer.
L'importance du 108, rue Vieille-du-Temple…
Nous reprenons un espace chargé d'histoire. En effet, Yvon Lambert a occupé cette galerie pendant 28 années durant lesquelles il a exposé de très grands artistes. C'est un honneur de reprendre un espace comme celui-là avec l'objectif de lui insuffler une nouvelle énergie.
Le plus excitant, quand on dirige sa propre entreprise…
Cela vous oblige à vous investir dans de nombreux domaines qui viennent compléter votre vision du métier de galeriste!
C'est très excitant de contrôler tous les paramètres dans une aventure comme la nôtre.
Et le plus difficile…
Chaque jour est un nouveau challenge à la galerie!
Comment nous relevons ce défi…
Nous voyageons beaucoup, nous rencontrons beaucoup de personnes… C'est indispensable de continuer sur notre lancée.
Nous sommes en plein bouclage de la programmation, ce qui est à la fois excitant et un sacré défi!
Quand on créé son entreprise, il faut…
Être très motivées et attentives!
Et ne jamais avoir peur de…
De l'échec! Parfois nous réussissons, parfois nous apprenons…
Nous avons beaucoup appris de…
VP: J'ai appris le métier chez Thaddaeus Ropac, une galerie internationale où l'exigence est primordiale.
HNB: Nous voulons aussi remercier la Galerie Continua avec laquelle nous avons monté cette première exposition Gri-Gri de Pascale Marthine Tayou. Avoir commencé notre aventure à leurs côtés a été un grand plaisir.
Nos conseils pour acheter des œuvres d'art et devenir collectionneur…
Il faut toujours croire en ce que l'on achète! Ne pas être influencé, mais bien conseillé…
Nos prochains projets…
Nous allons nous concentrer sur notre première année de programmation. Il est important pour nous de faire des expositions intéressantes et stimulantes dans l'optique de nos candidatures pour les foires majeures.