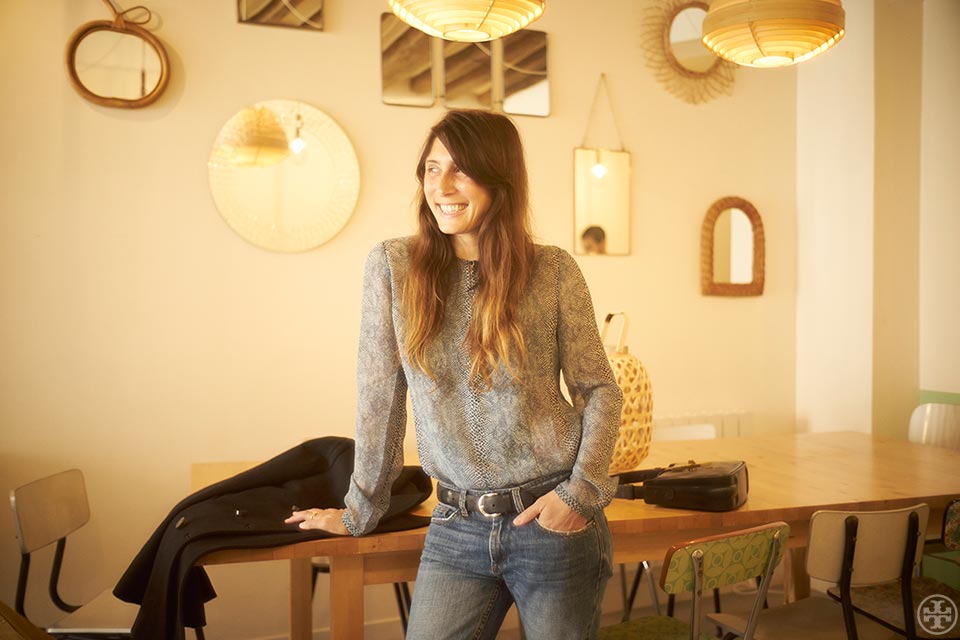 If you've longed to crack the secret behind effortless French dressing, then keep reading. We spoke with Virginie Benarroch, Deputy Fashion Chief Editor of Glamour Paris, who gave us a primer on Parisian chic.

Paris style is…
Anything effortless, and a pair of black ballet flats.
And my own personal style is…
Simple and discreet-cool: a navy blue jumper, a gray sweater or a man's shirt, ankle jeans, ballet flats or loafers, a perfecto or a pea coat. Basics, quality materials, nice cuts.
My personal styling tips…
Invest in a very good pair of jeans and cut them just above the ankle, leaving the seams raw, for a feminine silhouette. Choose scarves long enough to circle your neck twice. Invest in quality socks and belts. They will always be the finishing touches of your outfit.
And when it comes to accessories…
I like turquoise jewelry, navy blue leather handbags, mini shoulder bags and bandanas.
The quintessential items in every Parisian wardrobe…
A pair of Repetto ballet flats, a pair of APC Butler jeans, a trench coat, a man's shirt from Maison Standards and a blue and white striped top (what the French call a marinière).
Movie that shows Paris style the best…
Claude Pinoteau's L'Étudiante, with Sophie Marceau and Vincent Lindon.
Favorite local, under-the-radar designers…
For basics, Maison Standards; jewelry: Apriati's stackable bracelets and Pascale Monvoisin's turquoise jewelry; shoes, Sartore; boots and their selection of Michel Vivien shoes, 58M. For more elaborate outfits, Coperni Femme and Harmony, and the best selection for kids is at Cutie Pie.
Favorite memory from Paris Couture Week…
My first photo shoot as a stylist was for couture. Each dress was shot hanging in mid-air, like a still life. That series was exhibited at the MEP (Maison Européenne de la Photographie). I was so proud!
One thing you'd be surprised to know about Paris style…
The Parisian style is finishing every sentence with "putain" while remaining elegant.
And my favorite arrondissement…
The 9th. Living on rue Bleue, a name that feels to me like it came straight out of a movie… And the best coffee shop in Paris has just opened a few doors down from my home: My Free Kitchen. There is a waiting list for their chocolate and coconut cake. Definitely the best arrondissement!
Vous avez toujours voulu percer le secret du style français? Nous avons demandé à Virginie Benarroch, Rédactrice en Chef Mode Adjointe de Glamour Paris, de nous parler des essentiels de la Parisienne chic.
Le style de la Parisienne, c'est…
N'importe quelle tenue portée sans effort et avec une paire de ballerines noires.
Mon style personnel, c'est…
Simple et cool-discret: pull marine, sweater gris ou chemise d'homme, jean court, ballerines ou mocassins. Perfecto ou caban. Des basics, belles matières, bonnes coupes.
Mes conseils pour avoir du style…
Investir dans un très bon jean et le couper bords francs juste au-dessus de la cheville, ça rend la silhouette plus féminine. Prendre des écharpes suffisamment grandes pour pouvoir faire deux tours autour du cou. Investir dans de belles chaussettes et ceintures. Ce sont toujours ces détails qui soignent une silhouette.
Et en matière d'accessoires…
J'aime les bijoux en turquoises, les sacs en cuir bleu marine, les petits sacs portés en bandoulière et les bandanas.
Les essentiels de la garde-robe d'une Parisienne…
Une paire de ballerines Repetto, un jean Butler APC, un trench coat, une chemise d'homme Maison Standards, et une marinière.
Quel film représente le mieux le style de la Parisienne…
L'Étudiante de Claude Pinoteau avec Sophie Marceau et Vincent Lindon.
Marques parisiennes préférées, confidentielles…
Pour les basics, Maison Standards; les bijoux: il y a l'accumulation des bracelets Apriati et les turquoises de Pascale Monvoisin; les chaussures Sartore; les boots et leur sélection de chaussures Michel Vivien, 58M. Pour les pièces plus construites, Coperni Femme et Harmony, et la meilleure sélection enfants, Cutie Pie.
Meilleur souvenir d'une Fashion Week Haute Couture à Paris…
Mon tout premier shooting en tant que styliste était avec de la Haute Couture. Chaque robe était photographiée en nature morte, comme suspendue dans les airs. Cette série a fait l'objet d'une expo photo à la MEP. J'étais très fière!
Une chose à laquelle on ne s'attend pas de la part d'une Parisienne…
Le style de Paris est de dire "putain" à toutes les fins de phrase en restant toujours très élégante.
Mon arrondissement préféré…
Le 9ème. Habiter "rue Bleue" me semble être un nom que l'on trouve dans les films… Et puis le meilleur coffee shop de Paris vient d'ouvrir à quelques numéros de chez moi. My Free Kitchen. Il y a une liste d'attente pour un gâteau au chocolat-coco. Définitivement le meilleur arrondissement!