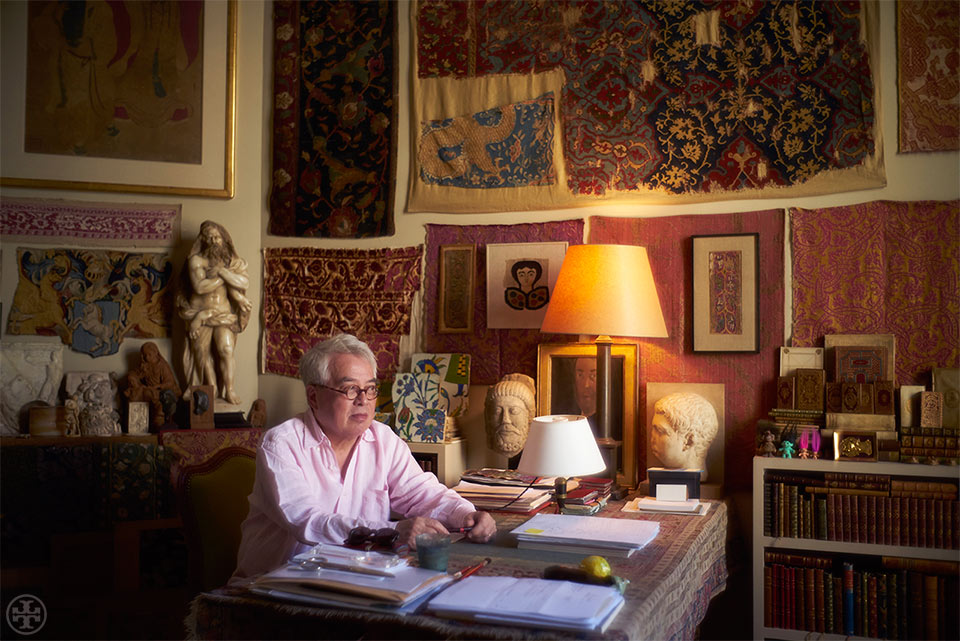 There's no mistaking artist Pierre Le-Tan's work — his signature cross-stitch technique and highly restrained approach, the quiet calm of his figures and the way in which he brings you, the viewer, into the scene as a fly-on-the-wall observer. It's a sensibility he's carved out as his own — famously so — for decades now, ever since he began his career at age 19, by nabbing the cover of The New Yorker. Since then he's gone on to contribute countless other covers for the magazine as well other publications such as Vogue, W and Harper's Bazaar, and expanded on his career with books, interiors, ad campaigns, film sets and furniture designs to become one of France's top illustrators. So we were proud to bring him in as a collaborator as we celebrate our first-ever boutique in Paris, on rue Saint-Honoré — Le-Tan, whose own father was the distinguished Vietnamese painter Lê Phổ, shared his artful take on the new flagship (here). Plus, he took some time out for a one-on-one chat with Tory Daily, sharing his thoughts on his career, travels, inspirations and the state of museums today.

My interest in the arts began when…
It's a big influence to grow up with a father who was an artist. For me, drawing was a natural thing, like how other kids play.
And I knew I wanted to pursue art as a profession when…
I've always wanted to be an artist. That's the only thing that interested me since I was a child, since I was six or seven. There was nothing else.
My other art influences, aside from my father…
I spent a lot of time in museums — all the museums in Paris and in places I traveled to with my parents, like Italy — and I looked at many, many art books. I'm interested in all kinds of arts — Asian, European, antiquities… So the influences are all sorts of influences. I can't say such and such artist was an enormous influence on me; it's little things in different artists that influenced me. What you do, of course, is a result of looking at all these things.
Favorite museum…
I liked them all. I mean, I like them much less now because there are too many people in museums, especially in Paris. Now, they are full of people who are not especially interested in art — or rather, who don't look at things really. They are just there.
My process…
When I start drawing, I always need something to start with — either an object, which is in front of me, or a photograph. I start with something… and then it becomes something else completely different.
Favorite time of day to work…
I have absolutely no routine. Sometimes I spend days doing nothing, and sometimes I work 18 hours a day. There are people who work every morning from 8 AM to noon — that's not how I work at all. I work when I can.
And my tools of the trade…
Very primitive things. I only need a pencil, some India ink and some old dry tubes of gouache. I'm not very fussy about what I use.
Favorite project I've done…
I don't know. I think what I like to do best are books, especially if it's a book of mine that I've written as well — then it's a very personal project.
And the most memorable book I've done…
It's always the next book which interests me the most, the one I'm going to do.
Book I'm reading now…
I just read a wonderful book, written by a Japanese philosopher who posed for Giacometti: Isaku Yanaihara. He wrote about posing for Giacometti. Avec Giacometti tells about Giacometti's life and Paris at that time. It's very moving and beautiful. It's a magnificent book.
My hobby in collecting…
I collect all sorts of things from antiquities to 20th century art — Christian Bérard paintings, Giacometti drawings, David Hockney drawings, early Warhol drawings and things like that. I have work from different artists but mostly figurative — it's what I'm most attracted to. I also collect old Turkish carpets from the 18th century. Collecting is a very important thing in my life, unfortunately.
And I say "unfortunately" because…
It takes up a lot of space. It takes up a lot of money. But, you know, it's great fun.
The first thing I began collecting…
Chinese and Japanese art. I was very attracted to Asian art because of my father.
My Paris escape…
When I need a quiet moment? A place I like to go? My place. I mean, I don't go out too much. I tend to stay at home and in my neighborhood.
And elsewhere…
I've been to Tangier quite a lot. I've got friends there. When I first started going there — it was quite a long time ago — there were all sorts of interesting people. I used to spend my holidays there, go with my family, rent a nice house. I like Tangier because it's a place with all sorts of people; I was interested in the old cosmopolitan side of it. People like Paul Bowles and David Herbert, who had all these parties…
Coup de crayon en point de croix, approche minimale, impression de calme, capacité à transformer le spectateur en observateur privilégié… le travail de Pierre Le-Tan est reconnaissable entre tous. Au fil des années, sa sensibilité unique est devenue sa signature. À l'âge de 19 ans, il décrochait sa première couverture du New Yorker et n'a, depuis, cessé d'être publié dans Vogue, W et Harper's Bazaar, pour ne citer que ces titres. Reconnu comme l'un des plus grands illustrateurs français, il est l'auteur de livres, de dessins pour la publicité, de décors de film et de meubles design. Nous sommes heureux de l'avoir invité à collaborer pour le lancement de notre première boutique à Paris, rue Saint-Honoré. Pierre Le-Tan, dont le père est le peintre vietnamien Lê Phổ, nous a livré sa vision de la nouvelle boutique (ici). Il se confie sur sa carrière, ses voyages, ses sources d'inspiration et les musées aujourd'hui.

Mon intérêt pour l'art a commencé quand…
Mon père était artiste, il représente donc une influence majeure pour moi. Pour moi, dessiner était une évidence, comme jouer peut l'être pour les enfants.
J'ai su que je voulais devenir artiste quand…
J'ai toujours voulu être un artiste. Il n'y avait rien d'autre. Depuis que j'ai six ou sept ans, c'est la seule chose qui m'intéresse.
Mes influences, en plus de mon père…
J'ai passé beaucoup de temps dans les musées. Tous les musées de Paris et ceux des villes où j'ai voyagé avec mes parents, en Italie par exemple. Et j'ai lu beaucoup, beaucoup de livres d'art. Je m'intéresse aux arts asiatiques, européens, aux antiquités… à toutes les formes d'art. Mes influences sont donc diverses et variées. Je ne peux pas dire que tel ou tel artiste m'ait énormément influencé. Ce sont des petites choses, chez différents artistes. Mon style est, bien sûr, le résultat de toutes ces influences.
Mon musée préféré…
Je les aimais tous. Ce que je veux dire, c'est que je les aime beaucoup moins aujourd'hui, parce qu'ils sont bondés, surtout à Paris. De nos jours, les musées sont remplis de gens qui ne sont pas particulièrement intéressés par l'art, ou plutôt qui ne regardent pas vraiment les œuvres, qui se contentent d'être là.
Comment je travaille…
Je pars toujours de quelque chose – soit un objet, posé devant moi, soit une photo. Il me faut un point de départ, mais le résultat est quelque chose de complètement différent.
Mon moment préféré pour travailler…
Je n'ai absolument pas de routine. Parfois, je passe des jours entiers sans rien faire, et parfois je travaille 18 heures par jour. Il y a des gens qui travaillent de huit heures à midi. Ce n'est pas du tout comme cela que je fonctionne. Je travaille quand je peux.
Mes outils de travail…
Des objets très primitifs. Je n'ai besoin que d'un crayon, d'encre de Chine et de quelques vieux tubes de gouache. Je ne suis pas très difficile.
Mon projet préféré…
Je ne sais pas trop… Ce que je préfère, c'est faire des livres, surtout si c'est un livre à moi, car j'écris aussi. Il s'agit alors d'un projet très personnel.
Le livre le plus mémorable…
C'est toujours le prochain qui m'intéresse le plus, celui que je vais réaliser.
Le livre que je suis en train de lire…
Je viens de terminer un livre magnifique, écrit par Isaku Yanaihara, un philosophe japonais ayant posé pour Giacometti. Dans Avec Giacometti, il raconte son expérience et parle de la vie de Giacometti, de Paris à l'époque. C'est un livre magnifique, très émouvant.
Mon goût pour les collections…
Je collectionne toutes sortes de choses, des antiquités aux œuvres d'art du XXème siècle – des peintures de Christian Bérard, des dessins de Giacometti, de David Hockney, les premiers dessins de Warhol… Je possède des œuvres de différents artistes, surtout figuratives – c'est ce qui m'attire le plus. Je collectionne également les vieilles tapisseries turques du XVIIIème siècle. Mes collections tiennent une grande place dans ma vie, malheureusement.
Je dis « malheureusement » parce que…
Cela représente beaucoup de place et beaucoup d'argent, mais je m'amuse beaucoup.
J'ai commencé par collectionner…
Les œuvres d'art chinoises et japonaises. J'étais très attiré par les arts asiatiques, de par mon père.
Pour se ressourcer à Paris…
Où j'aime aller quand j'ai besoin de me reposer ? Chez moi. Je ne sors pas beaucoup. J'ai tendance à rester chez moi, dans mon quartier.
Et ailleurs…
Je vais souvent à Tanger. J'ai des amis là-bas. Quand j'ai commencé à y aller – il y a longtemps –, il y avait toutes sortes de gens intéressants. Je passais mes vacances là-bas avec ma famille, on louait une jolie maison. J'aime Tanger parce qu'on y rencontre toutes sortes de gens. J'aimais surtout son côté cosmopolite. Des personnalités comme Paul Bowles et David Herbert, qui organisaient tout le temps des fêtes…
More to read…