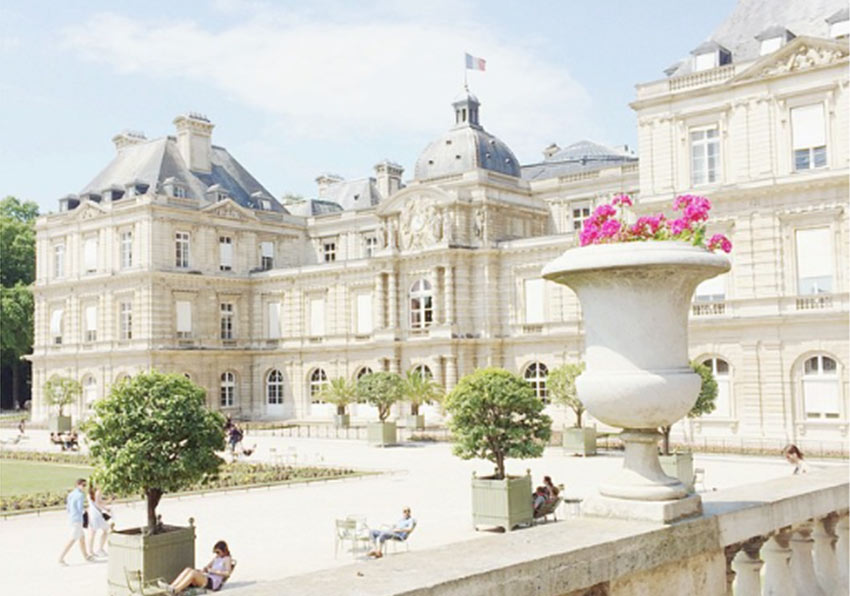 Paris. Even just the name evokes a sense of romance, wonder, culture and high style. No surprise — like so many of Europe's oldest cities, it's filled with incredible history. Every corner, building and nook has a story… even that incredible new Italian restaurant in what was once an engraver's shop (read below for more on Caffé Stern). Tory has been visiting Paris for decades, discovering street after boulevard, and it never ceases to inspire her. It was in a Paris flea market after all, where she found the green floral tunic that inspired the Tory Tunic, which has been in every collection since her first season. The very first Tory Burch boutique is opening at
412, rue Saint-Honoré
— itself a storied street where centuries ago Joan of Arc was wounded and Molière was born. In honor of all things Paris — and to kick off our debut Paris Issue — we asked Tory for a list of her favorite places.
Paris. Rien que le nom évoque romance, beauté, culture et style. Rien d'étonnant… Comme tant de villes européennes, Paris possède un patrimoine historique incroyable. Chaque édifice, chaque recoin, est chargé d'histoire, tel cet incroyable nouveau restaurant italien, le Caffé Stern, ouvert dans un ancien atelier de gravure (lire ci-dessous). Tory, qui voyage à Paris depuis des décennies, aime à explorer chaque quartier de cette ville qui ne cesse de l'inspirer. C'est d'ailleurs au marché aux puces qu'elle avait déniché la tunique verte à fleurs qui lui a inspiré le modèle Tory, devenu un classique de la marque. Tory Burch ouvre sa première boutique parisienne au 412, rue Saint-Honoré – rue chargée d'histoire s'il en est, Molière y étant né, Jeanne d'Arc y ayant été blessée. En honneur de la Ville Lumière et pour inaugurer notre Paris Issue, nous avons demandé à Tory de partager ses adresses préférées.

SHOP
Astier de Villatte
From white artisanal table settings and mood-setting candles to the 17th Century guéridon table you place them on, this boutique is a hostess' dream. AdV brims with petits plaisirs.
Des céramiques artisanales blanches aux bougies parfumées, en passant par des guéridons du XVIIème siècle, la boutique Astier de Vilatte regorge de petits plaisirs à offrir ou à s'offrir.

Benetton Graveur
Stationer to the stars, this small heritage shop makes exquisite handmade cards and envelopes with motifs both whimsical and elegant.
Cette petite boutique, papeterie des stars, fabrique d'adorables cartes et enveloppes faites à la main, avec des motifs aussi mystérieux qu'élégants.

Buly 1803
You could call Jean-Vincent Bully (with two L's back in the 1830s) the godfather of beauty. His perfumes and scented vinegars and he himself were world famous and even inspired Honoré de Balzac. Today, his name continues in a beautiful apothecary-style store with gorgeously-wrapped soaps, scents and more.
Jean-Vincent Bully (avec deux « L », comme on l'écrivait dans les années 1830) est en quelque sorte le père de la beauté. À l'époque, ses parfums et vinaigres de toilette étaient célèbres dans le monde entier et lui-même a inspiré un personnage à Honoré de Balzac. Aujourd'hui, la tradition est respectée dans cette magnifique officine qui propose, entre autres, eaux parfumées et savons emballés avec soin.

Charvet
The perfectly-tailored button-downs at Charvet remind me of the impeccable shirts my father Buddy wore. A shirt from this esteemed tailor makes a great gift for him (and her). Clients fly in from all over the globe to be measured and fit for a custom-made shirt.
Les chemises parfaitement coupées de la maison Charvet me rappellent celles que portait mon père, Buddy. Leurs pièces constituent de prestigieux cadeaux pour elle ou pour lui. Leurs clients viennent du monde entier pour se faire faire une chemise sur mesure.

Dary's
I love big, bold jewelry, especially if it's vintage. The purple velvet displays highlight and draw attention to the museum-worthy collection of jewelry — curated by the same family for nearly a century.
J'adore les gros bijoux, surtout s'ils sont vintage. Les présentoirs en velours pourpres mettent en valeur des pièces dignes d'un musée, soigneusement sélectionnées par la même famille depuis près d'un siècle.
Didier Ludot
A regular haunt of my design team's. Whether you seek Chanel by Coco or Chanel by Karl, you'll find it — and many, many more divine vintage couture and iconic ready-to-wear by the best designers of all time — here.
L'un des repaires de mon équipe de stylistes quand on est à Paris. Que l'on recherche du Chanel par Coco ou par Karl, ou des pièces vintage des plus grands créateurs d'aujourd'hui et d'hier, en couture ou en prêt-à-porter, c'est ici que l'on trouve son bonheur.

Ines de la Fressange
Ines de la Fressange may be the ultimate ambassador of Parisian style. And now she's smartly packaged it in her new concept store that carries her collection of accessories, jewelry, innerwear, stationery and her collaboration with UNIQLO.
Inès de la Fressange est sans doute l'ambassadrice ultime du style parisien, qu'elle a élégamment transposé dans son nouveau concept-store qui propose ses collections d'accessoires, de bijoux, de vêtements d'intérieur, de papeterie et sa collaboration avec UNIQLO.

Librairie 7L
Karl Lagerfeld found yet another outlet for his seemingly endless energy and creativity with the bookstore he opened in 1999. It houses everything from the newest fashion tomes (including Karl's own photography) to cook books.
Karl Lagerfeld, dont l'énergie et la créativité semblent inépuisables, a ouvert cette librairie en 1999. On y trouve tout, depuis les derniers ouvrages sur la mode (dont ceux de Karl, photographe) jusqu'aux livres de cuisine.

Marché aux Puces de Saint-Ouen
I can't count the hours I've spent perusing, studying and shopping at arguably the most famous vintage market for vintage clothing, décor, books, even random antique baby toys. It was, after all, in a Paris flea market, that I found the green tunic that inspired me to start my own collection…
Je ne sais pas combien d'heures j'ai pu passer à flâner et à dénicher des trésors dans ce marché aux puces réputé pour les vêtements et le mobilier vintage, les livres et les jouets anciens. C'est d'ailleurs sur un marché aux puces parisien que j'ai trouvé la tunique verte qui a inspiré ma toute première collection…

Rambert Rigaud Fleuriste en Herbe
Mr. Rigaud brings his finely honed sensibility, cultivated during his years as the studio director at Dior and Saint Laurent, to the world of flowers and vintage furniture.
M. Rigaud met sa sensibilité affûtée par des années au poste de directeur studio chez Dior et Saint-Laurent au service des fleurs et du mobilier vintage.


EAT
27 Quai Branly
At this restaurant atop the Quai Branly Museum, cocktails are best served with a dose of drama. As if the glass ceiling dining room and outdoor terrace with unadulterated views of the Eiffel Tower weren't enough, during the evening, there's a spectacular light show in the gardens below.
Dans ce restaurant situé sur le toit-terrasse du musée du quai Branly, les cocktails sont servis de façon spectaculaire. Et, comme si la salle sous verrière et la terrasse avec vue imprenable sur la tour Eiffel ne suffisaient pas, un spectacle lumineux a lieu le soir dans les jardins, en contrebas.

Angelina
My team and I find the sweet spots in every city we visit. In Paris, Angelina's hot chocolate is the tops.
Avec mes collaborateurs, nous adorons écumer les salons de thé des villes que nous visitons. Chez Angelina, le chocolat chaud est un must.

Brasserie Lipp
The Brasserie's history runs deep. It was where forward-thinkers like Chagall, Camus and Hemingway frequented. Today, you might see Azzedine Alaïa or icons like Marianne Faithful while dining on the best roasted chicken and haricot vert (my favorite).
Cette brasserie est entrée dans l'Histoire. C'était là que se retrouvaient des artistes comme Chagall, Camus et Hemingway. Aujourd'hui, vous y croiserez peut-être Azzedine Alaïa ou Marianne Faithful, tout en vous régalant d'un délicieux poulet rôti accompagné de haricots verts (mon plat préféré).

Café Marly
The food won't disappoint at this brasserie, but it's the views of the Louvre's pyramid, that make Marly a must-visit. I take a picture of its vaulted ceilings on the way in and out nearly every time I'm here.
Dans cette brasserie, vous ne serez pas déçus par l'assiette, mais c'est la vue sur la pyramide du Louvre qui fait du Café Marly un endroit incontournable. Je ne peux pas m'empêcher de prendre une photo du plafond voûté à chaque fois que j'y entre ou que j'en sors.

Caffé Stern
Stepping into Caffé Stern is like walking into a cabinet of curiosities — literally. There is a bejeweled taxidermy lynx and wolf in the window. But the kitsch stops with the décor, and the Venetian-inspired food is for real. Especially any of the pasta or risotto dishes, generously sprinkled with truffle.
Entrer dans le Caffè Stern, c'est comme entrer dans un cabinet de curiosités –littéralement. Dans la vitrine se trouvent un lynx et un loup empaillés et embijoutés. Mais l'assiette, d'inspiration vénitienne, n'a rien de kitsch, notamment les pâtes et les risottos généreusement couverts de truffes.
Claus Paris
Close enough to the Louvre to make it the perfect pre- or post-meeting spot, but far enough away from the throngs to offer sanctuary, Claus has a lovely, fresh brunch menu. And its Instagram (
@clauspetitdejeuner
) is just as sweet as its raspberry tart.
Suffisamment près du Louvre pour s'y réfugier avant ou après un rendez-vous, mais suffisamment loin de la foule pour offrir un havre de paix, Claus propose des brunchs d'une fraîcheur ébouriffante. Et leur compte Instagram (@clauspetitdejeuner) est aussi irrésistible que leur tarte aux framboises.

Hugo & Victor
Chocolates, candy, caramels and cakes are taken to a higher art form here. Even their presentation boxes look delicious at this pastry shop where chef Hugues Pouget changes the flavors according to the season.
Leurs chocolats, bonbons, caramels et gâteaux se hissent au rang d'œuvres d'art. Même les boîtes sont à croquer dans cette pâtisserie où le chef Hugues Pouget décline les parfums au gré des saisons.

Le Dauphin
A sister restaurant to the more traditional Châteaubriand a few doors down, this Rem Koolhaus-designed wine bar in the 11th arrondissement offers modern French but tapas-style.
Adresse bis du plus traditionnel Châteaubriand, situé quelques portes plus loin, ce bar à vin du XIème arrondissement, conçu par Rem Koolhaus, propose des tapas modernes représentatifs de la cuisine française contemporaine.

Le Jules Verne
It may not be 20,000 leagues below the ocean, but dinner on the second floor of the Eiffel Tower offers delights of its own. Especially one prepared by Chef Alain Ducasse.
À défaut de se retrouver 20 000 lieues sous les mers, dîner au deuxième étage de la tour Eiffel est une expérience inoubliable. Surtout quand la cuisine est signée Alain Ducasse.

Septime
Another great spot in the 11th arrondissement, call weeks before your trip for a table. The communal tables and brilliant food foster great conversation.
Pour espérer décrocher une table dans cet autre restaurant emblématique du XIème arrondissement, réservez des semaines à l'avance. Les grandes tablées et la qualité des plats donnent lieu à des conversations à bâtons rompus.


SEE
Deyrolle
For 180 years, Deyrolle has been the shop of natural curiosities and taxidermy, as well as a center of science.
Depuis 180 ans, Deyrolle est connu pour son cabinet de curiosités, son activité de taxidermiste et sa vocation pédagogique.

Le Musée des Arts Décoratifs
One day you might find thousands of buttons on display (harking from the houses of Dior, Schiaparelli, Poiret, etc). The next, the history of toys.
Les expositions se suivent et ne se ressemblent pas. Un jour, vous pourrez y admirer des milliers de boutons des maisons Dior, Schiaparelli, Poiret, etc. et, quelques semaines plus tard, une rétrospective sur les jouets.
Musée Rodin
Few artists were as romantic as Rodin, whose work has always inspired me — I grew up going to the Rodin Museum in my hometown Philadelphia.
On ne fait guère plus romantique que Rodin, dont le travail m'a toujours inspirée – je connais par cœur le musée Rodin de ma ville natale, Philadelphie.

Palais Galliera, Musée de la Mode
The Palais takes fans deep, deep into the history of fashion. It's not hard to get lost in current shows, like the exhibit on Jeanne Lanvin. My mother Reva wore Lanvin — so glamorous.
Le Palais entraîne ses visiteurs si loin dans l'histoire de la mode qu'on a vite fait de s'y perdre. L'exposition actuelle, sur Jeanne Lanvin, ne fait pas exception. Ma mère portait des créations de cette maison si glamour.